🎧 MUSIC FOR STEEM - WEEK 17 🎧 "Por una cabeza" (Carlos Gardel - Alfredo Lepera) 🎧 Violin Cover by @estelio Padilla 🎧
"Por una cabeza"
Cover by @esteliopadilla
MUSIC FOR STEEM SEMANA 17

Hello my people Steemit, it is a pleasure for me to share with you the Cover that I did for my entry in the MUSIC FOR STEEM WEEK 17 contest, it is about the song "Por una cabeza" .
Hola mi gente Steemit, es un placer para mí compartir con ustedes el Cover que hiciera para mi entrada en el Concurso MUSIC FOR STEEM SEMANA 17, se trata de la canción "Por una cabeza".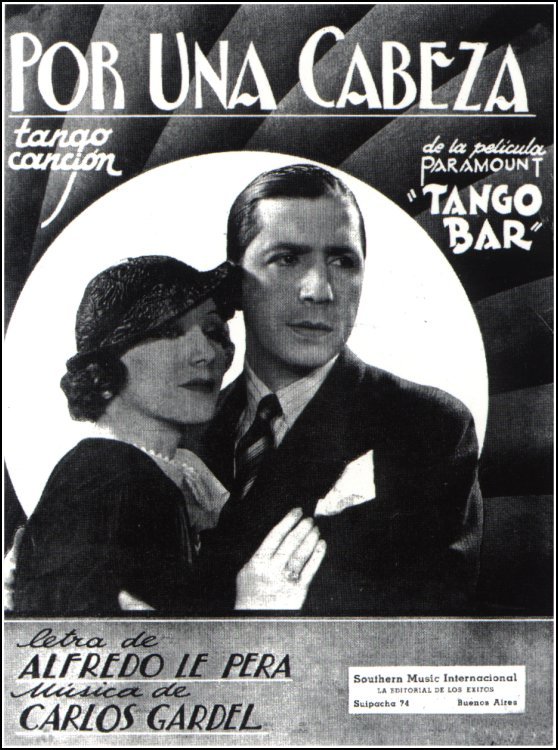 Marquee advertising the Movie "Tango Bar"
"Por una cabeza" is a River Platense Tango that became very popular and was composed in 1935, the music is by the famous Argentine singer Carlos Gardel and the lyrics by Afredo Lepera. The original version was recorded by Carlos Gardel on March 19, 1935 for his last film "Tango Bar". Here is my post, I hope you all like it.
"Por una cabeza" es un Tango río platense que se hizo muy popular. Fue compuesto en 1935, la música es del famoso cantante argentino Carlos Gardel y la letra de Afredo Lepera. La versión original fue grabada por Carlos Gardel el 19 de marzo de 1935 para su última película "Tango Bar". Aquí les dejo mi entrada, espero que sea del agrado de todos ustedes.

"Por una cabeza" Cover Violin by @esteliopadilla


Your comments and your vote are always welcome
🎧 Preven the Coronavirus 🎧 Stay home
🎧 Keep your spaces clean 🎧 Have not fear 🎧
🎧 This will pass 🎧