Music For Steem 🎵 - Valentine Special - 44 Artists sing over 60 Songs!
Hi music lovers of the Steem blockchain!
No less than 44, yes forty-four artists have made at least 1 song for the Valentine Special. We listened with a lot of enthusiasm to over 60 songs. I felt the love for sure.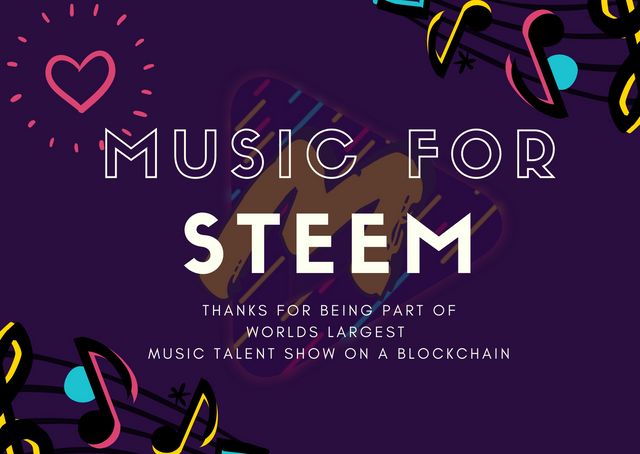 In 3 days, the Valentine special ends so if you are musical, we still LOVE to hear your song!
On the 14th of February, we will announce which songs impressed us the most. Stay Tuned
The 44 beautiful artists:
@almeida92
@fendie
@mariajruizb
@rbatan
@heedysguevara
@joanm897
@lyon89
@alegriatube12
@elinorrg
@ayoyemi
@keilyflow11
@isha.ish
@crissanch
@adesojisouljay
@davidcentenor
@ydelitza
@danieldedosd2
@rosana6
@omairita
@edy.lobo
@ricardopercusion
@jenniferalessio
@elsembradoran
@rodolfmandolina
@graceleon
@asdruayser-game
@gabrielamenesesg
@donatello
@roy.sajib
@daniel2001
@anatolianwishdom
@anitavasquez
@rosmerysanchez
@ydelitza
@cesarc
@kelvincentenor
@lacharrakey
@cesar24
@diosmarymaiz1
@josesalazar200
@joecariaco
@crissanch
@nahumsamuel
@cesarotti
Thanks a lot, you are all wonderful