MUSIC FOR STEEM WEEK 5 - THE WINNERS & LAUNCH OF WEEK 6 (updated)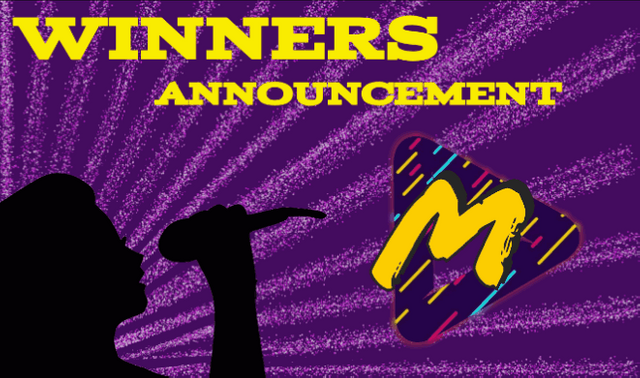 Hello friends and fans! Here are the winners of the TOP edition Music For Steem WEEK 5. From next week we have a different point system as you could read in our previous posts. This week only, the winners are handpicked by TEAM MFS!
We are calculating the fairest point system and will be announcing these updates in the next days, so stay TUNED. It will be a combination of musicality, community votes, engagement on Steemit, and an incentive to keep STEEM POWERED UP.
Week 5, the community votes were paused but will be resumed from WEEK 6! Read more in the coming announcements! We have chosen the next winners ourselves, hope you will like it!
Hola amigos y fans! Aquí están los ganadores de la edición Music For Steem Semana 5. Estamos calculando el sistema de puntos más justo y anunciaremos estas actualizaciones en los próximos días, así que estad atentos. Será una combinación de musicalidad, votos de la comunidad, compromiso con Steemit y un incentivo para mantener a STEEM POWERED UP.
Esta semana, los votos de la comunidad se pausaron, ¡pero se reanudarán a partir de la SEMANA 6! ¡Lea más en los próximos anuncios!

1. WINNER WEEK 5
Christopher and Emma have entered 5 times and amazed us every single time. For many, they should have won already and will go to college shortly. A deserved overall winner! Week 5, this one is yours guys!
Emma & Chris, THANK YOU FOR THE MUSIC
see post...
2. SECOND WEEK 5
This one we selected because we LOVE this setup, a singing family. Please make groups of people and sing together, we LOVE THAT! Our own singing family Von Trap
Maria, THANK YOU FOR THE MUSIC
see post...
4. FOURTH WEEK
THANK YOU FOR THE MUSIC
5. FIFTH WEEK 4
Diana, THANK YOU FOR THE MUSIC


First place / Primer lugar
---
Second place / Segundo lugar
---
Third place - tercer lugar
Fourth & Fifth place
50% upvote EXTRA @steemcurator02



Delegation links for @Musicforsteem
Enlaces para delegar a @MusicForSteem
After clicking on the link, you must accept the amount of sp, and sign with your active private key and accept it. Remember to leave at least 50SP in your account.
Después de hacer clic en el enlace, deberás aceptar la cantidad de sp, a continuación ingresa tu nombre de usuario de steemit y tu clave activa privada y dale aceptar. Recuerde dejar al menos 50SP en tu cuenta.

You can follow our trail here and set your vote in the curation trail category. Help us to curate content that deserves to be recognized and valued by all.
Puedes seguir nuestro trail aquí y configurar tu voto en la categoría curation trail. Ayúdanos a curar contenido que merece ser reconocido y valorado por todos.
MUSIC FOR STEEM WEEK 6 = OPEN