🎵 MUSIC FOR STEEM - WEEK 7 WINNERS! - LAUNCH WEEK 8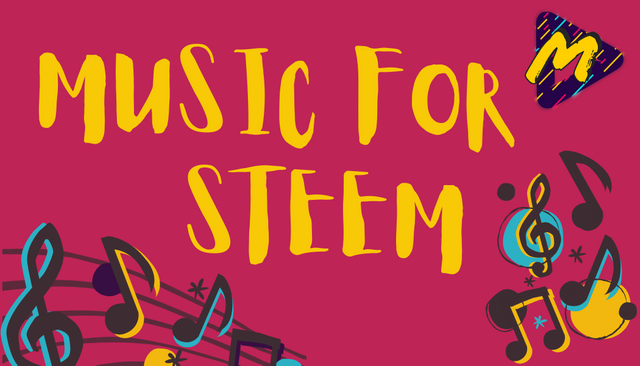 Hello Friends & Fans!
What a tremendously great experience so far! 7 Weeks of Music For Steem has given us a playlist of over 6 hours of amazing and inspiring tunes. We can not be more proud of you, and sincerely wish you keep posting more music! Thanks for all the joy you are bringing.
Also mention the contest to as many people you know, invite them to Steem and guide them in their first steps! Sharing is caring!
See you at WEEK 8!
¡Hola amigos y fanáticos!
¡Qué experiencia tremendamente grandiosa hasta ahora! 7 semanas de Music For Steem nos han dado una lista de reproducción de más de 6 horas de melodías sorprendentes e inspiradoras. ¡No podemos estar más orgullosos de ti, y sinceramente deseamos que sigas publicando más música! Gracias por toda la alegría que traes.
¡Mencione también el concurso a tantas personas que conozca, invítelos a Steem y guíelos en sus primeros pasos! ¡Compartir es demostrar interés!

1. WINNER WEEK 7
@gaborockstar, Señor, ha estado ayudando mucho para llevar este concurso donde está hoy. Gracias por todo lo que haces. Finalmente, jefe, maestro, profesor, Rockstar, eres el merecido ganador!
Gabriel, THANK YOU FOR THE MUSIC
see post...
2. SECOND WEEK 7
Gabrielinho, THANK YOU FOR THE MUSIC
see post...
3. THIRD WEEK 7
Esther, THANK YOU FOR THE MUSIC
see post...
4. FOURTH WEEK 7
Eugelys THANK YOU FOR THE MUSIC
5. FIFTH WEEK 7
Emma & Chris, THANK YOU FOR THE MUSIC


First place / Primer lugar
---
Second place / Segundo lugar
---
Third place - tercer lugar
Fourth & Fifth place
50% upvote EXTRA @steemcurator02



Delegation links for @Musicforsteem
Enlaces para delegar a @MusicForSteem
After clicking on the link, you must accept the amount of sp, and sign with your active private key and accept it. Remember to leave at least 50SP in your account.
Después de hacer clic en el enlace, deberás aceptar la cantidad de sp, a continuación ingresa tu nombre de usuario de steemit y tu clave activa privada y dale aceptar. Recuerde dejar al menos 50SP en tu cuenta.

You can follow our trail here and set your vote in the curation trail category. Help us to curate content that deserves to be recognized and valued by all.
Puedes seguir nuestro trail aquí y configurar tu voto en la categoría curation trail. Ayúdanos a curar contenido que merece ser reconocido y valorado por todos.
MUSIC FOR STEEM WEEK 8 = OPEN