VALENTINE SPECIAL ❤️ THE WINNERS 🎵 Music For STEEM 💙
Ladies and gentlemen, boys and girls of the Steem blockchain. For several weeks we could listen to the most romantic songs, performed by our own amazing Steemians. Now, the time has come, the verdict is here.
If you didn't know, we had SEVENTY artists participating in the world's largest musical event on the entire web.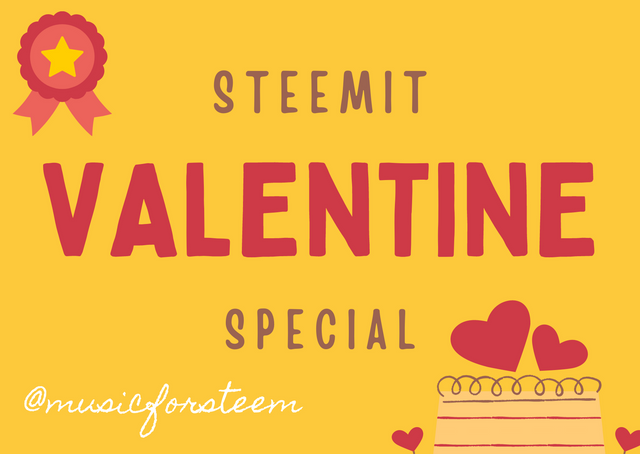 In the past 48 hours, you all had the time to cast your vote, we counted them, and here are the results!
For this special occasion, we have 3 winners who share the prize of SEVENTY STEEM, to celebrate the 70 wonderful artists that have participated!
WINNER 🥇 1: @alegriatube12 - MOST COMMUNITY VOTES
Children are the fruit of love. So we are happy you got the most votes from the community :)
WINNER 🥇 2: @mercy11 - JURY VOTES
Second in community votes and the jury loved it too! AMAZING
WINNER 🥇 3: @fendie - The biggest contributor prize
Nearly daily we can enjoy the fast fingers of our friend from Aceh, so this HAD to be rewarded! Thanks
WHAT'S NEXT
We will make a post soon to start a new event. If you have an idea of a theme already, let us know in the comments below!