NUCLEAR BOMBS AND THEIR DESTRUCTIVE CAPACITY by @carluis777
Greetings friends Steemit-scientists, a great pleasure to greet all participants and members of this interesting community
@ZerotoInfinity
. Once again I celebrate this great space within this community, many interesting topics shared and many more to share, it is very pleasant to read and learn a little of the various topics that exist within the scientific world.
Today I would like to share with all of you about something that brought a resounding change in everything that has to do with armed conflicts, throughout our history as humanity we have witnessed the great progress and capacity in terms of war and nuclear that some countries have had, particularly the great powers. I must confess that I will never defend wars, much less support the destruction that they generate on cities, territories and towns affecting many lives. But certainly we must consider and make as an object of study all those things of which man has been able to create using science as a tool, in this post we will talk about these weapons. Today we are going to investigate a little about one of the most destructive weapons created by man. The atomic bomb or nuclear bomb.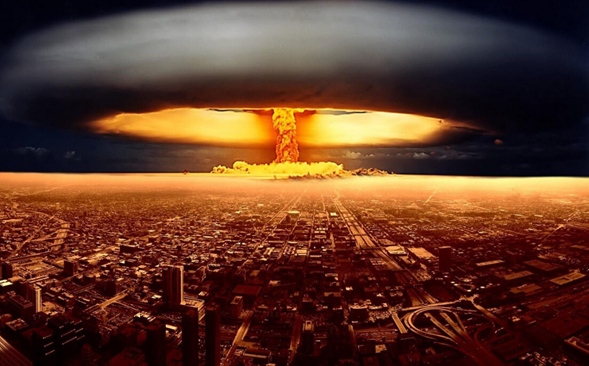 Source
We must start by understanding the dynamics of how these bombs work and their destructive capacity, for this we must know a little about what an atom is, its structure and how it works.
The structure of an atom is formed or composed of protons, neutrons and electrons. Its nucleus consists of protons that have positive charges and neutrons that have no charge. As long as the protons and neutrons remain united, this nucleus will have mass in the form of energy that will remain accumulated as long as the nucleus of the atom remains stable.
When a nucleus is divided into two equal parts, part of its accumulated energy is released; this division or rupture of the nucleus is called fission. This is the essence of the atomic bomb in achieving that the nucleus is fractionated causing a fission so that energy is released, that is to say, when a nucleus is fragmented it releases neutrons that in turn collide with other nuclei thus increasing the release of more neutrons which fragment more nuclei thus releasing more energy, This dynamic produces what is called chain fission or as it is also known under the name of nuclear chain reaction, all this occurs in fractions of seconds causing a large-scale explosion destroying everything in its path. This is what makes nuclear bombs so fearsome.
So far the only recorded nuclear weapons attacks in armed conflicts were in World War II between August 6 and 9, 1945 when the United States in conflict with Japan bombed the cities of Hiroshima and Nagasaki marking the end of this war on a global scale.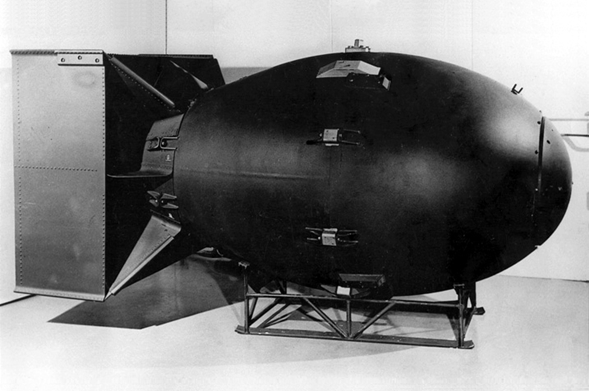 Source
Little Boy, the name given to the bomb dropped on the city of Hiroshima, was composed of Uranium 235, while the Fat Man bomb dropped on the city of Nagasaki was composed of Plutonium 239. The nuclei of both materials upon splitting would produce a large number of neutrons, thus increasing the chances of fissioning more nuclei and releasing much more energy. The detonation mechanisms of both bombs were different in the case of the Fat Man bomb dropped in Nagasaki, it had a charge of 6 kilos of Plutonium 239, it is estimated that it managed to fission almost a kilo of this material being enough to release an energy compared to more than 20,000 thousand tons of TNT. Its mechanism worked as an implosion bomb, which consisted of a series of explosive charges surrounding the Plutonium 239 charge. When these charges exploded inside the Fat Man bomb, they caused a pressure on the Plutonium charge, compressing the charge and causing the neutrons to press against each other, thus initiating the fission chain.
On the other hand, it is said that the Little Boy bomb carried a charge of more than 60 kilos of uranium 235 where it is estimated that only almost 2% was fissioned, producing an explosion equivalent to 15,000 thousand tons of TNT. Its internal system consisted of a gun mechanism where basically a charge of Uranium 235 was denoted against another larger charge of the same material, the neutrons of both masses colliding with each other causing a chain reaction, i.e. a chain fission.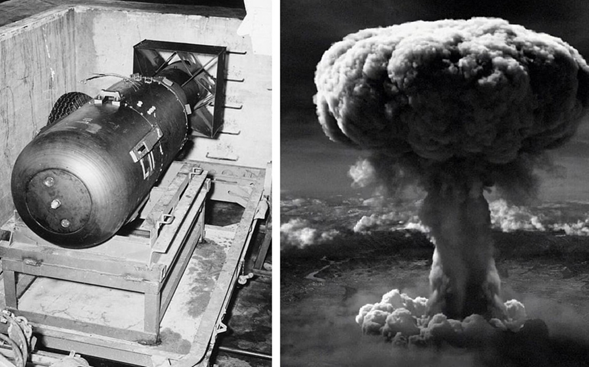 Source
It should be noted that currently much more powerful weapons have been created, as in the case of hydrogen or thermonuclear bombs, where their creators used the process called nuclear fusion, which is the opposite of fission of the nuclei, although to be activated the thermonuclear bomb must undergo the fission process, where it raises the temperature to thousands of degrees to produce the fusion that releases much more energy than a nuclear bomb.
Both thermonuclear and nuclear bombs have a destructive capacity even years after their explosion. When they explode, they release large amounts of X-rays, gamma rays and neutrons, producing radiation that destroys everything in its path, producing short and long term consequences in the climate, environment and in humans, altering the behavior of the cells in the body, producing diseases, deformities and different types of cancer. Some say that approximately 246,000 people died, half of them died on the days of the bombing and the other half from diseases attributed to the after-effects of the bombs.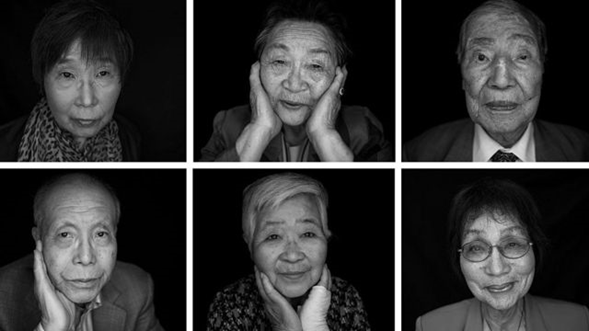 Source
After the bombing of Hiroshima and Nagasaki no country has ever used a nuclear bomb in a conflict, however, there are currently at least nine countries with nuclear weapons capability: United States, Russia, United Kingdom, China, France, Israel, India, Pakistan and North Korea. Many assure that if all this nuclear arsenal were used, a large part of the world's population would die in a few hours.