Contest About Your Favorite Mathematician !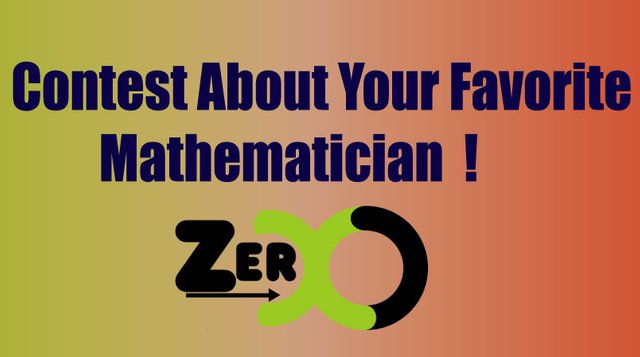 Today we will announce another contest. Our community is improving day by day. There are many people in our community who like to do math. We started learning the math subject from a young age. Doing math increases efficiency. Math logic helps a lot in programming. . Moreover, when we organized the Math Solve Contest, we saw a lot of people participating in the contests. So, our contest is about mathematicians. We have learned a lot because of these mathematicians So, tell us about your favorite mathematician . I hope everyone will like the contest and everyone will participate.
The rules and winner prizes for participating in the contest are described below :
---
---
*

Rules for participating in the contest
You have to write about your favorite mathematician .
Entry must be your own original work - NO PLAGIARISM.
You can take information from the net but you cannot copy it completely. Try to write completely like yourself and also try to add reference link .
Entry must be through the @Zero-to-Infinity Community.
Only one entry is allowed.
You can post in any language.
You can add many pictures you want but you must give the correct source.
The contest is open for the entire STEEMIT community.
Add #zerotoinfinity, #stemcontest, #steemexclusive , #fm in the first 5 tags.
Every participant must add your country name.
Write at least 200 words.
You must submit your entry post link below this post's comment section.
---
---
Total

10 Steem

Price Pool
| Rank | Prize |
| --- | --- |
| 1st | 4 Steem |
| 2nd | 3 Steem |
| 3rd | 2 Steem |
| 4th | 1 Steem |
---
---
Post Submission Deadline
This contest will Run for 7 Days(Bangladesh time 12 May 2021 , 11.59 pm (GMT+6)) and results will be announced after the payout of this Current post.
So, participate soon and enjoy this contest.
---
---
Resteem, resteem and resteem!
Join in our Discord Server
Zero-to-infinity
---
---
CC: @steemcurator01, @steemitblog