THE DIARY GAME : 02 de agosto de 2020: Ayer. De emergencia en emergencia / Yesterday. From emergency to emergency
Hello. Yesterday was a tremendously busy day, so today is our day of reckoning.
All the images presented in this post are my property. The pictures were taken with an LGPhoenix3 and edited with PhotoShop.
I thank the community of Steemingcurators for lending their space for my publication.
Here I go, dear diary of my heart.
Hola. Ayer fue un dia tremendamente ocupado, así que hoy toca hacer nuestro relato de la jornada pasada.
Todas las imágenes presentadas en este post son de mi propiedad. Las fotografías fueron realizadas con un LGPhoenix3 y editadas con PhotoShop.
Agradezco a la comunidad de Steemingcurators por prestar su espacio para mi publicación.
Aquí voy, diario querido de mi corazón.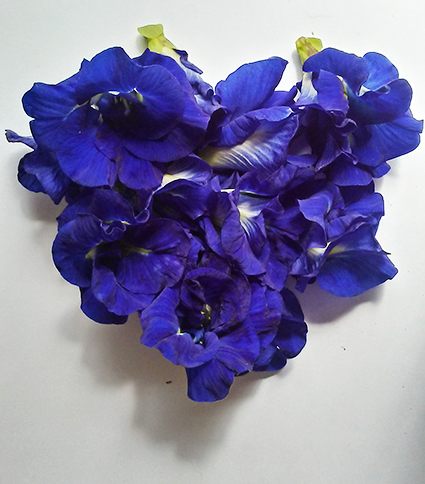 Este corazon floral fue formado con la poda del jardin
This flower heart was formed by pruning the garden.

The pruning
The life of the gardener is supposed to be an ordered life. You follow the cycles of the earth, of the climate, there are those who follow the phases of the moon... As the sacred words say, "There is a time to sow and there is a time to reap"... This, dear diary, I like it, it sounds good to me, it transports me to an idyllic state where harmony reigns and everything has its place and time...
But my life has always been full of more interests and occupations than I can comprehend, and, believe me, my diary, I put passion into everything. I embark on sometimes impossible adventures...
You have witnessed at some point, when I undertake explorations through drawers and boxes, and find unfinished pieces: unfinished bindings, half-finished drawings, seeds I have not (yet) planted, and it all brings back loving memories.
Well, I must confess to you, my diary, that instead of living in the order of the times like a good gardener, I live from emergency to emergency:
Yesterday, that is, the day I report today, was an urgent day of pruning the ears of basil plants, which already, between the burning heat of the day and flowering, were turning yellow and were rapidly losing their foliage.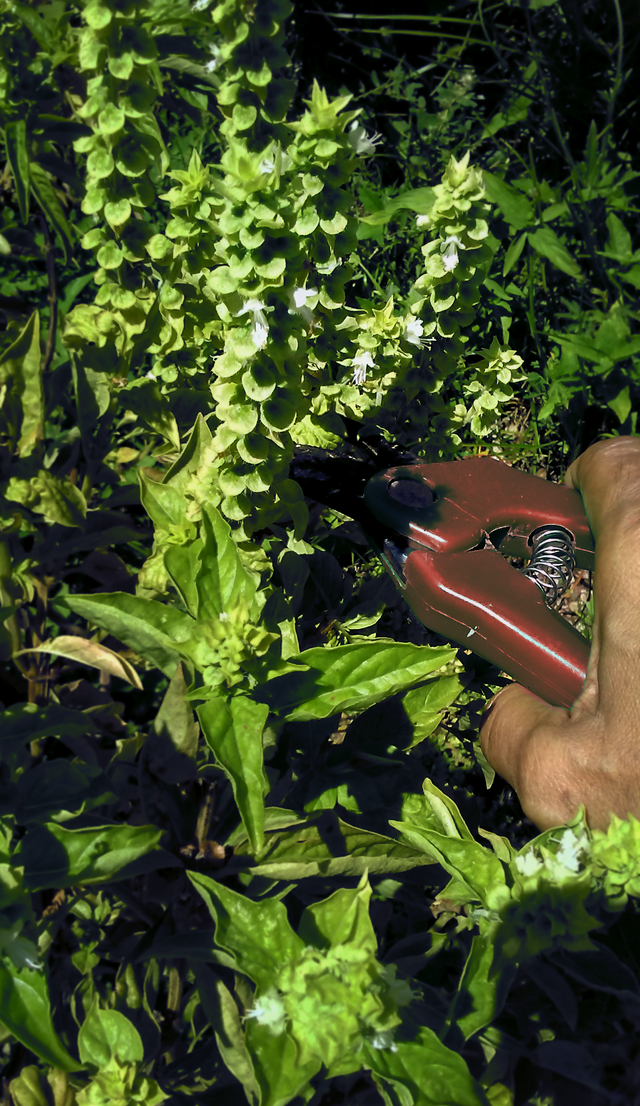 And just as I live from emergency to emergency, not only with my vegetable garden, but also with other activities (which, I am sure, you will also see reported here), I also live, it is fair to say, among small daily happinesses that alleviate the troubles of the difficult situation of my country, in addition to the quarantine.
---
La poda
Se supone que la vida del hortelano es una vida ordenada. Se siguen los ciclos de la tierra, del clima, hay quienes siguen las fases de la luna... Como dicen las palabras sagradas, "Hay un tiempo para sembrar y hay un tiempo para cosechar"... Esto, querido diario, me gusta, me suena bien, me transporta a un estado idílico donde reina la armonía y cada cosa tiene su sitio y momento...
Pero siempre mi vida ha estado llena de más intereses y ocupaciones de las que puedo abarcar, y, créeme, diario mío, pongo pasión en todo. Me embarco en aventuras a veces imposibles...
Has sido testigo en algún momento, cuando emprendo exploraciones por gavetas y cajas, y encuentro piezas inconclusas: encuadernaciones que no han sido terminadas, dibujos a medio hacer, semillas que no he plantado (aún), y todo me trae amorosos recuerdos.
Pues, debo confesarte, mi diario, que en lugar de vivir en el orden de los tiempos como buen hortelano, vivo de emergencia en emergencia:
Ayer, es decir, el día que reporto hoy, fue día urgente de la poda de las espigas de las plantas de albahaca, que ya, entre el calor calcinante del día y la floración, estaban poniéndose amarillas y estaban perdiendo aceleradamente el follaje.
Y así como vivo de emergencia en emergencia, no solo con mi huerto, sino también con otras actividades (que, seguro, también verán reportadas por aquí), también vivo, es justo decirlo, entre pequeñas felicidades cotidianas que alivian los sinsabores de la difícil situación de mi país, amén de la cuarentena.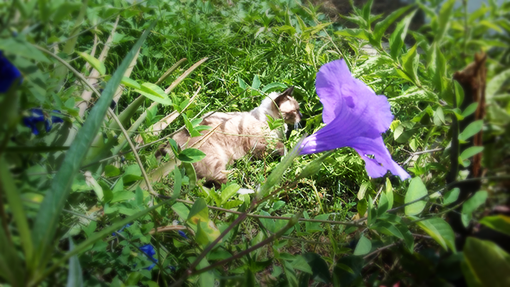 The transplant
This plant, whose name I do not know, has, in my opinion, one of the most beautiful flowers in the world. As you know, dear diary, I have simple tastes (sometimes when I feel like it), because I am also like the "poor old lady" in Rafael Pombo's poem, who never felt hungry after eating.
I was saying, dear diary, that this plant with its beautiful gentian flowers has another personality: it is a tremendously invasive monster. For this reason I radically pruned it with the intention of moving it to the other side of the garden, where it would not try to strangle basil or sweet potatoes.
Well, one of the many emergencies of my day caused me to put off the transplant for another day that has not yet arrived. However, as nature is very generous, she left me a sample of beautiful flowers as a reminder. And, well, I had to go back to pruning.
I must definitely give her a new space very soon where she can express herself in all her beauty.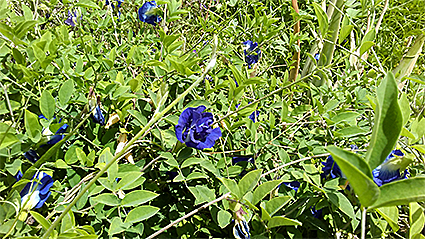 El trasplante
Esta planta, cuyo nombre ignoro, tiene, a mi parecer, una de las flores más hermosas en el mundo. Como sabes, querido diario, soy de gustos sencillos (a veces, cuando me apetece), pues soy también como la "pobre viejecita" del poema de Rafael Pombo, quien nunca sintió hambre acabando de comer.
Decía, querido diario, que esta planta de hermosas flores color genciana tiene otra personalidad: es un monstruo tremendamente invasivo. Por esta razón la podé radicalmente con la intención de mudarla al otro lado del jardín, donde no intentara estrangular a las albahacas ni a las batatas.
Pues bien, alguna emergencia de las muchas de mi día hizo que dejara el trasplante para otro día que aún no ha llegado. Sin embargo, como la naturaleza es muy generosa, ella me dejó una muestra de preciosas flores como recordatorio.
Definitivamente, debo darle muy pronto un nuevo espacio donde pueda expresarse en toda su belleza.

In spite of everything, today was a good day and I hope that tomorrow will be better (you will soon know).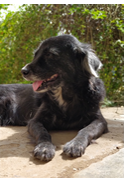 A pesar de todo, hoy ha sido un buen día y espero que mañana sea mejor (pronto lo sabrán).