How to build up a 500SP account into 500,000 SP community account
How to build up a 500SP account into 500,000 SP community account?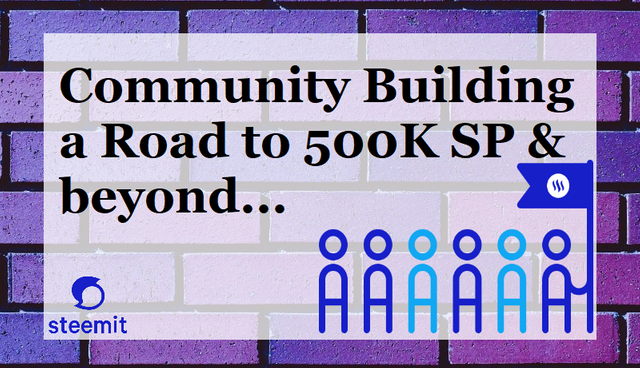 How to turn 500SP from The Steem Greeters program into 500K SP
If you notice it is very easy to get 500SP nowaday on steemit if you active looking around for an opportunity such as 500SP Minnow Support, Program by The Steem Greeters Team, and also if you're newcomers you get to accumulate steem while get to know how steem ecosystem works by completing the Newcomers Achievement Program at your own pace.
The Steem Community also organizes a lot of contests recently and all of them get support in steem liquid prizes and also with good nice upvotes from the steemcurator01/steemcurator02 The Steemit Team curation account.
Apart from that, The Steemit Team keeps announcing awesome news everyday to support the community contents and the activities by the steem community.
It is easier day by day to accumulate your steem power and build it up to the level where you dreamed of.
How do you turn your 500SP into 500K SP?
Let's do the simple math here, if you are part of the community or wanted to build a community, you can gather or bring more people to steemit and lets say you get to gather 1000 people in your community, then all of this 1000 account delegate their 500SP to one community account and that will be total of 500,000 SP accumulated.
See how easy it is to have 500,000 SP joint venture accounts if you work together as a community and keep building your steem power and not just powering down or withdrawing all your earnings on steemit. Then after you get to build the community account to 500KSP you can follow this Curation Method here for maximum fair and transparent curation.
No Community aligned to your interest?
If you don't have any community to mingle with or you feel you don't belong anywhere in the many community on steemit or you just cannot click anywhere and still finding your way, you are welcome to join us in steemingcurators community here
We are open to anyone who wants to build their steem power on steemit.
Also, they must be actively providing value to the steem community in any way.
If you still have no idea on how to contribute to the steem community, find your skill or strength and show us what you can bring to the table.
I believe everyone was born to be something and use that unique gift to contribute to the good of society and the world as a whole.
Building steemingcurators account
I want to build the steemingcurators community and you are welcome to join me and @ciska. Currently @ciska is on vacation, I hope she will come back stronger from her vacation.
But you must pledge to delegate minimum of 500SP to steemingcurators account in order to be accept as a member in the community and getting all other perks as a member.
I will lay out all other guidelines for the community soon in terms of using the correct tags and also setting the beneficiary reward of 20% to steemingcurators account for all the posts you make and posted on steemingcurators community .
Let's together build steemingcurators account to 500KSP and beyond while bringing value to steem community.
Looking for a Moderator
I'm looking for a moderator for this community, ideally 2 persons. Let me know if you're interested in the comment section. Thank you.