How to set 30% of your post payout to @steemingcuration |A Help To 💧Steemingzen Newcomers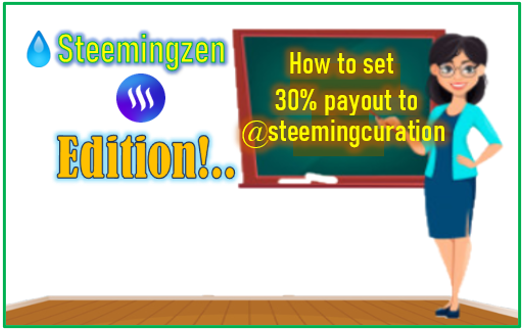 Hello Steemingzen!
I wish you all well today. In this post, I'll be refreshing you on how to set 30% of your payout to @steemingcuration as this is the very first thing moderators in this community checked while considering your post for booming recommendation support.
Please understand that your 30% plays a great role in increasing the Steem Power of the community curation account. Nobody likes to spend his precious time creating quality content only to end up less valued or worst with $0.00. Who would like to stay that way in Steemit?
Such misfortune, either old users or newborns to this platform can relate to how it feels as it is everybody's sentiment. Especially when our post is on its 7 days and no one visited on it, such a sad story... to us content writers.
So our community admin @cryptokannon came up with this idea. To have the strength it should start from us. This is everybody's job for not all the time we will be fortunate on our post.
As we scrolled on your post, we have noticed some steemingzen either forgot or they don't know how to set their post to 30% yet. Please be guided that in this community, aside from plagiarism, moderators strictly checked on your "payout setting" first as we select the post for booming curation support.
You setting it right is therefore very important, so here let me refresh you on how to do it.
---
How to set 30% of your post payout to @steemingcuration when you chose to post at Steeming Community?
---
Step 1: Locate the advanced settings on the same page you are about to draft your post. Once located click on it.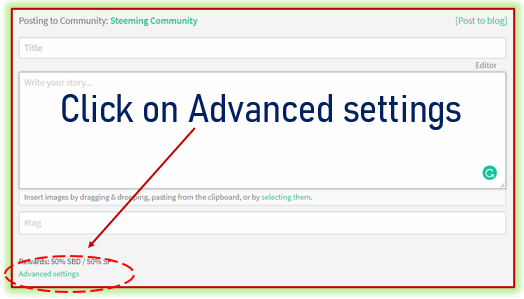 ---
Step 2: Click on add account. This is where @steemingcuration account is added to receive rewards on post payout.
---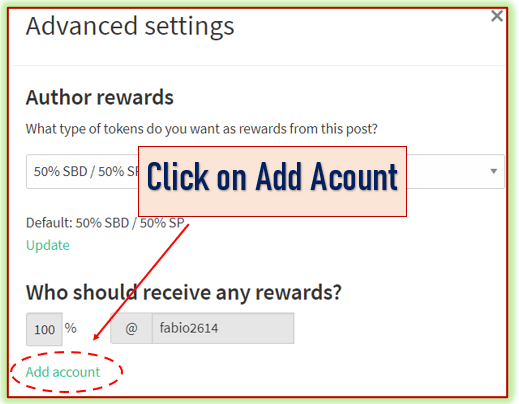 ---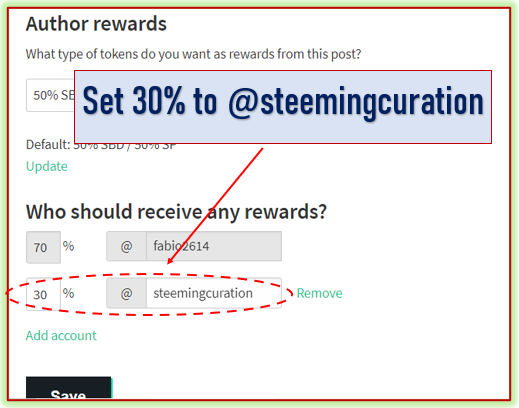 Step 4: Click on save. Once your post is posted, you can no longer reset it, so make sure you've done it right before giving the final click.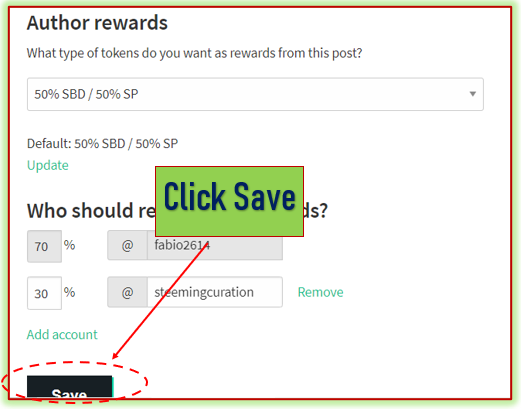 Congratulations, you are now ready to draft your post!
---
Once your post is posted to the Steeming Community, the Steeming Team can now check on your post. This is how we check on your post setting.
We click on the "down arrow" to check if a 30% reward has been set to @steemingcuration.

This is how it appears if a steemingzen did set it to 30% reward for @steemingcuration or not.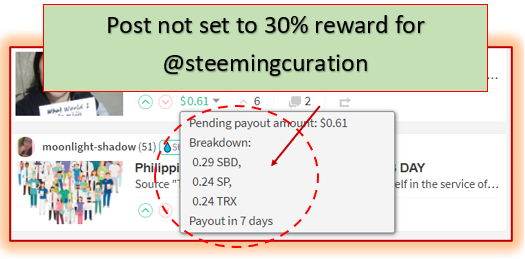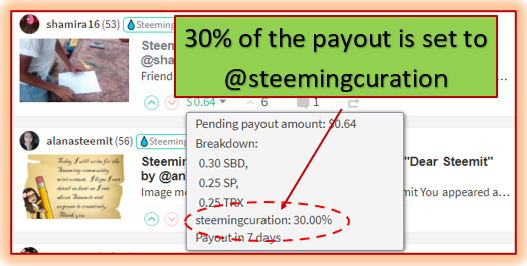 So, that's it! Please be guided accordingly.
***
---
Steemingzen, thank you so much for your trust and constant support. Let us be one in this goal. Together we can do this! You may also delegate your SP to @steemingcuration any time you wish.
---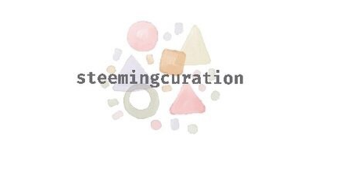 ---
One of the Steeming Team.
@fabio2614