A Peice of Advice for New Comers On the Importance of Powering Up and Delegation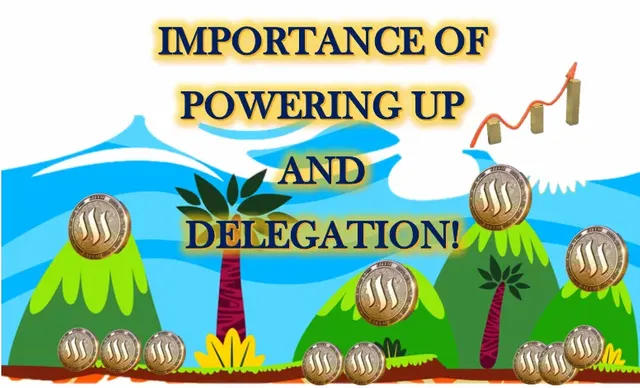 Hello, steemians! In this post, let me talk about the importance of powering up and delegation.
What is Powering Up?
Investing in Steemit or to buy Steem when the price is low is the best thing to do. Bear in mind that Steem price is volatile. You have to collect and stock your Steem. And to make use of it, you have to power it up. Powering up your Steem liquid into Steem power shows that you are having a plan of long-term investment and you believed in steemit. It gives value on your vote and people will follow you. The higher Steem power you have the higher value of your upvote will become.
How important "Powering Up" in our steemit journey is no longer new for those who are long been here on the Steemit platform. But for those who are newbies, to "power up" is one of the most important information you should digest if you want to be on the top. Everyone can write, do comments and socialize. But to decide, either to withdraw or "power up" every steem acquired is purely your "free will." But you need to know that "Steem Power" gives value to your vote.
Who would like to see an account having a reputation of 70+ but doesn't have value when they vote on your post? Of course, followers would go for those who give value to their posts as well.
To "power up " on every acquired steem little by little, defines your future in steemit. When friends invited us to register in steemit, am sure like mine, it was because of money... and who on earth doesn't want money? It is factual to say that not everyone has the money to invest, but we can be an investor in our own capacity. Since many of us are not "one-stop investors", powering up on every steem that we have made us an investor already.
Delegate Your Steem Power
Since it will take us longer time to accumulate enough steem and give value to our vote, we can delegate that steem power to our trusted community. Delegating our steem power to the community means helping the community grow in "value" who in return can give us the support we needed. It simply means you let the community use your steem power.
Every community has its own way of giving rewards to its delegators. In the same way, they will upvote your post in return. This is what we call "give and take relationship". Not only we are part of the progress of the community, but we can also have the support we needed to survive. Of course, we don't want to invest our "precious time" into writing and only to end up"zero votes" on it. That would be sad. Who would like to view on their post unvalued?
And one more thing is, we can also have a fixed income of steem in return as our "return of investment". What do you think of it?
Most steemians are keeping their steem liquid without knowing the benefits of it. With a good grasp on these two important things, and to commit ourselves to do it, we are preparing the community for whatever happenings in the future... whether good or bad it can continue to operate independently.
Now that we already know these things, let us start to give value to every single steem we have. Gradually instill a vision of success, that is our goal!
In line with this, to reach the goal and for the future welfare of everyone, the Steeming Community team needs the cooperation of each "steemingzen". The reason why we asked you to set your beneficiary post payout reward to @steemingcuration at 30% when you post your content at Steeming Community.
The Steeming Community is vigilant in looking for steem power delegators. Our original target is to reach 100k of steem power at the end of the year. We are happy to inform everyone, that slowly the community is now getting support and in progress.
We are looking forward to more of your support to Steeming Community. Thank you very much.
Your Moderator,
@juichi