SPUD4STEEM PROMOTION- STEEM POWERUP [email protected] INDICATING WILLINGNESS TO PARTICIPATE-1ST OCTOBER, 2020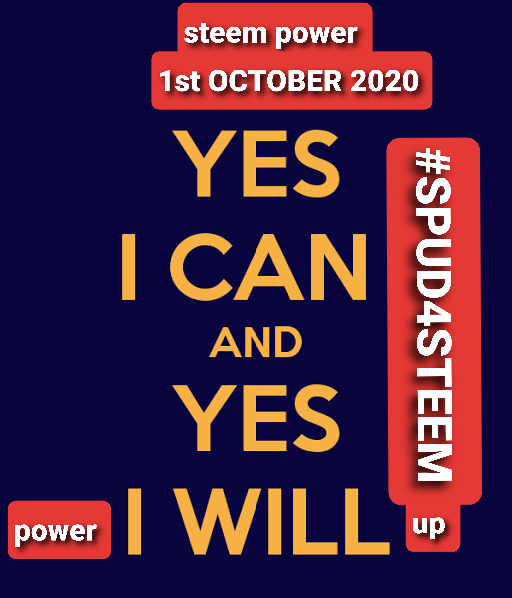 Image source

INTRODUCTION
I am supper excited that come OCTOBER 1st, 2020, i am going to respond positively to the SPUD4STEEM PROMOTION that has been organized by @kiwiscanfly and supported by @steemitblog. I really have confidence in steem that is why i am going to grab this opportunity.
#SPUD4STEEM means, steem power up for steem. It is a way of demonstrating my confidence in steem project. Powering up gives me the influence i need in this platform. It also enables me to add through curation. That is to say that if i have more steem power (sp), i will add more value to any post i upvote. I also gain more.
Therefore, i have personally decided that come this October 1st i am going to power up to show my confidence in this platform not just by words but also by deed.
By means of this write up, i am publicly making it known to all and to the organizers that i am going to participate in #SPUD4STEEM come October 1. This is to partially fulfill one of the requirements for participating in this project and also to encourage my friends who will be reading this post to do exactly what i am about to do and enjoy the benefits thereof.
CONCLUSION
I am thankful for this great opportunity. I am grateful to @focusnow now for his wonderful advice and mentorship. I hope and believe that all my fellow contestants will all do well in #spud4steem

This is my introductorypost here


Subscribe:::Discord.
:::Whatsapp :::join trail :::Steemalive Website