Steeming Community Budget Proposal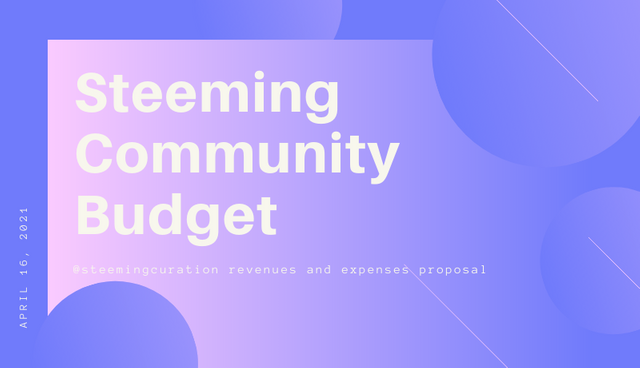 Hello💧Steemingzen! In this post we would like to disclose to you on how we going to manage and allocate the fund or earning that we have received from @steemingcuration account for all members to see and give their feedbacks or suggestions if any.
@steemingcuration account growth is the join effort of the Steeming Team and its members 💧Steemingzen mostly through their contribution of 30% payout reward to @steemingcuration,their time managing the community, recruiting new steemingzen, organizing a contests, conduct an educational workshop and etc.
For now, our main source of revenue is from the booming support program Steemit Communities Support Program initiative by The Steemit Team. We are not sure if this will be continue permanently or will be stop after a period of time. To be able to continue with this community no matter what the circumstances are, we should be working together to make this community self-sustained. We are looking to grow and having a better life on Steemit for as long as this blockchain still in operation. So all community members should be doing their part in any way they could to grow our community curation account @steemingcuration.
30% payout reward will be permanent in Steeming Community?
One of our mission is to be self-sustained community on Steemit, we are committed and determined to grow our community curation account @steemingcuration to at least 500,000 SP NOT including SP delegation from our delegators, as delegators may withdraw their delegation/support anytime but with independent steem power, this community can still moving forward with its own resource. This will also hedge the community against steem price going back to its previous all time low 0.18$ too.
After we have achieve this SP, then the current 30% payout reward to steemingcuration account will be reduced to as low as 15% and further lower if we achieve the next milestone of 1 million SP.
We have this proposal as follow on how we going to spend the revenue or liquid SBD/Steem of steemingcuration account.
We will try to not powering down this account as we want to grow it to 500KSP as soon as possible.
Our target is to achieve 100,000SP by the end of this year including delegation from members.
30% will be use for power up @steemingcuration account.
20% will be use to pay the works of Steeming Community Team members.
40% will be use for paying our delegators and for community contests' prize.
10% will be use to fund @steemingcharity account for any future charity project from the steemingzen members.
We will post monthly report of steemingcuration earning and expenses to communities members to see as we want to be transparent as possible with this community account.
Please let us know if you have any suggestions or feedback in regard to this budget allocation and we will try to tweak this proposal if needed.
Thank you.
Steeming Community Team.