Steemingcurators community contest : Surprise your favorite friend with a gift!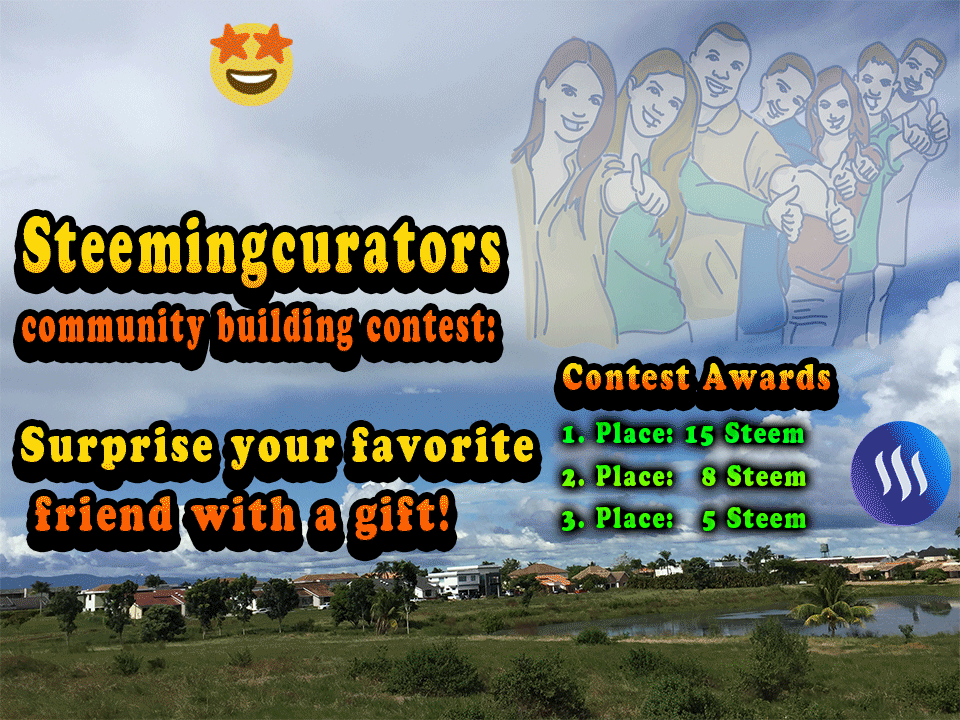 original image of Augusto Ordonez in Pixabay, [Steem Logo] modified by @ulisesfl17. Photograph of @ulisesfl17, captured with iPhone 6 smartphone.
Steemingcurators community contest
We are in the days leading up to Christmas, a season when the light of joy shines in our eyes and radiates happiness around us, where our family, loved ones and friends are always to be found. In the steemingcurators community we have this very present and we have taken it seriously, for us all the users are interconnected to our select network of friends, who are contributing with the strengthening of good human relations with a view to the construction of the Steemit community.
In this constructive line, the last contest about who are your best steemit friends, closed encouraging results that are taken as a gift made by users and community members towards us; a beautiful gesture must be received with love, so, apart from the regular awarding, all participants received 3 steem as a present for their valuable contribution and friendly bond. We were pleased with the registration of 88 messages resulting from the interactive dialogue given in the main publication of the contest.
Three publications and several comments were supported by @steemcurator01; Furthermore, 19 publications were supported by the community account @steemingcurators; other contributions were supported by @steemcurator03, @steemcurator04, @steemcurator07, @steemchiller and @ecosynthesizer. It has been an excellent start that continues its fruitful path and this is what the main purpose of this publication is about, the official announcement of the Steemingcurators Community Contest: Surprise your favorite friend with a gift before Christmas.
What is the contest about?
Abandon the false belief of economic limitation, at least when you step into the writing arena for your contribution, i.e. your world contains everything and that is why you are going to make a gift to your favorite steemit friend, before Christmas comes around. Sometimes choosing a gift for a friend can be a difficult task to solve because we want to positively affect this person who has earned our appreciation and loyalty.
It may be that your heart and imaginary projection wants to break the limiting chains and take a handful of friends to give them gifts; this would be great, honoring more than one steemit friend.
Since we are in the imaginary sphere of pleasant things, take this moment to establish a chat prior to your friend's gift so that you can investigate a little and make this game more exciting and fun. Visiting and commenting on your latest post would be a good initiative. At school, work and family we have this custom to find out what our friends and family would like; here we can put it into practice. It's a matter of starting to comment.
How to choose a gift
You probably missed the last contest about who your best friends are steemit, where a series of qualities and aspects that identify our friends were described. If you didn't participate, it's the least of your worries; the good thing is that you found out about this contest and are clear about who your favorite steemit friends are. According to the treatment, interaction and shared experiences, among other things; you already know the tastes and interests of this person.
Use this information to surprise her with this special gift. You are free to use your imagination to give her a special meal in the restaurant of her dreams, an excursion to the natural ecosystem or tourist site she told you about, dress, shoes, jewelry, vehicle, her honeymoon trip, language course she wants to learn, among others. You are his friend and you know his tastes, hobbies, confidences and you must use your creativity to make the gift.
About the contest
At this point in the ad you know that the contest is about giving a gift to one or more of your favorite steemit friends. The main requirement is that you take off the shirt of the economic limitation and put on the jacket of imagination, creativity, originality and good sense of humor; we will guide some rules to maintain the overall purpose of the contest:
One contribution per participant is allowed and must be published in the steemingcurators community,
The publication will not be duplicated in another community or in another content platform outside steemit,
Share this publication in your blog,
Use the tags #steemingcurators-gift and #steemfriend among the first five tags of your publication,
Make sure you share your publication on Twitter,
Leave a message in this publication on the occasion of delivery and announcement of your gift to your favorite steemit friend. Keep in mind that we are strengthening human relations and our main means of communication is writing,
Create and share quality content; use your own images, with Creative Commons or Public Domain licenses that credit the source.
---
Competition prizes
Publications that stand out for creativity, originality and genuine style in their content will be supported by the steemingcurators account and the following award:
Place: 15 Steem
Place: 8 Steem
Place: 5 Steem
All valid entry posts will be appreciated with 2 steem if they meet all the requirements of the contest..
---
Duration of the contest
You can make your entry contribution to the contest from the date of publication of this announcement until Saturday, November 30, 2020 at 11:59 local time in your country.

We would be pleased if @steemitblog could give their valuable support to this contest. We also appreciated any support or sponsorship in the contest prize pool for steemingcurators community future incoming contests.
This contest is lead and organizes by @ulisesfl17

For more information and to clarify any possible doubts, please ask your questions at the bottom of this publication. You can also access Steemingcurators' Discord server, which we will gladly assist you.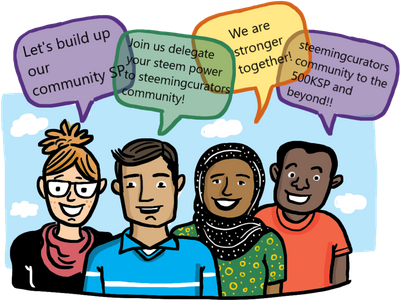 Community Building with steemingcurators Community
Come join us on the mission of How to build up a 500SP account into 500,000 SP community account by delegate/lend your steem power to @steemingcurators account see this post How to Delegate your steem power? or join our curation trail, eligible for membership too! How to join steemingcurators curation trail.

Are you new to Steemit? See this quick guide on How to Steemit!
STEEMIT - A GUIDE FOR NEWCOMERS