Steemingcurators community contest : Tell us who is your steemian best friends?
Steemingcurators community-building contest: Tell us who is your steemian best friends?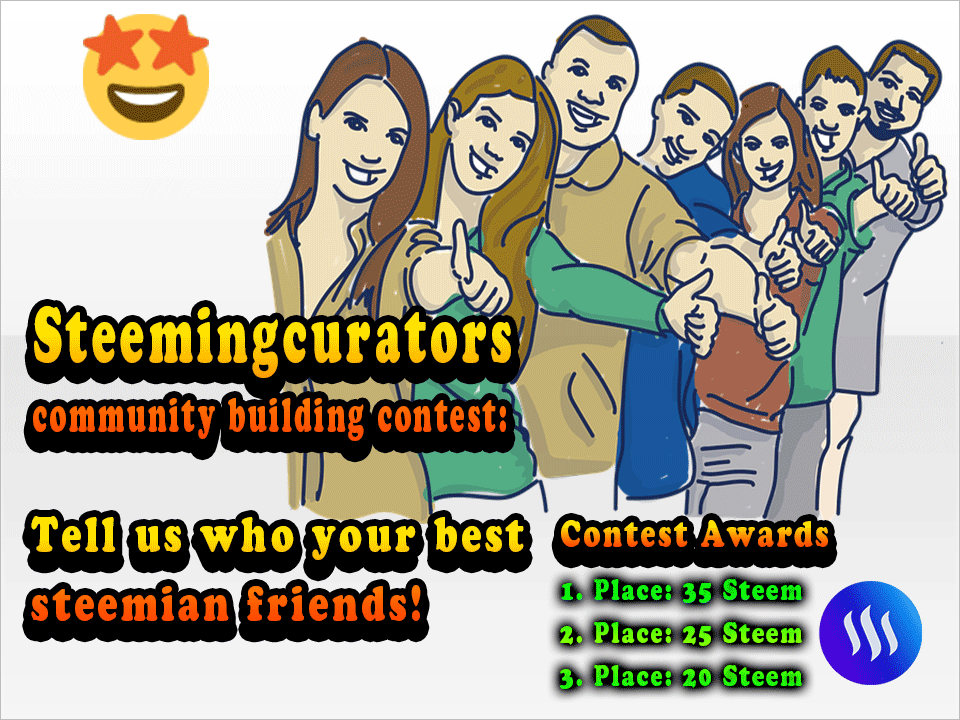 Image of Augusto Ordonez in Pixabay, [Steem Logo]
modified by @ulisesfl17
Greetings to all
Tell us who is your Steemian best friends!
Today is a very special day for everyone in the Steemingcurators Community because we will launch our new contest: Tell us who is your steemian best friends! This joy goes beyond Steemingcurators, splashing with enthusiasm to all users because our community mission and vision is to become a strong and self-sufficient community that strives to bring value to the community at Steemit and Steem Blockhain as a whole, so you are a key piece that can contribute to this beneficial long-term goal, if you want to check this project accessing the English or Spanish versions.
Now, knowing that the key people in our lives have arrived by chance and not by accident, we feel pleasure, happiness, appreciation, solidarity, desire to share a topic, coffee or something in common with these beings who often give us support, loyalty and understanding. We are aware that this happens in any geographical space, culture, society, religion, school and of course social networks; Steemit is in this expansive path of our circle of friends. Thinking about how important our friendships are, friends or people we appreciate for some reason, the Steemingcurators community is pleased to invite the whole Steemit community to the contest called: Tell us who your best Steemians friends are!
That collections of significant memories that you keep pleasantly in your mind and heart about your friends, share them with us, and use this medium to make those intangible and emotional details that will fill with happiness and joy those who you mention in your entry to the contest.
Do you remember the exact or approximate date when you met? How did you meet? Were they introduced by a mutual friend or perhaps they interacted through comments in a publication? Were there any encouraging comments that made the bond of friendship grow and strengthen? What special moment do you remember most fondly? Are they from the same country, region or continent? Do they speak the same language? What were the best suggestions they exchanged for their growth at Steemit?
The main idea is that you share fun and interesting details of your experiences with your best friends, maybe they met when they commented on your publication because they felt interested in your contents, made recommendations to improve your good content, liked some style, or made observations that you found valuable for the substantial contribution and the way they communicated it to you. He or she is active or you were suddenly absent from the Steemit network and you returned because he or she motivated you to do so. Tell us how you see your friend at Steemit in the next two years. What is the future you project for him/her.
About the contest
Share your publication from the steemingcurators community, if you are not a member you can subscribe from the following link steemingcurators community.
Please make sure to use the #steemfriend and your #country-name (For example, Japan, China, Venezuela) within the first five tags.
Create and share quality content; use your own images, with Creative Commons or Public Domain licenses accrediting the source.
Comment on this post and post the link to your entry. It would help a lot if you shared this publication to circulate the information.
🏆Competition prizes🏆
Publications that stand out for creativity, originality and genuine style in their content will be supported by the steemingcurators account and the following award:
Place: 35 Steem
Place: 25 Steem
Place: 20 Steem
Duration of the contest
You can make your entry contribution to the contest from the date of publication of this announcement until Saturday, November 14, 2020 at 11:59 local time in your country.

We would be pleased if @steemitblog could give their valuable support to this contest.
We also appreciated any support or sponsorship in the contest prize pool for steemingcurators community future incoming contests.
This contest is lead and organizes by @ulisesfl17

For more information and to clarify any possible doubts, please ask your questions at the bottom of this publication. You can also access Steemingcurators' Discord server, which we will gladly assist you.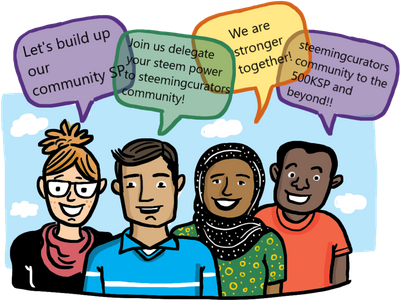 Community Building with steemingcurators Community
Come join us on the mission of
How to build up a 500SP account into 500,000 SP community account
by delegate/lend your steem power to
@steemingcurators
account see this post
How to Delegate your steem power?