Kids-health contest #1|| Tell us about your favourite fruits and its benefits|| 25 Liquid steem for grab
20% of this post reward goes to @Steemkidss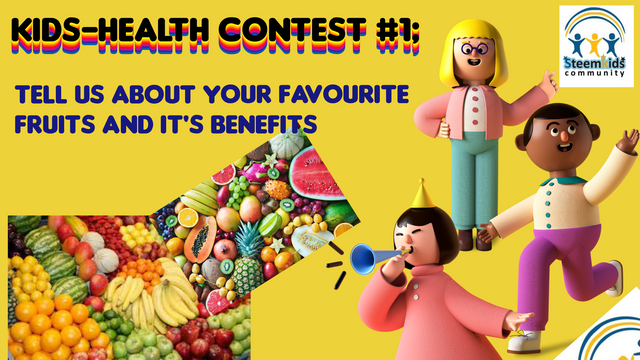 Hello kids lovers and beautiful steemkids trust you are all doing good. I've been reading so many quality posts made by our lovely kids thank you so much for making such wonderful post and I believe our Steemkids are healthy over there.
About Kids-health contest
As we all grow up we need to take care of ourselves. Health is wealth so today we are going to start kids health contest of which we will be reviewing healthy food tips and how to take care of our health. If we are not healthy we will not be able to steem so all our kids and our kids lover need to stay healthy and as such in this contest you are going to learn about fruits and its benefits. review different fruits and their health benefits you know. We know some kids loves taking care of themselves and so you have a favourite fruits we want to know your favourite fruits and its health benefits.
Contest Tips
What is your favourite fruits and why is it your favourite fruit?

What are the health benefits when do you like eating it

What is your advice to those who do not like fruits?
So write about Your favourite fruits
THE CONTEST RULES
The rules are very simple.
At least 250 words

Pictures must be your own.

Follow and tag me so I can get to know quickly

Vote, resteem and drop your link at the comment section of this post.
Reward pool- 25 liquid steem
✓ 1st winner- 5 steem
✓ 2nd winner- 5 steem
✓ 3rd winner- 5 steem
✓ 4th winner- 5 steem
✓ 5 steem will be shared among 5 favourite participants who are close to the winning point but couldn't make it in the first 5 positions.
Winners will be selected from those who follow all the rules and who are detailed. Also, from those who applied markdown styles
Can anyone participate?
Yes, you can, but create content exclusively for kids. Therefore you will write about your kids favourite fruits and its benefits. Please note the idea is to make them look healthy, our Steemkids should be healthy and we hope you will show us some pictures of your kid with fruits.
I wish you all the best in this contest entry. I will be expecting them soon.

Special mention:
@stephenkendal
@bright-obias
@whitestallion
@focusnow
@kiwiscanfly
@yohan2on

Support us by delegating STEEM POWER.