@NGOENYi CONTEST #14:DIY (DO IT YOURSELF) IT'S TIME TO SHOWCASE YOUR TALENT:CONTEST BY @patience otis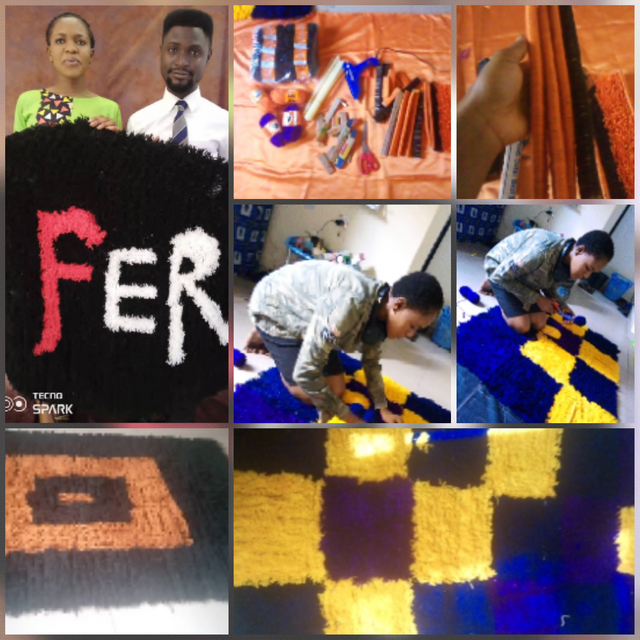 INTRODUCTION
Hello everyone, I am here to participate in DIY contest organised by @ngoenyi. This contest is really dear to me because it's an opportunity for me to show case my talent.
Growing up I had a lot of talents, I was very creative to the point my family started calling me miss diy as my nickname. I was into crocheting, customized note pads, tailoring, diy rugs and many more.
From my childhood I wanted to be independent. I started learning different handworks.
My personal favorite which am here to showcase is my diy rugs. They come in different size, shape, form and design but I will be teaching us on how I make my diy shaggy rugs.
Diy shaggy rugs are made or created on different bases like fabric and mesh net. In this way you get to decide on the texture, size and shape you want. You even get to decide the colors you want.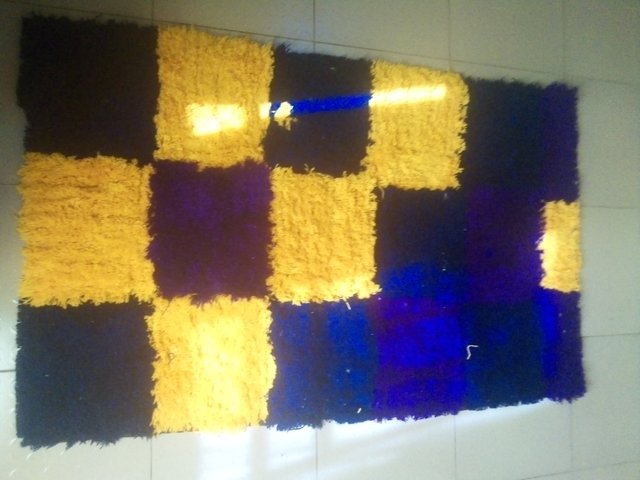 @steemkidss and Steemkids Community, I am going to show us how to this diy shaggy rug and educate us on the benefits.
IN GENERAL
handmade rugs are created on different bases like handlooms, fabric, mesh net which is set based on the size of the rug that the artisan wants to create.
Hand-made Rugs are truly works of art. Each rug is its own unique one-of-a-kind Masterpiece. These wool or silk rugs are beautiful pieces you can add to your home.
Some people insist hand-made rugs are unsuitable for them due to having children, others just question the price,but when you look at these hand-made rugs, consider the work and effort that went into making each of these pieces.
A hand-made rug can add beauty and grace to any bland surface.
TYPES OF HAND MADE RUGS
Some hand made rugs I make include:
1: pom pom rug
2: shaggy rug
3: hand knotted rug
4: flat weave rug
5: cotton rugs etc.
HERE'S HOW TO MAKE THE DIY SHAGGY RUG:
Amazing what you can do with yarn and scissors and a little time.Keep reading to see the step by step instructions on how I made it.
MATERIALS USED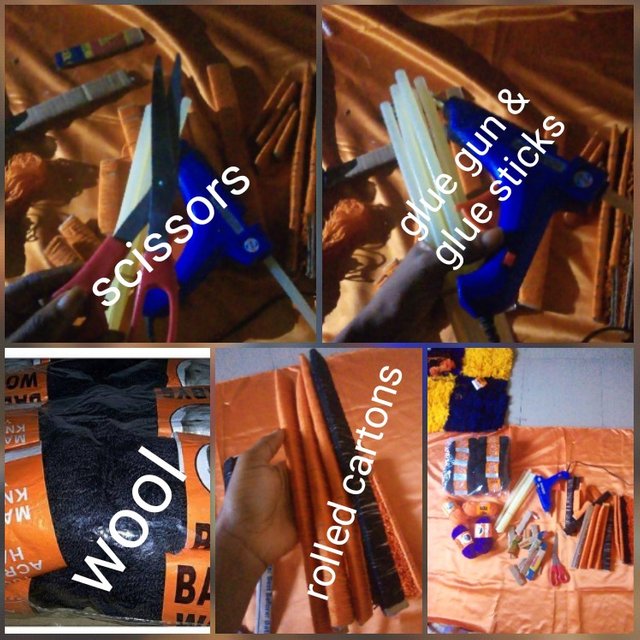 Wool yarn of various sizes, textures, colors of your choosing
Cartons
Scissors
Fabric
Glue gun and glue sticks
THE STEPS
STEP 1: Get Your cartons and then cut them into the size and length you desire. Cartons can be every thing at times so you may find it hard to cut the wool. What I do is that I glue two or three cartoon piece together depending on the thickness of the carton.
STEP 2: Get your fabric and cut out the size, shape and length you want. It could be any shape u want like triangle, circle or even rectangle.
Step 3: Start rolling your wool on the cartons you made earlier (step 1). Make sure no wool is placed ontop of another. Keep rolling until u get the desired amount of carton rolls u need.
Step 4: Now place your fabric on the floor or table or where ever you like. Make sure it's close to a light source.
STEP 5: incase you want to design your rug, draw the design on the fabric
STEP 6: Plug in your glue gun and allow it to heat for about 3 to 5mins
STEP 7: Now get your carton rolls. One at a time apply the glue on it and place it on your fabric. Do this repeatedly until you cover the fabric.
STEP 8: For the design you'll start to place them on mapped area of the fabric to decide on what design you want or to get your determined design.
You need them to be really squished together so after placing them you might find out you need to make more.
STEP 9: start cutting through the top of the carton rolls. Then remove the carton.
STEP 10: trim all the long wool to make it equal.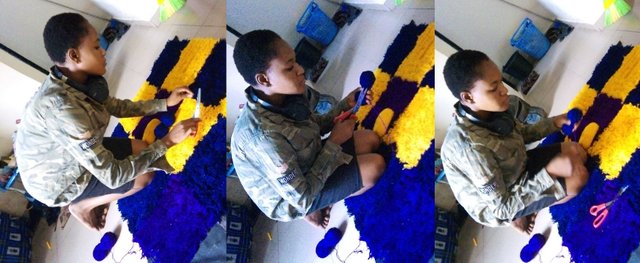 And that's how you make a beautiful shaggy rug.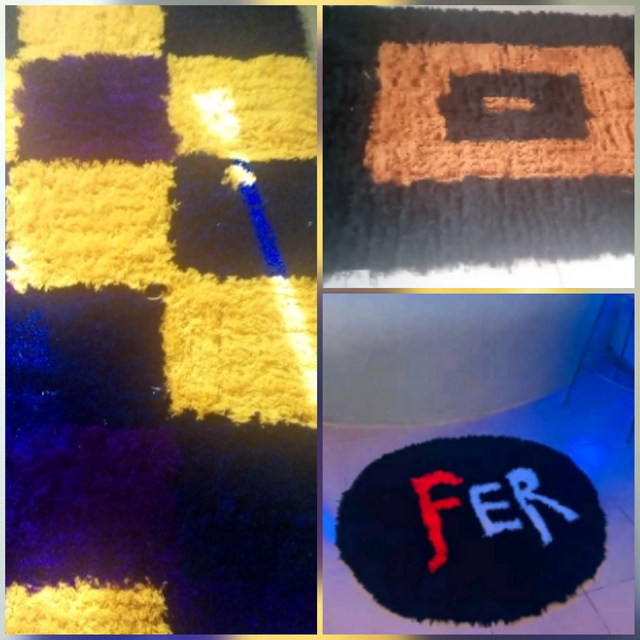 ADVANTAGEs OF USING MY DIY RUGS
1: My diy rugs are not made with chemicals which makes them more durable and unlike machine made rugs this rugs can last for a long time.
2: My diy rugs are chemical free and are not made of synthetic fibers, they are entirely organic and will not harm your family's health.
3: My diy rugs are skin friendly
4: My diy rug is created with passion and creativity.
5: My diy rugs are unique. No two rugs will be the same as it depends on the customers choice
6: My diy rugs epitomize workmanship and artistry.
7: A diy rug will have minor imperfections, which give it character and uniqueness.
8: I use the best quality materials to make my diy rugs.
Choosing a diy shaggy rug over a machine made piece is particularly important if you are looking to buy a rug not just as a decorative element but also as an investment.
If you want to buy a rug, it is always best to go for diy rug even though you will pay more for it. There are many reasons why handmade rugs are a better choice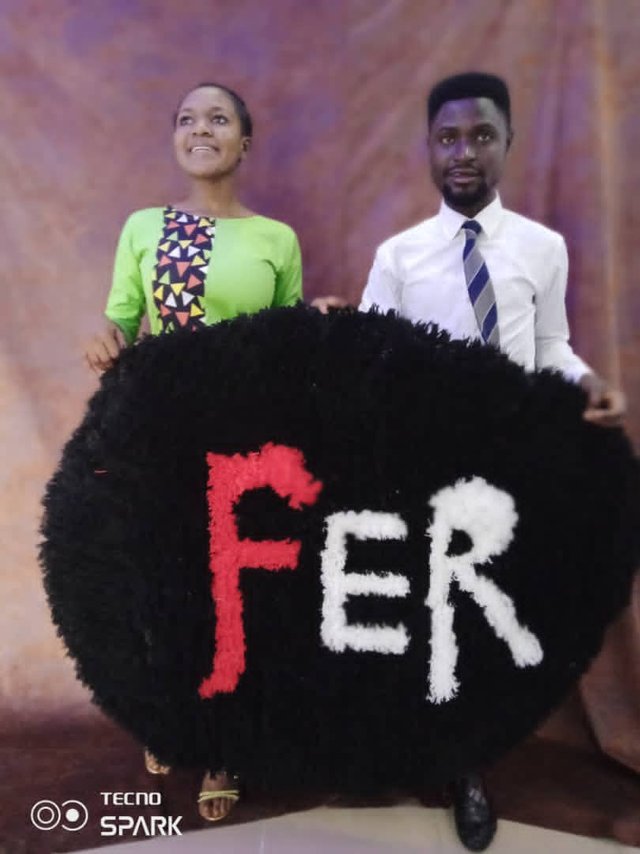 I invited @thebeloved001, @peterabagi, @justiceanietie to join the contest.
Thanks @steemkidss and Steemkids Community for this opportunity to showcase my talent am really greatful.