SENSITIZATION ON CAREER GUIDANCE BY @peterabagi. (A Community Development Service by NYSC Educational Development Group) 13TH OCTOBER, 2021.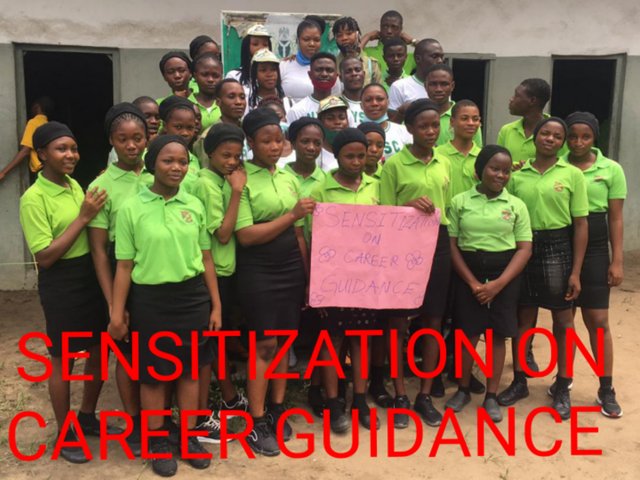 INTRODUCTION
The importance of career guidance and mentorship can not be over emphasized in the life of the child, hence the great need for Sensitization on career guidance. When the foundation is destroyed what can the righteous do? The children are the future of every nation when they are not guided and the fail it is the whole nation that fails.
This means that the success of a child is the success of a nation and the failure of a child is the failure of a nation. When a nation wants to succeed it gives a 100% attention to the needs of the young ones which need could be psychological, physical, material and most important financial needs.
Looking at the above sentences it was only wise for my CDS GROUP to go out for Sensitization on career guidance.
HOURS BEFORE THE EVENT!
I woke up early to attend to my morning chores so that I can finish up and get ready for the event . The event was slated for 8:30 am so I was able to take my bath and get set for this event by 7:55am. Before I could step out I saw that my leader president was prepared to so I just quickly took my breakfast and followed him out.
We first went to our Local Government Secretariat hoping to pick some corp members who are part of our CDS but we found not even one of them there. We received a call to come to the main venue which was at Holy Land International Academy. Obohia Aba. Abia State.
We took keke and we paid one steem each as transport fair to the venue. We arrived at about 8:49am considering that the road was far and very very bad we were looking some how exhausted.
AT THE SCHOOL (VENUE)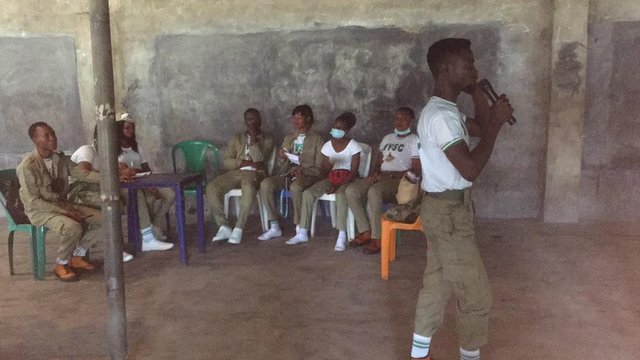 on arrival
At the venue we we're given a great welcome at the head teachers office, the principal addressed me and my team welcome us and said, " we have all been waiting for you since the day you sent your later " after his address he directed us to the school pavilion where we sat and waited for the school to gather their students together.
The students took some time to settle down at the hall and the SENSITIZATION began with an opening prayer led by the Vice Principal administration.
GOING INTO THE SENSITIZATION PROPER
After the opening prayer our CID secretary general took over the anchoring of the program by first asking the children to celebrate themselves after which he called on the first speaker Corper Grace out of the four speakers who spoke at the SENSITIZATION event.
FIRST SPEAKER PRESENTATION ON WHAT IS A CAREER BY CORPER GRACE.
She explained to the children that career is what someone wants to be, do for a long period of time firstly because of ones interest and services one intends to offer . She also explained that the reason for career is not firstly to make money but to find fulfilment in Life.
So she encouraged the children to chose their career not out of fear, money but out of what they love to do. Today so many people choose careers not because they have the interest but because their parents forced them, some because of money and some because they are scared of failure. Which might affect the future of the child.
Remember when the foundation of a building is strong the building will be strong and when it is week the building will also be week. She thought the children that this stage of their lifes is the foundation stage and whatever decision they make today will affect their tomorrow.
SECOND SPEAKER GAVE THEM A CLUE OF SOME OF THE 21ST CENTURY CAREER.
The second corper gave some instance of some of the most selected career fields which includes,
The medical field
Finances
Education
Business
Information and Communication Technology
Arts
The Judiciary
Engineering
After she was done, she asked the children which career they would want and every one screamed her choose.
THIRD SPEAKER SPOKE ON HOW TO ACHIEVE YOUR CAREER.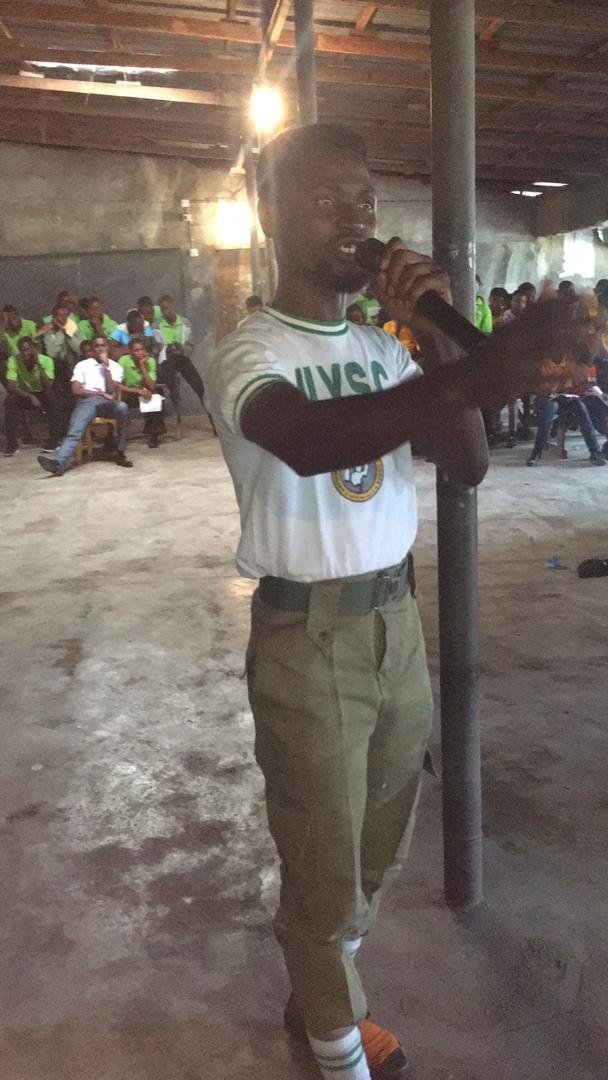 I was the third speaker and after i introduce d my self i made it clear to the students that successful career is achievable but they must be willing to burn the midnight candle and sacrifice their sleep.
Below are few points i made to help them achieve a successful career.
For one to achieve a successful career one must be dedicated to his studies.
One must be disciplined else success will be impossible and finally one must know God and pray always.
When i was done the children clapped for me and i affirmed they understood.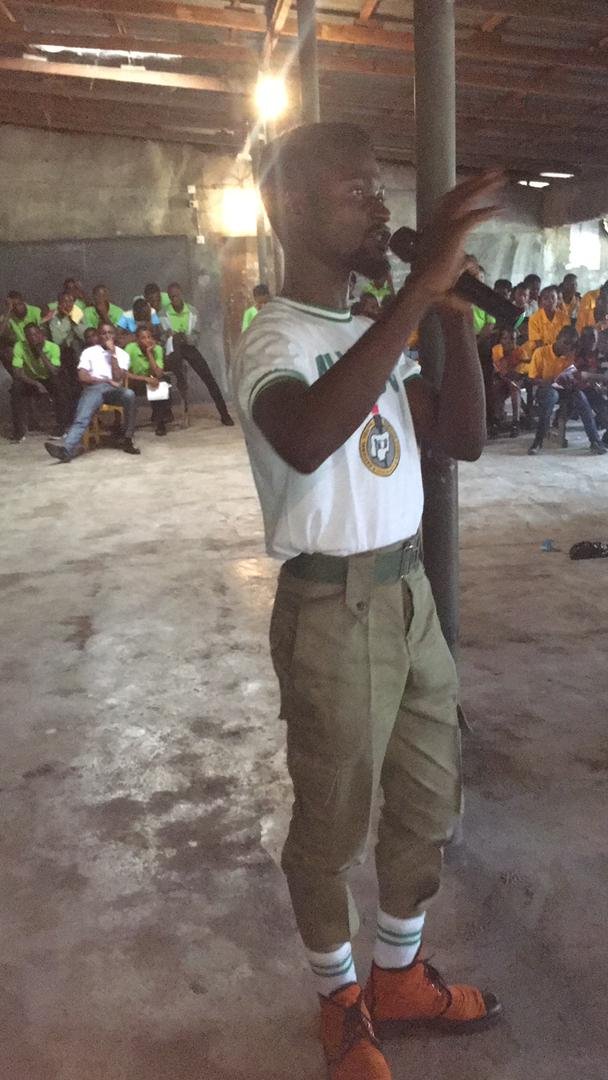 LAST SPEECH BY THE PRESIDENT
The last words to the students came from our CDS president who encouraged the students to always seek advice for their teachers who have gone above them or ahead of them.
He told the pupils to also learn to have mentors in any career they choose as no man is an island. It took him just 5munites to make his point.
VOTE OF THANKS BY SCHOOL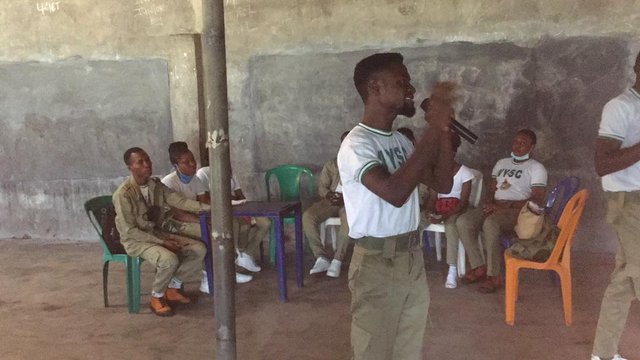 me closing
When we closed and we jpg
re about to leave the school management thanked us alot for being young and Still thinking of giving back to the society both in cash kind.
This experience for this children i believe will make a turn around in their lives as so many students kept thanking us when we where about to leave. It was a great time out there.
Thank you @ngoenyi for permitting me to share this content here on @steemkids.