Steemkids contest, #1 School Runs on School days week 3 ,day 4.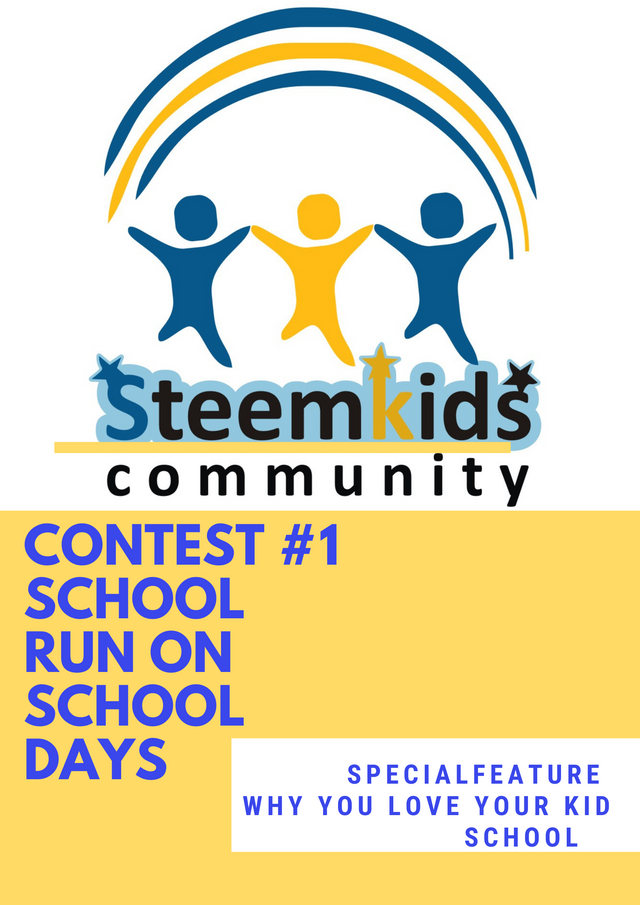 Greeting kids lovers all around the world. Happy new day and happy new month, it's July already and we are excited about this new month, I hope you all are as well. we are happy to bring to you another school run.

SPECIAL FEATURE: WHY DO YOU LOVE YOUR KIDS SCHOOL
Tell us that special thing about your kids school.
Could it be the environment or the human resources or the value they offer, tell us we can't to know it all.
The rules are simple , please follow with due diligence.
Rules of the game
✓ One Entry per day
✓ drop your entry at the comment section of the School Runs post for each day
✓ You can make your entry within the day but soon after school runs and the kids are back from school
✓ Your Entry must be original, must have quality, take care to include all tips above
✓ at least 300 characters (Note: Characters not words)
✓ you must upvote and resteem this post
✓ you must subscribe to steemkids community
✓ invite your friends to participate
Reward pool
We reward the first 20 person's that follow all the rules with 0.5 steem daily. But we will increase if our resources increase.
How is it done?
✓ You are expected to drop a comment under the post that will be made daily about school run for 5 school days within the week. Tell the following
✓ How many kids are you caring for?
✓What are their names?
✓ Tell us about your kids school.
✓ What's special about the school
✓ what makes the school unique to you?
✓ Why you choose the school for your kids?
✓ If you have the opportunity to change your kids school would you? If yes why?
please be creative with your entry, let's have fun while doing this!
Support US
We welcome Support from anyone in form of liquid steem or SBD, votes and donations of all kinds that will help us Support the kids and then grow our community.

Best regards
@steemkids Community

Join our discord channel::::::: Join our telegram group::::::: Subcribe to our community