STEEMKIDS WEEKLY CONTEST #1 ANNOUNCEMENT: WHAT'S THE BEST WAY TO DISCIPLINE A CHILD? C
INTRODUCTION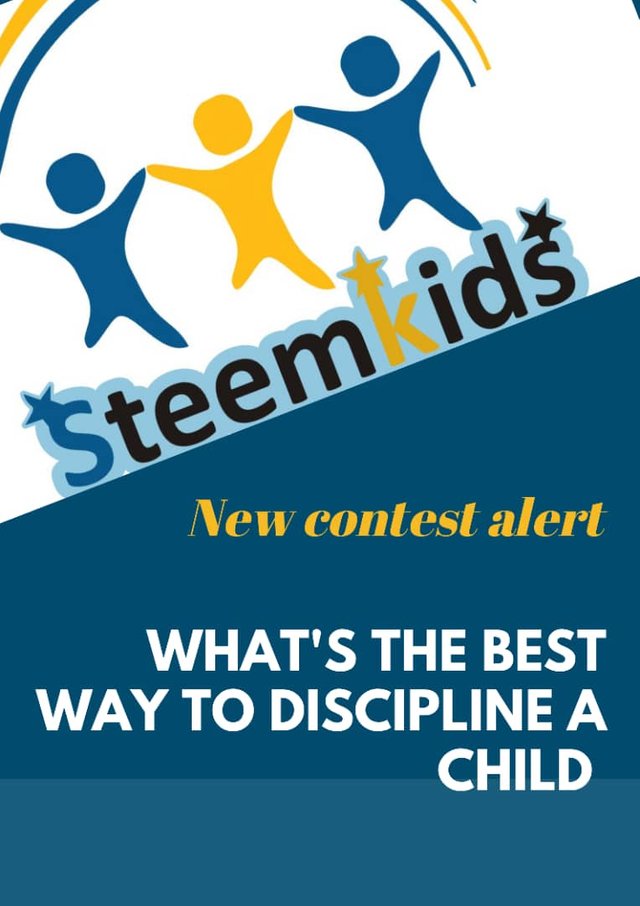 Greeting kids lovers! new contest alert! we all know the seed we sow in our children is what they grow to be. there is a saying that says "spare the rod and spoil the child".
WHAT IS THE TOPIC OF THIS CONTEST?
WHAT'S THE BEST WAY TO DISCIPLINE A CHILD?
So we want to know what your perspective is about raising a child.
Do you believe you have to beat a child to discipline a child or you believe in another method?
How were you raised and how effective is your Upbringing share you to be who you are right now? We know that the way we were raised can affect the way we will raise our own child either positively or otherwise.
We really want to learn from all the kids lovers around the word?
We want to share knowledge and know the best way we can raise our kids.

Write a post and tell us the following :
Tell us if you have kids you are raising

Tell us the best way you think you can discipline a child?
Must you beat a child to discipline him/her?
what mode of discipline did your parents use on you?

Rules
✓ The contest is open to everyone with or without kids
✓ write at least 300 words
✓Subscribe to steemkids
✓ Vote and resteem
✓ Invite at least 3 friends to participate
✓ Use harshtag #bestdiscipline, #contest, #steemit #yourcountry
✓ Mention @steemkidss in your post
✓ Drop your entry post link under the comment section of this post.
✓ Plagiarism is highly prohibited and your entry will be banned as a result. So please be original. We want to learn from you
✓ please apply all the rules
✓ duration is one week from the date of this contest (30/06/2021)

Reward pool- 15 liquid steem plus 100% vote from steemkidss account for the winners
1st winner- 7 steem plus 100% upvote from steemkidss account
2nd winner- 5 steem plus 100% upvote from steemkidss account
3rd winner- 3 steem plus 100% upvote from steemkidss account

Special thanks to @peachyladiva for the contest idea
Support US
We welcome Support from anyone in form of liquid steem or SBD, votes and donations of all kinds that will help us Support the kids and then grow our community.
We hope and believe that someday, the curators will start supporting us as a community.
We are grateful to
@campusconnestng
@steemalive
@whitestallion
@bright-obias
@focusnow
@benton3
And a host of others
Special mention
@stephenkendal
@yousafharoonkhan
@yuhan2on
@cryptokannon
@saracampero
@svm038

Best regards
@steemkids Community


Join our discord channel:::::::Join our telegram group::::::subscribe to our community