STEEMKIDS WEEKLY CONTEST #2: THE HOME OR THE SCHOOL, WHICH SHOULD HAVE MORE INFLUENCE ON THE CHILD?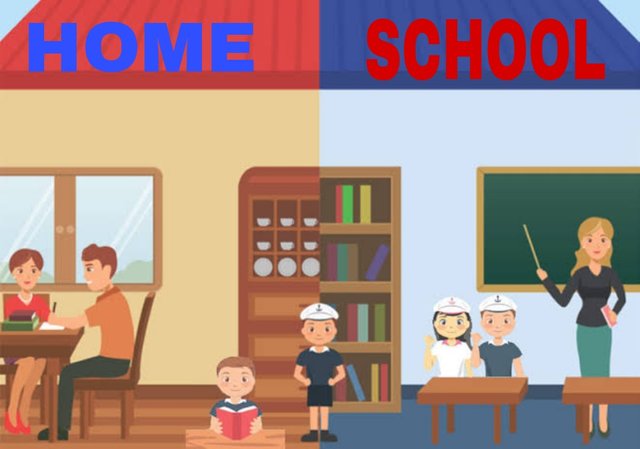 Image source
Hello our wonderful kids lovers in the house, it is a thing of joy to always think about our kids. We are back again with another exciting and interesting weekly contest. Our last weekly contest about how best to descipline a child was wonderful. The entries were superb. [Check the contest result here](
https://steemit.com/hive-139765/@steemkidss/winners-of-the-steemkids-weekly-contest-1-announcement-what-s-the-best-way-to-discipline-a-child
). Congratulations to the 3 winners who emerged. I am happy for you all.
WHAT IS THE CONTEST #2 TOPIC?
HOME OR SCHOOL, WHICH SHOULD HAVE MORE INFLUENCE ON THE CHILD?
It is a practice that every child should go to school. But the child as well starts from home. But the child is mostly influenced by one of them. We agree that both have influence on the child but we want to know which one should have more influence on the child. What are the contest tips?
CONTEST #2 TIPS
From your own perspective, and from what you have observed, school or home, which should have more influence on a child?

Why should it be so? Give at least 5 reasons to support your claim.

Are you writing from experience or from knowledge?
CONTEST RULES

Rules
✓ The contest is open to everyone with or without kids
✓ write at least 300 words
✓Subscribe to steemkids community, it is a must.
✓ Vote and resteem
✓ Invite at least 3 friends to participate especially those who have not subscribed
✓ Use harshtag #influence, #contest, #steemit #yourcountry
✓ Mention @steemkidss in your post
✓ Drop your entry post link under the comment section of this post.
✓ Plagiarism is highly prohibited and your entry will be banned as a result. So please be original. We want to learn from you
✓ please apply all the rules
✓ duration is one week from the date of this contest (02/07/2021)(10am Nigeria time)

Reward pool- 15 liquid steem plus 100% vote from steemkidss account for the winners
We will Reward 5 winners with 3 steem each. We will choose from those who have applied all the rules, who are very creative, who are convincing in their points and who are very detailed.
We will increase the reward if we receive more supports.

Support US
We welcome Support from anyone in form of liquid steem or SBD, votes and donations of all kinds that will help us Support the kids and then grow our community.
We hope and believe that someday, the curators will start supporting us as a community.
We are grateful to
@campusconnectng
@steemalive
@whitestallion
@bright-obias
@focusnow
@benton3
And a host of others
Special mention
@stephenkendal
@yousafharoonkhan
@yohan2on
@cryptokannon
@saracampero
@svm038

Best regards
@steemkids Community


Join our discord channel:::::::Join our telegram group::::::subscribe to our community