WINNERS OF Operation Sign up 5 Kids And Win (Catch Them Young) Season 1|| 100 Steem award||SEASON 2 BEGINS FOR THE "OPERATION CATCH THEM YOUNG"🌱🌱🌱, RECRUIT 2 FROM TODAY AND WIN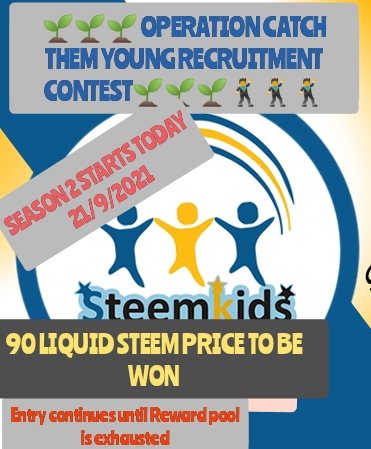 Today, I will announce the result we hosted since 32 days ago which is operation sign up a child and win. it is true that the requirements in the contest is much but I am glade that one of our ambassadors, who is also the first ambassador, have done noble in this regard and has completed all requirements.
This post was made to be for just 2 weeks but was extended for another 2 weeks to enable Al to make their entries. I strongly believe that mose people have recruited kids but were not able to complete the requirements.
This particular contest is very important to us as it will enable the community to keep growing and keep its focus on the kids.
WINNER
We only have one winner and even though she did not assist all 10 kids she recruited to complete their achievement posts,but we are glad that the set target 🎯 is not too difficult to achieve.
The winner is @ijelady who is our own STAM01. Below are her recruits
@ekemini5
@justicechigo
@ijeoma345
@zimuzo
@smartangel
@chimeroselam
She has done noble.
REWARD POOL AND DISTRIBUTION
We promised to give 100 Steem to 20 participants who fulfilled all the rules. And one of the rules is that the person has to recruit t least 5 kids and help them make their achievement posts upto 4 and as well help the join steemkids community and make publications upto 2. She tried to so much. Check here entry post here
Even though the reward should have been 5 steem, we are glad to reward her with 10 steem for her efforts. Congratulations to you at @ijelady! Reward have been sent from @ngoenyi's account who is the sole sponsor of this contest.
SEASON 2 OF OPERATION CATCH THEM YOUNG RECRUITMENT CONTEST BEGINS
This contest continues. We want to recruit more kids and assist them join steemkids community but this one will be more easier because it will be pay as you recruit.
HOW IS THIS SEASON 2 TO BE DONE?
You are to sign up kids that are between 8 years and 18 years and help them do their achievement 1. Then help them join steemkids community curation trail and also help them to get verified in steemkids community, see this post.
CONTEST RULES
Your recruits must be the ones that you assist to join

They must join from today's date which is 21/9/2021

You must have joined steemkids community curation trail and you must assist them join too. Visit the post above

Help them make their introduction post and use their accounts to do verification in steemkids community. Note that their introduction post will be in the newcomers community and they must be verified before they join steemkids community

Entry continues until the 90 steem reward pool is exhausted by after 7 days, a new post will be made about the the contest announcement.

Use the exclusive tag for this contest #kidsrecruit among other tags as one of the first 5 tags
REWARD POOL- 90 STEEM
We have 90 steem left for this contest and as such, we will Reward you with 1.5 steem for each child you recruit after following the rules above. That means that we are looking at recruiting 60 kids with this reward pool.
It is time for you to grab your own award. Catch them Young and win. The race has just begun.

Best wishes from us @steemkids
Contest is sponsored by @ngoenyi
Best regards
Steemkids Community team


Join our discord channel:::::::Join our telegram group::::::subscribe to our community

Support us by delegating STEEM POWER.