STEEMKIDS IDENTIFICATION|| "Jeshira y Susej"
Saludos steemkids y saludos especiales a los amigos
@steemkidss
. Hoy les presento a las dos(2) niñas que tengo a mi cuidado.
Greetings steemkids and special greetings to friends @steemkidss. Today I present to you the two (2) girls that I have in my care.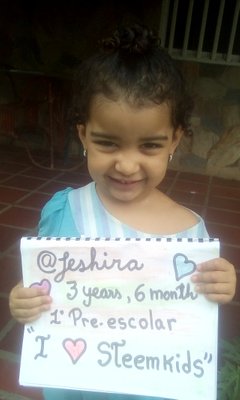 Jeshira Gil
Edad: 3 años y 6 meses
Escuela: 1er Nivel de Preescolar
La pequeña Jeshira con un trastorno alimenticio llamado "La Pica". Este trastorno se refiere a las personas que comen cosas que no son consideradas alimentos, tal es el caso de ella, que desde el primer año de edad y hasta ahora a consumido cosas tales como: jabón, tierra, pintura de labios, creyones, crema corporal, shampu, talco, maquillaje, la madera de los lapices, anime, goma de borrar, papel y cartón. Estamos a la espera de que cumpla sus 4 años para realizarle la evaluación neurológica. Little Jeshira with an eating disorder called "La Pica". This disorder refers to people who eat things that are not considered food, such is the case of her, that from the first year of age and until now she has consumed things such as: soap, dirt, lipstick, crayons, cream body, shampoo, body powder, makeup, pencil wood, anime, eraser, paper and cardboard. We are waiting for you to turn 4 years to perform the neurological evaluation.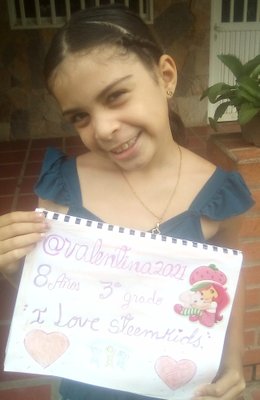 Susej Gil
Edad: 8 años
Escuela: 3er grado de Educación Primaria
Usuario de Steemit: @valentina2021
Age: 8 years
School: 3rd grade of Primary Education
Steemit user: @valentina2021
Susej Valentina, es una niña que nació con una cardiopatía congénita denominada CIV(Comunicación IntraVentricular), ella se mantuvo bajo tratamiento medico durante los 2 primeros años de vida y quedó bajo evaluación cardiológica anual hasta completar la adolescencia, a esta niña se debe monitoriar semanalmente su peso, pues debido a su condición siempre se mantiene en el nivel normal a bajo de peso, es difícil para ella ganar masa muscular y/o grasas corporales. Susej Valentina, is a girl who was born with a congenital heart disease called IVC (IntraVentricular Communication), she was kept under medical treatment during the first 2 years of life and was under annual cardiological evaluation until reaching adolescence, this girl should be monitored weekly her weight, because due to her condition is always kept at a normal level at low weight, it is difficult for her to gain muscle mass and / or body fat.

✨Gracias Comunidad Steemkids por este espacio que han creado con amor, para todos los niños del mundo. Cuentan con mi apoyo y estoy segura de que pronto serán una de las comunidades más fuertes de Steemit. Les envío un abrazo enorme desde Margarita-Venezuela. Están haciendo un excelente trabajo sigan así.✨

✨Thank you Steemkids Community for this space that you have created with love, for all the children of the world. They have my support and I am sure that they will soon be one of the strongest communities in Steemit. I send you a huge hug from Margarita-Venezuela. They are doing an excellent job keep it up.✨

Las fotografias de este post son de mi propiedad, tomadas con mi telefono Alcatel 1

The photographs in this post are my property, taken with my Alcatel 1 phone