CONTEST: How did you find Steemit? / CONCURSO. ¿Cómo llegaste a Steemit? || 10 PRIZES AND UPVOTE FOR PARTICIPATING / 10 PREMIOS Y VOTOS A FAVOR POR PARTICIPAR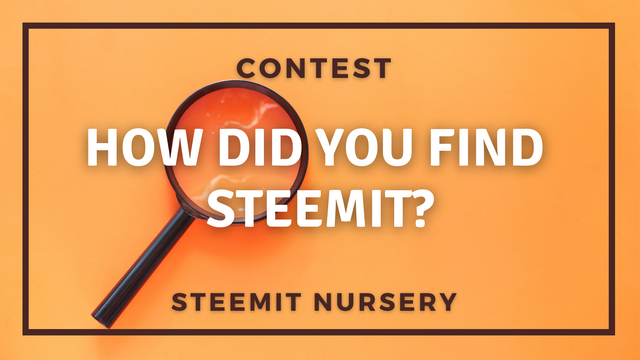 ENGLISH
Hello to all the dear members of #steemit and of this community! Today we bring you some news that you are going to love! The first Steemit Nursery contest!!
The topic of this week will be:
How did you find #steemit?
The story can be very long and fun, and for sure, each user had their own way of getting here. It does not matter if you are a newcomer or have been with us for a few months, or perhaps years, you surely remember how you found Steemit.
Some examples are: A friend told you about this ecosystem; you found it by searching the internet; you are a fan of cryptocurrencies and you got here because of that... Each of you will have a story to tell, and we will be happy to hear about it.
---
How will the winners be selected?
First of all, you have to know this:
In this contest, EVERYONE wins something, there is no way to lose
Yes, as you are reading it. Of course, all entries that respect the rules.
The winners will be those who demonstrate the most originality, use images or be creative in different ways, and follow the rules.
---
Rules are the following:
Any language is welcome.
Your entry should be at least 300 words long.
Resteem this post, so that more people find out about this contest.
Tag @belenguerra so I can notice your post faster.
Share the link of your post in a comment. We won't consider entries that aren't in this post or posted in other communities.
Share your post on Twitter or Facebook, tagging @steemit, and then share the link or a picture in the same comment of your entry.
---
Prizes:
These votes will be increased by 10% if the posts are set to Power Up 100% and the person is not powering down at the same time.
In addition, there will also be 5 prizes of 70% upvote each from the @steemcurator03 account.
---
But listen.... here comes the magic of this contest:
Each participant will have a prize of a vote of 30% from @steemcurator03 if the post complies with the rules.
You always will win by participating.
---
All entries must be submitted by Sunday 27/12 - 23.59 Hrs UTC
We hope you like the proposal and we are waiting for reading your stories!!
---
---
With love!
Steemit Nursery Community
---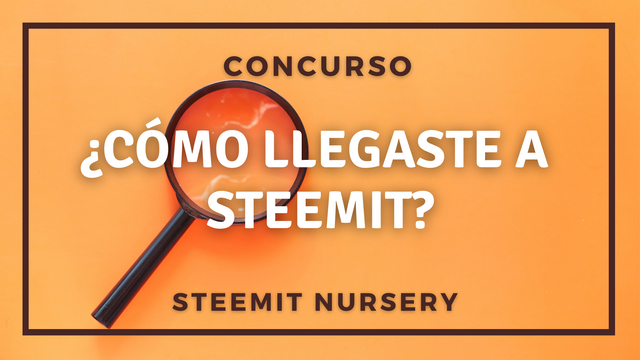 ESPAÑOL
¡Hola a todos los queridos miembros de #steemit y de esta comunidad! ¡Hoy les traemos una noticia que les va a encantar: el primer concurso de Steemit Nursery!
El tema de esta semana será:
¿Cómo llegaste a #steemit?
La historia puede ser muy larga y divertida, y seguro que cada usuario tuvo su propia forma de llegar. No importa si eres un recién llegado o llevas unos meses, o quizás años con nosotros, seguro que recuerdas cómo encontraste Steemit.
Algunos ejemplos son: un amigo te habló de este ecosistema; lo encontraste buscando en Internet; eres un fanático de las criptomonedas y llegaste aquí por eso ... Cada uno de ustedes tendrá una historia que contar, y estaremos felices de escucharla.
---
¿Cómo se seleccionarán los ganadores?
En primer lugar, debes saber esto:
En este concurso, TODOS ganan algo, no hay forma de perder
Por supuesto, todas las entradas que respeten las reglas.
Los ganadores serán aquellos que demuestren la mayor originalidad, utilicen imágenes o sean creativos de diferentes formas y sigan las reglas.
---
Las reglas son las siguientes:
Cualquier idioma es bienvenido.
Su entrada debe tener al menos 300 palabras.
Resteem esta publicación, para que más personas se enteren de este concurso.
Etiqueta @belenguerra para que pueda ver tu publicación más rápido.
Comparte el enlace de tu publicación en un comentario. No consideraremos las entradas que no estén en esta publicación o que no estén publicadas en otras comunidades.
Comparte tu publicación en Twitter o Facebook, etiquetando @steemit, y luego comparte el enlace o una imagen en el mismo comentario de tu entrada.
---
Premios:
1er premio = 50% de voto a favor de @ steemcurator03
2do premio = 40% de voto a favor de @ steemcurator03
3er premio = 30% de voto a favor de @ steemcurator03
4to premio = 20% de voto a favor de @ steemcurator03
5to premio = 10% de voto a favor de @ steemcurator03
Además, también se darán 5 premios de un voto a favor de 70% cada uno de la cuenta @steemcurator03.
---
Pero escucha ... aquí viene la magia de este concurso:
Cada participante tendrá un premio de un voto del 30% de @ steemcurator03 si la publicación cumple con las reglas.
Siempre ganarás participando.
---
Se recibirán entradas hasta el Domingo 27/12 - 23.59 Hs UTC
Esperamos que les guste la propuesta y esperamos leer sus historias !!
---
---
Con amor!
Steemit Nursery Community