[ESP - ENG] Aprendé a votar en Steemit!! / Learn to vote on Steemit !!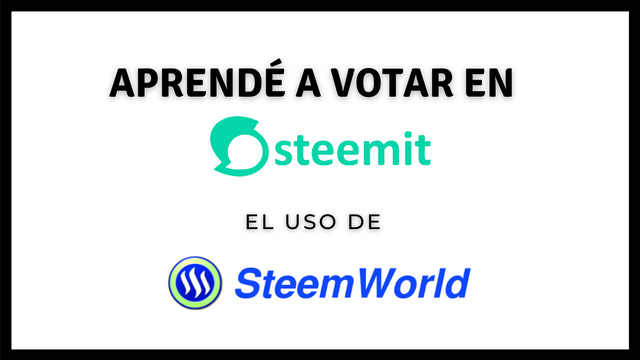 ESPAÑOL
Presta atención a cómo votar!!
Hola mis queridos steemians!! Espero que estén pasando un hermoso día dondequiera que se encuentren. El post de hoy es sobre aprender a votar de manera planificada para no agotar tu poder de voto.
Seguramente alguno de ustedes habrá leído que al votar, obtenés una recompensa en SP (Steem Power), y eso es totalmente cierto, por lo que quizás, estás votando mucho para lograr mayor ganancia. O tal vez estás votando a todas las publicaciones que te gustan, simplemente porque querés apoyar al usuario. Esto está perfecto también.
Pero hay que tener ciertas precauciones! Porque esto no es Facebook o Instagram en donde das like y listo. Tu voto tiene un poder determinado, eso significa que con votar, estás "pagando" al usuario. Para hacerlo, utilizas tu poder de voto. Esto no quiere decir que te quedarás sin dinero ni que utilizas tu dinero, sino que tu cuenta tiene un 100% de poder de voto, que al utilizar, lógicamente, va disminuyendo.
---
Qué es tu poder de voto?
A medida que vas posicionándote en Steemit, verás un número al lado de tu nombre de usuario que indica tu reputación. La misma se conforma por:
Steem Power
Posición
Seguidores
Que los votos hacia tus posts sean positivos (si tienes votos negativos puede influir en tu reputación)
Todo esto le da a tu cuenta un poder de voto determinado, que con el tiempo (y tu actividad en #steemit), irá aumentando. Podés chequear este poder en SteemWorld
---
Observa la siguiente imagen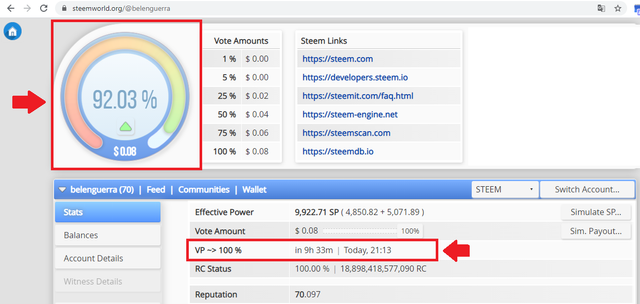 Tomé esta imagen de la página de SteemWorld.
Para ver tu cuenta, debes colocar www.steemworld.org/@tunombredeusuario
Allí podrás ver, en el recuadro superior, el pocentaje que tienes actualmente de voto. Es decir, con 92%, mi máximo de voto es de $0,08. Si yo voto a todos los usuarios con mi 100%, no obtendré mayores ganancias (esto también depende de cuántos votos y cuánta recompensa tengan las publicaciones que curas), sino que agotaré más rápido mi poderde voto.
Entonces, es recomendable que votes con porcentajes más bien bajos, de un 30%. De ese modo, das algo de ganancia al autor, pero no agotas tu poder de voto. Hay publicaciones o autores que sigas que quizás te encanten, que claro, los votarás con mayor porcentaje. No pasa nada.
Lo que tienes que lograr, es no agotar tu cuenta, porque sino, pasarás más de 24 horas sn que tu poder de voto se haya recargado para poder hacer curaciones que tengan algo de valor. Por ejemplo:


Es la misma captura de arriba, slo que tomé el recuadro inferior. Esto es de SteemWorld y es mi propia cuenta.
Yo he estado votando con un 30%, 50% y algunos con un 100%, y mi cuenta se recargará al 100% en más de 9 horas.
Te invito a que ahora mismo vayas a ver qué poder de voto tienes y cuántas horas faltan para que recargue.
Por qué es importante esto?
Dos motivos:
Tu voto no tendrá valor para el autor
Tu voto no te generará ninguna recompensa
El porcentaje de voto que das + cantidad de recompensa de la publicación + cantidad de votos que tiene la publicación = tu recompensa como curador o curadora
---
Cómo establecer tu poder de voto??
Desde la misma página de #steemit cuando vayas a votar la publicación

En este caso, tienes que abrir la publicación para poder graduar tu voto. Lo haces deslizando el círculo hasta el porcentaje que vos quieras.

Lo mismo, deslizas el cuadro hasta el porcentaje que quieras. En este caso, podrás ver el valor que se le dará al posteo votado.
---
Eso es todo queridos amigos!! Espero que les haya servido!! Y a quienes recién llegan por aquí, verán que pasará un tiempo para que puedan establecer su poder de voto!!
Preguntenme lo que necesiten!!
---
Gracias por leer!!

---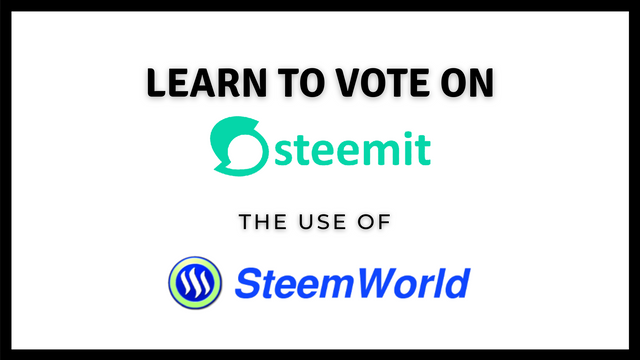 ENGLISH
Pay attention to how to vote !!
Hello my dear steemians! I hope you are having a beautiful day wherever you are. Today's post is about learning to vote in a planned way so as not to exhaust your voting power.
Surely some of you have read that by voting, you get a reward in SP (Steem Power), and that is totally true, so perhaps, you are voting a lot to achieve greater profit. Or maybe you are voting for all the posts you like, simply because you want to support the user. This is perfect too.
But you have to take certain precautions! Because this is not Facebook or Instagram where you give a like and that's it. Your vote has a certain power, that means that by voting, you are "paying" the user. To do so, you use your voting power. This does not mean that you will run out of money or that you use your money, but that your account has 100% voting power, which, when used, logically decreases.
---
What is your voting power?
As you position yourself on Steemit, you will see a number next to your username that indicates your reputation. It is made up of:
Steem Power
Position
Followers
That the votes towards your posts are positive (if you have negative votes it can influence your reputation)
All of this gives your account a certain voting power, which over time (and your #steemit activity) will increase. You can check this power in SteemWorld
---
Look at the following image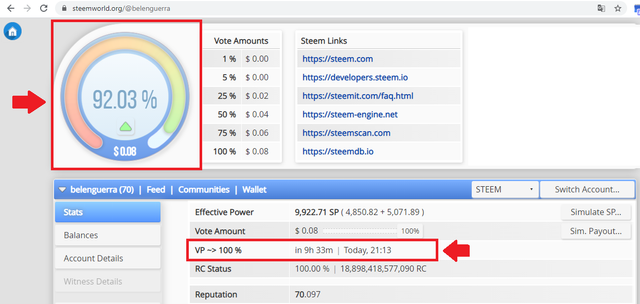 I took this image from the SteemWorld page.
To view your account, you must enter www.steemworld.org/@yourusername
There you will see, in the upper box, the percentage you currently have to vote. That is, with 92%, my maximum vote is $ 0.08. If I vote all the users with my 100%, I will not obtain higher profits (this also depends on how many votes and how much reward the publications you curate have), but I will use up my voting power faster.
So, it is recommended that you vote with rather low percentages, 30% is a good one. That way, you give the author some profit, but you don't exhaust your voting power. There are publications or authors that you follow that you may love, of course, you will vote for them with a higher percentage. Nothing happens.
What you have to achieve is not to exhaust your account, because otherwise, you will spend more than 24 hours without your voting power being recharged to be able to vote with a valuable profit. For example:


It's the same screenshot above, only I took the bottom frame. This is from SteemWorld and is my own account.
I have been voting with 30%, 50% and some with 100%, and my account will be recharged to 100% in more than 9 hours.
I invite you to go and see right now what voting power you have and how many hours until it recharges.
---
Why is this important?
Two reasons:
Your vote will have no value for the author
Your vote will not generate any reward to you
The percentage of vote you give + the amount of the post's reward + the number of votes the post has = your reward as a curator
---
How to graduate your voting power?
From the same #steemit page when you go to vote on the post

In this case, you have to open the publication to be able to graduate your vote. You do it by sliding the circle to the percentage you want.

The same, you slide the box to the percentage you want. In this case, you will be able to see the value that will be given to the voted post.
---
That's all dear friends!! I hope it has served!! And to those who have just arrived here, you will see that it will take a bit time for you to be able establish your voting power!!
Ask me what you need!!
---
Thank you for reading!!