Announcement of the Winners of The Contest "How You Represent Steemit to Your Friends & Family"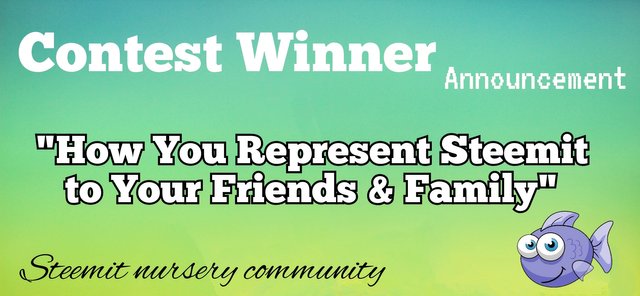 Hello wonderful steemians of this community, today we are really happy to announce the winners of the just concluded contest tagged 'What are Your Goals As a Newcomer On Steemit' It was indeed a great time reading your various content. There were a lot of participants from different countries.
Everyone discussed how to present the platform to their family and friends from their own position. I really like everyone's plan. Thanks to you all. Now, let's take a look at the winners below...
The first 5 winners will receive prizes through booming votes and the next three will be awarded 6 steem from the @rex-sumon account.
The above winners are based on the rules given, creativity, and also the way they presented their publications. All winners will now be eligible to receive votes from the booming account on their active post.
Thanks For Participating
Steemit Nursery Team.
---