📢Contest Steemit Nursery Community : How You Represent Steemit to Your Friends & Family?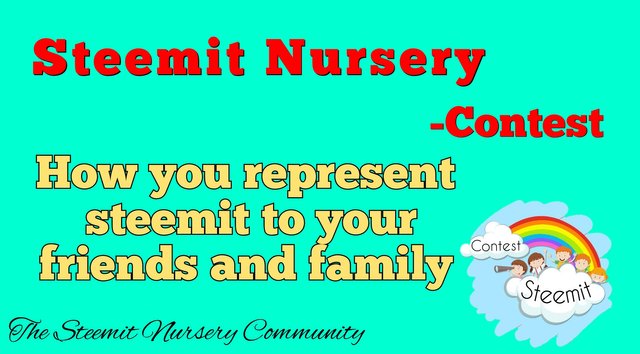 Hello Steemians, welcome to this wonderful contest. Today we are presenting to you a contest tagged "How you represent Steemit to your friends and family ". This contest is basically for new steemians under the level of Newborn, Toddler, and Infant. So if you are under these levels, this contest for you.
The Steemit platform is a social media platform. Surviving here alone is not fun. You should bring your acquaintances under this platform. This will make your time very happy. You will definitely like to see the blog shared by your friends and family members. Also, if you share your good and bad moments on this platform, the comments you get from close people. it will make you happy just like any other social media. There are also many good aspects to using this platform with your own people.
That's why you need to tell your friends and family about this platform. And they will be attracted only if you can express the beauty of this steemit platform to everyone. So we want to know 'how you represent the steemit platform to your friends and family.
Rules Of This Contest
This contest is open to steemians under the level of Newborn, Toddler, and Infants. any language is welcomed. Plagiarism is Highly Prohibited! If caught will be banned from the contest

Be creative and share quality content about this topic. Write in details at least 250 words, and use pictures if any. But don't forget to cite pictures that are gotten from the internet

Make sure to use this tag #steemitSpread, #steemexclusive and also don't forget to mention @rex-sumon somewhere in your content so we can easily find your content

Please share your post on Twitter or Facebook, tagging @steemit, #steemitSpread, and then share the link or an image in the comments section of your post.

Share your entry link on the comment section of this post. if post not shared on the comment section will not be counted

Post must be within The steemit Nursery community, post outside this community will not be counted, please don't forget Resteem this post, so that more people find out about this contest.
Prize
We will select 5 winners, who will receive support from the "booming" curation, in an active post within the Steemit Nursery community.
Even after selecting the top 5 posts, if some good quality posts are left out of the selection, then the next 2 will be given 3, 2, 1 steem respectively. This will be provided from the @rex-sumon account.
Note:- Please do well to follow the rules, winners will be selected based on the rules. This Contest Begins Today being July 9th and will be Running till 16th July at 06:00 PM (UTC) . Thank you.