Betterlife || The Diary Game || 01/08/2021|| Enjoying Sunday holiday: //By:@zeeshanakram//
Hello my dear friends,how are you.I hope you are fine and having good health in these day of covid-19.Today i am going to share my diary and beautiful sunday with you. I hope you will enjoy a lot.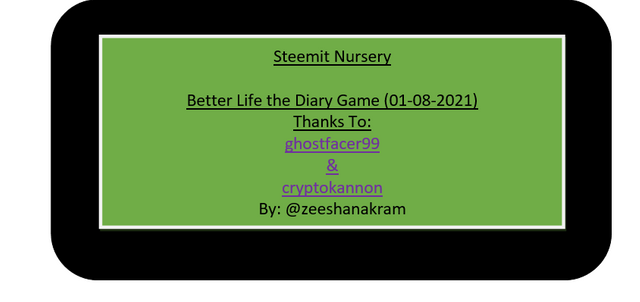 Beginning of the day(01-08-2021):
I got up early in the morning and went to the mosque where i performed fajar paryer. After praying fajar prayer then I decided to go for a morning walk. Because today my mood was fresh. And I want to walk for little time. Then I went towards the fields for walk. There were many people already present at the road. Suddenly i saw my neighbour i was also doing exercise and walk. I went near to him and said to him when you start walking, he says to me Oh my son i am diabetic patient and my doctor said to me to walk daily 30 minutes. It may control your sugar level. I say to him thanks a lot for this valuable advise. He is my friends which is a diabetic patient.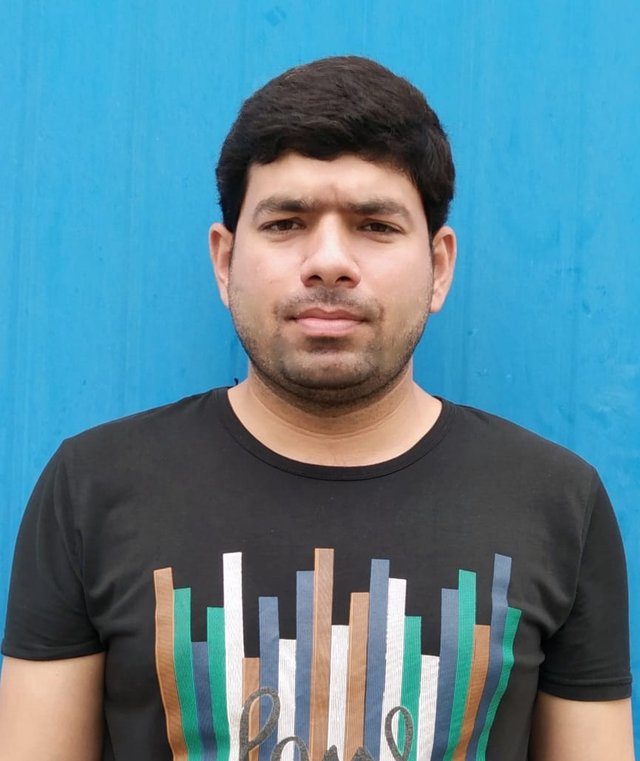 I came to home for breakfast. My sister gave me breakfast. After breakfast my Aunty's call came and she says to me to come in their home urgent. I say to her yes i came with my friends after 1 hour. My aunty says to me there is birthday of her little baby that we will celebrate together. I was very happy today because i was going to celebrate birthday of little baby. I go in washroom to take bath and say to my sister to iron my clothes. After 30 minutes i was ready to go. Here is my picture in new clothes.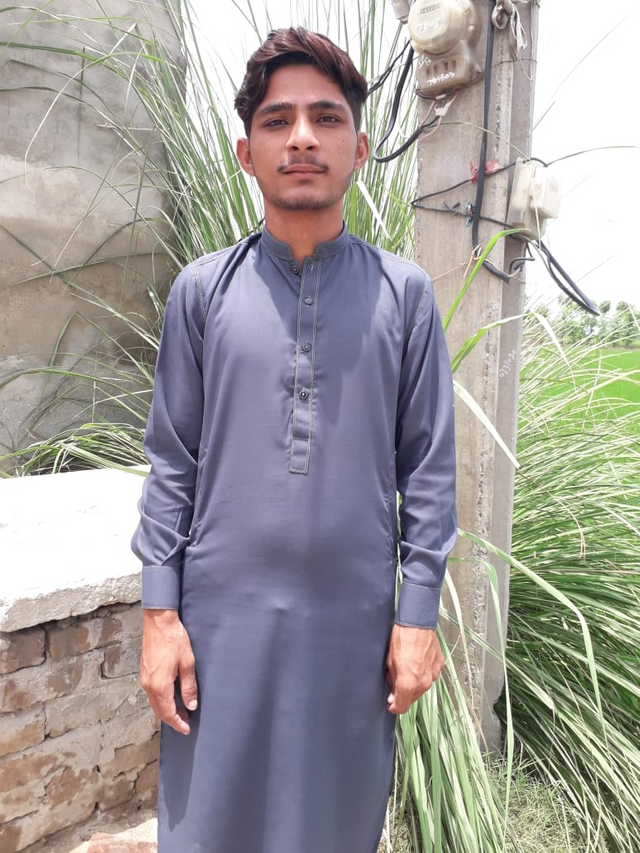 Going with brother and Friend:
After that my younger brother says to me that we will also go with you to celebrate the birthday. I say to him yes of course why not. We sit on bike and start our journey. Here is my picture with brother and friends.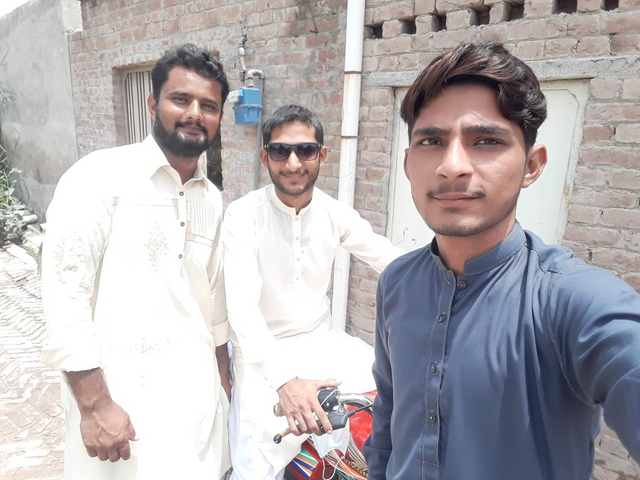 Paterol Pump on the way:
When we start our journey the weather was so cool and enjoyful. First of all we reached at Paterol Pump which is near to my house. We say to young man to give paterol of 200 Rupees. He gives us Paterol of 200 Rupees. Here is our picture while taking paterol from Paterol Pump at Saba Wala Village.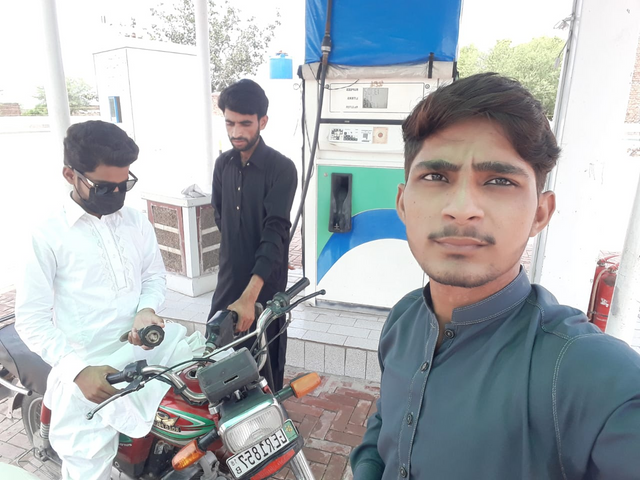 Going to Haveli Lakha:
After that we again start our journey. The road condition was very bad. We walk running the Bike Very slow. After 30 minutes we reach Basirpur City. Then we take turn to Haveli Lakha. The road that was leading to Haveli Lakha was very bad.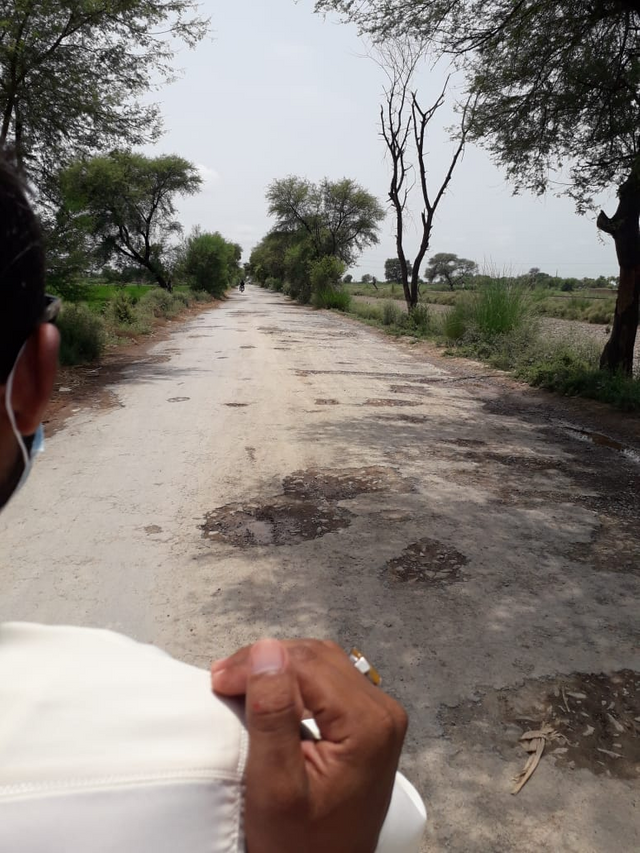 After some time we reach a very big river. His water was running with high speed and his water so cool. We stop the bike at the bridge of the river to see the scene. The river was very big when i saw the big river i was afraid to see his water with high speed. My friends says to me to take bath in the river but i refused to him. Many beautiful buffaloes were crossing the bridge of the river. That scene was very beautiful.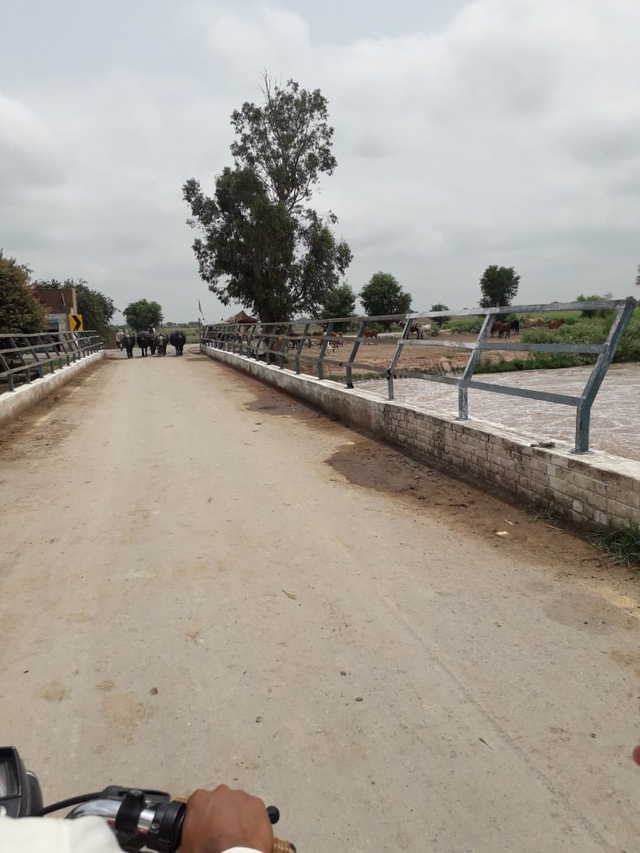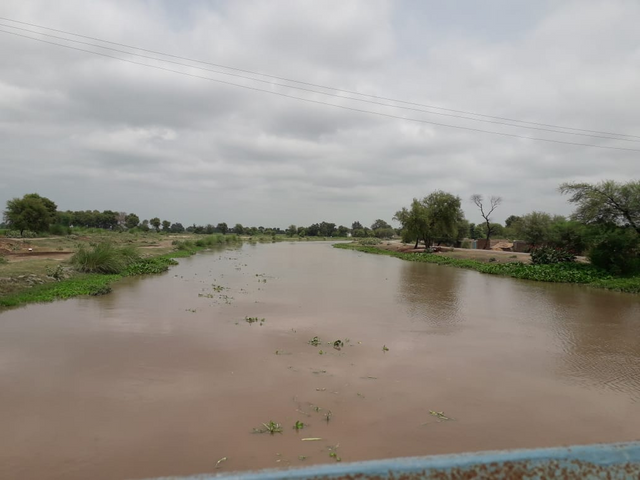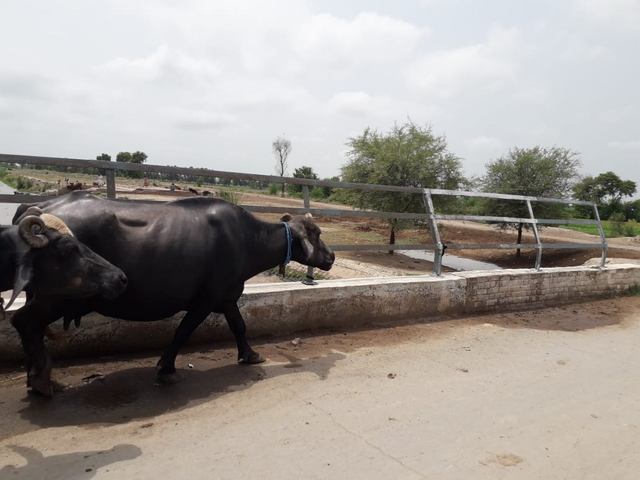 Reached At haveli Lakha:
After short time we reached at the main road of Haveli Lakha. I take a picture of the way where a donkey was standing near the stone pillar. I was laughed when i take picture of the stone pillar on which 8 Kilometer left was written. The weather of Haveli Lakha was so good. We were enjoying the Sunday a lot.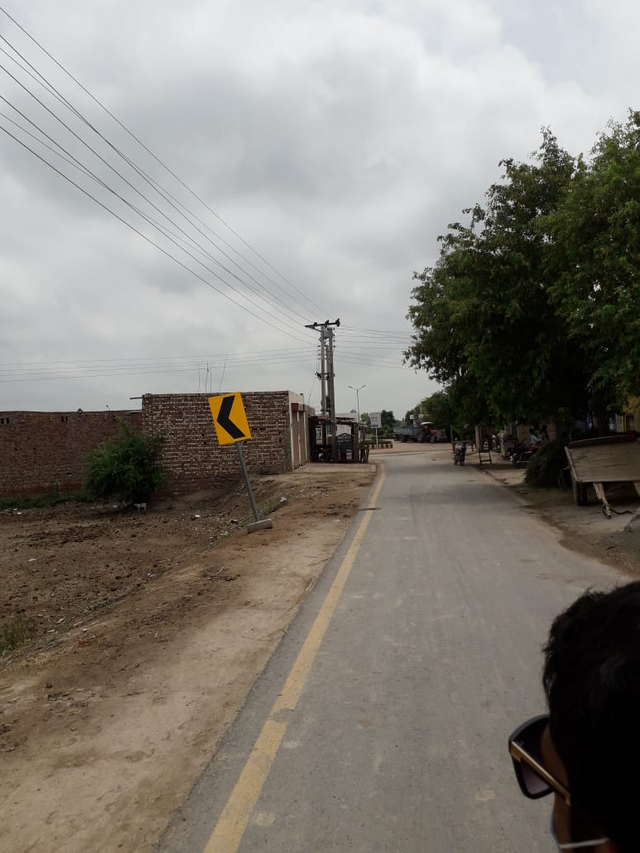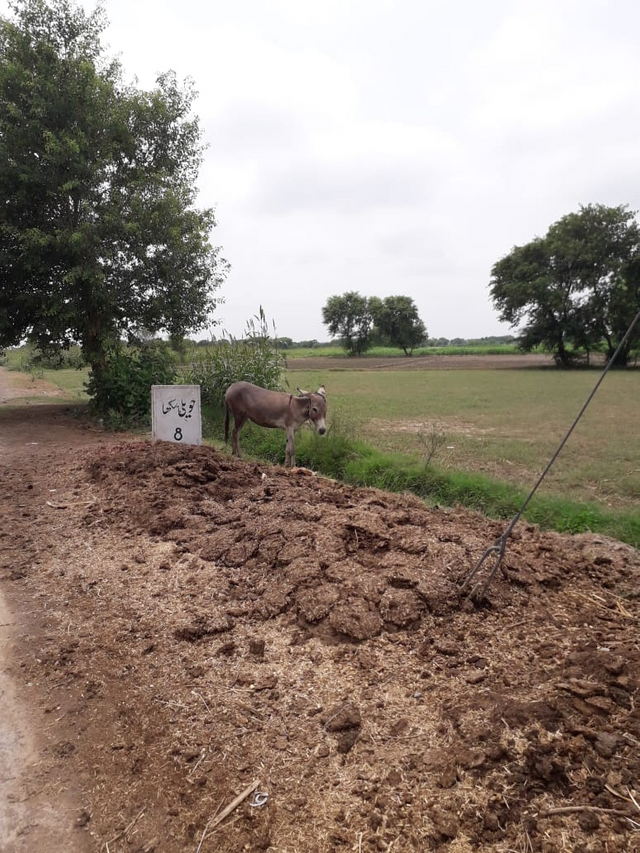 Reached at venue:
After little moment we reached at my aunty's home. The main door was opened. My friends say to me to stop the Bike in the door. I say to him no we will stop the bike inside the home. Here is the picture when we reached at our venue in my aunty's home.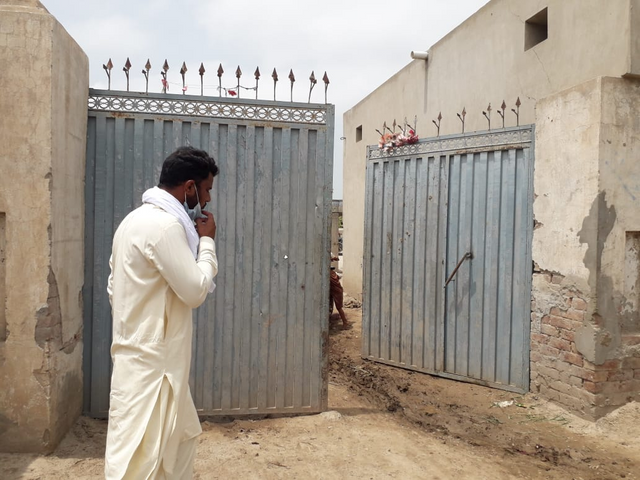 When i we go inside the home, Muhammad Zaman were taking bath alone. Here i remember you Muhammad Zaman is a baby which was his birthday today. When i go near to him i say to him that i take bath to you but he refused and say to me i will take bath himself. All the family laughed on his words.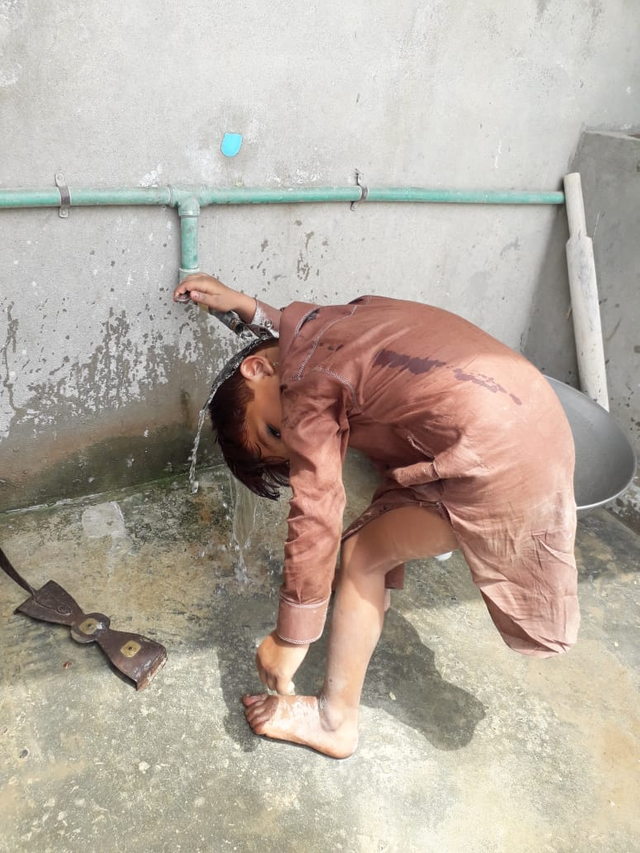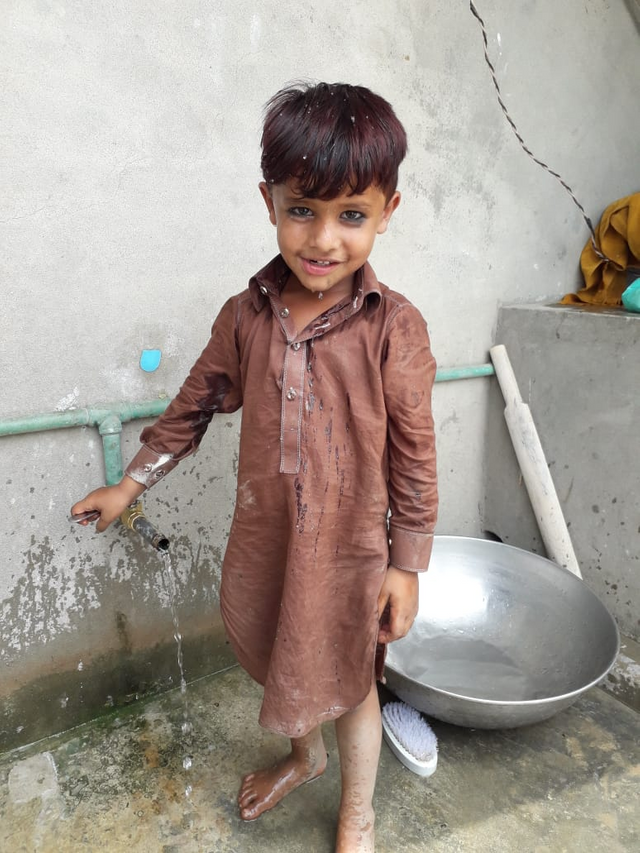 Take some rest:
After that we all sit on the bed to take some rest. Then my aunt says to us that what you will dribk tea or cold drink. All says we will drink Coca Cola. When we were on the bed i take a selfie with brother and friend. Now we were also tyred due to a big journey. Then i decide to to In the bazaar to take cake for the celebration of the birthday.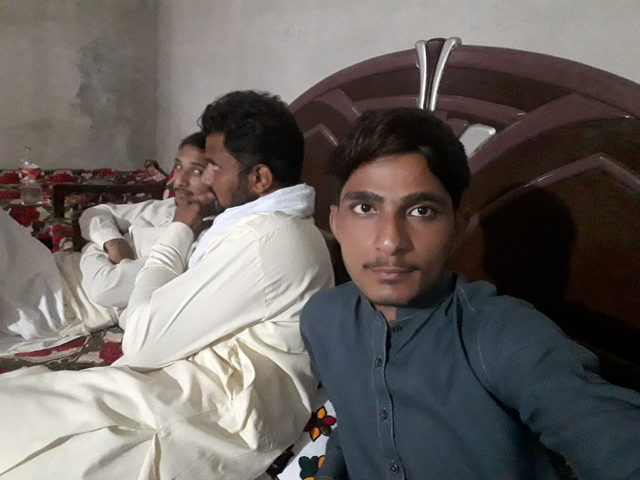 Birthday Cake:
After some time cake was present among the family. The smell and taste of the cake was looking so beautful. The flavor of the cake was pine apple. This is my favourite taste. Here is birthday cake.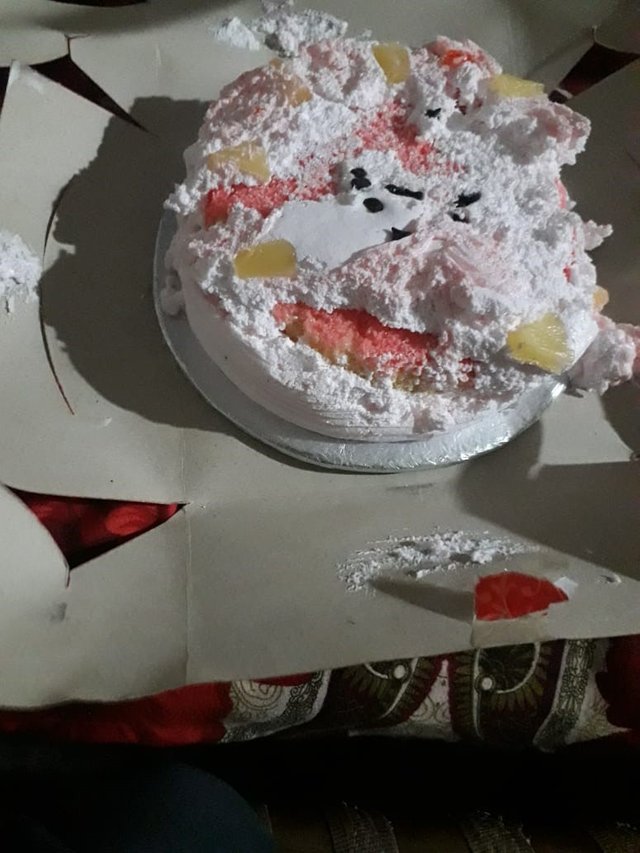 then we start our celebration. The Baby cut the birthday cake with his own hand. We enjoy a lot this celebration. We also eat cake. The cake was so yummy and tasty.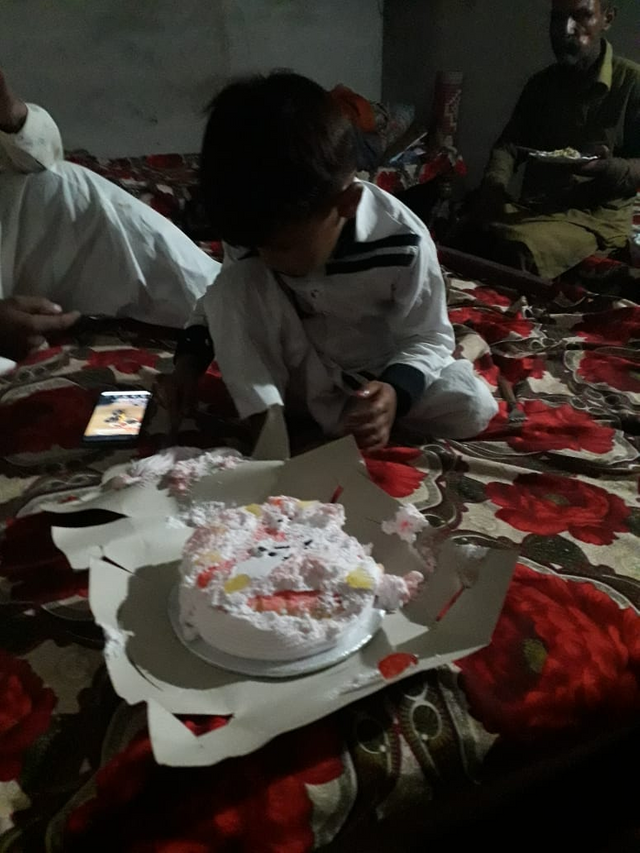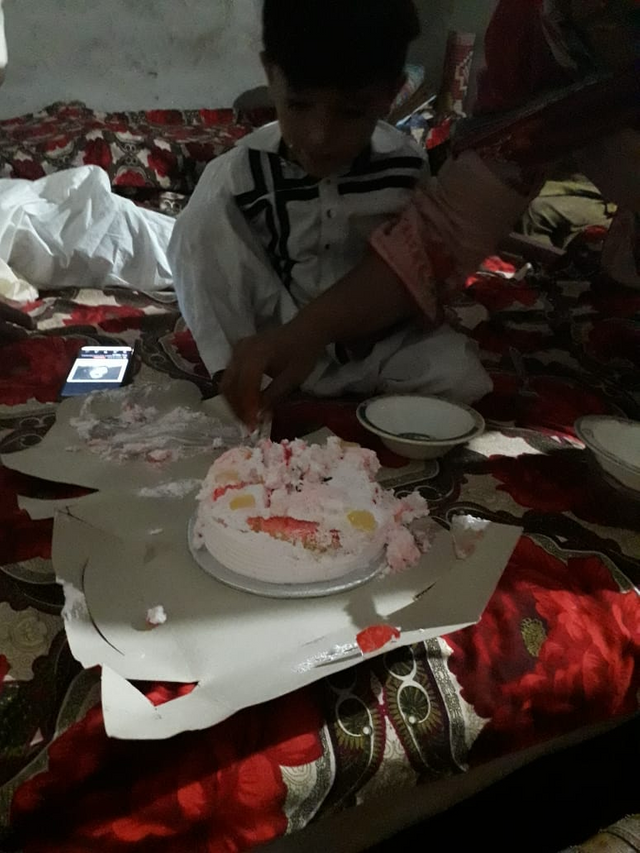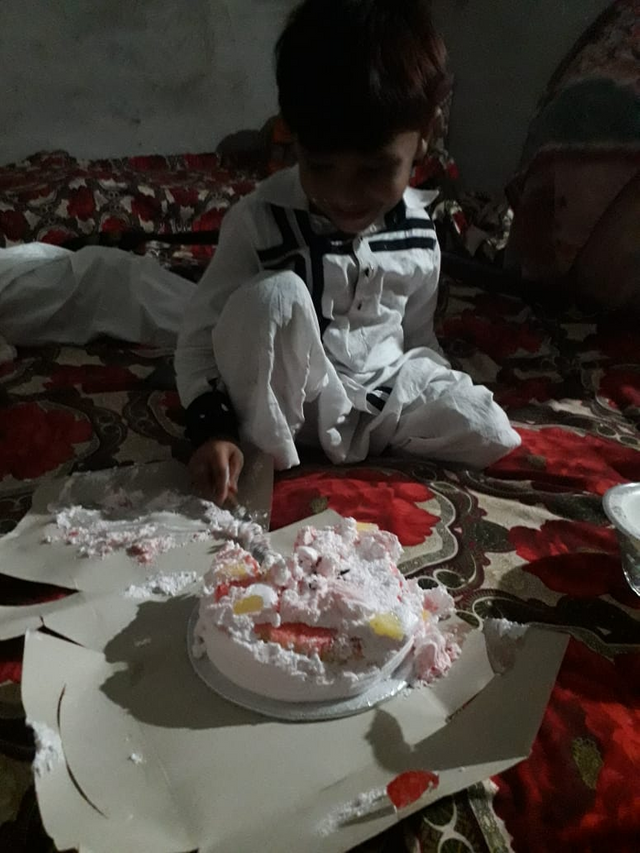 We enjoyed a lot. Now we decided to go back home. The time was passing quickly. That was the whole day that we spent very beautiful. I hope you will like my post a lot. Please remember me in your prayers.
Thanks To:
@cryptokannon
@ghostfacer99
@inspiracion
Regards By:
Achievement No:01
https://steemit.com/hive-172186/@zeeshanakram/achievement-01-my-introduction-to-steemit-zeeshanakram