Launch the "Chinsese" community of steem to provide steemians which using chinese or talk about "chinese"
The income of this post is 100% donated to the "base income plan" special account @chinesebi of the "Chinese" community .
Explain the following information by FAQ:
Q: Why promote a steem community?
A: Because new version of steem launched community features,
Q: Isn't there a #cn tag?! why a #chinese tag?
A: #cn is ambiguous. Because of many subjective reasons, many people don't like it very much
Q: #cn has grown up in steem. It is the top 30 hot tag (community). How can #chinese tag compete?
A: The two are not competitive. However, there are too many restrictions on #cn, so it's only the top 30, not the top 3. Although #chinese tag started late, some things always have a "start", which is the so-called "no silicon steps, not enough to travel thousands of miles"
Q: What is the relationship between #chinese tag and Chinese community?
A: Chinese community in the current version of steem, it is in the form of a first tag '#hive-143316', And #chinese tag is the label in the current version of steem. The purpose of the two is to make the Chinese community of "Chinsese" consistent in different versions of steem
Q: Is there any activity to support new Chinese community users?
A: As the first step, we will launch the "Chinese community base income plan" with the special steem account of @chinesebi for operation. In the first two weeks, we will maintain the maintenance strength of about 2000SP to upvote any post in Chinese community and then we will make optimization and adjustment .
Q: Who is the initiator and owner of this activity? Profitable or public welfare?
A: Although the sponsor is HuaRen.News(华人新闻网), but "chinese" is for the public welfare, does not belong to anyone, of course, anyone can also participate in it. The special steem account @chinesebi operation, @chinesebi's revenue rolling is used for upvote any post of Chinese community, never to withdraw.
Q: How can others participate?
A: Chinese community is open. Anyone can join the community freely, just click the subscription on the right side of the community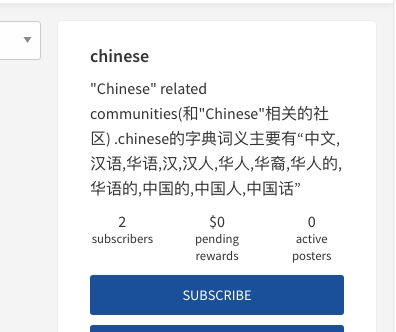 In addition, if you are willing to support the plan, you can delegate SP to @chinesebi:
2 SP | 10 SP | 50 SP| 100 SP| 200 SP | 500 SP.
At present, @chinesebi rents SP from the market with high interest rate. After receiving the community member's delegated SP, it gradually cancels the SP rented from the market