Pathetically Funny Donald Trump
"I'd be richer than Solomon, Muskier and more pathetically funny than Donald Trump."
What? Did I just mention Trump in my 2005 Xanga blog? Apparently, I did. Shocking as I, well outside of seeing The Donald as some rich old guy in Home Alone II and The Little Rascals reboot film of the 1990's, I didn't really know too much about Trump until I started watching Infowars and Alex Jones in 2016. I started promoting Trump For President early in 2016. But like I said, I didn't really know anything about the man other than that he would say, "You're fired."
Pathetically Funny Donald Trump
2005-11-14 - Monday - 03:15 PM EST - The 14th or fourteen or 14 of November or the eleventh or eleven or 11th or 11 month of the year of 2005, two thousand and five, by Oatmeal Joey Arnold, L4OJ, oatmealjoey, at WOLBI NY, in Pottersville, New York (NY), USA - 11/14/2005 - On Xanga
Join My Community | @OatmealJoey | @OatmealEnglish | @OatmealHealth | @JoeyArnoldVN
Published in February of 2020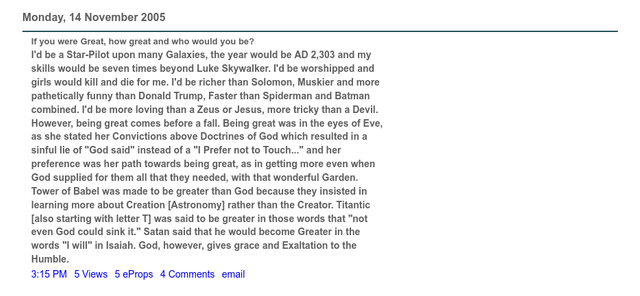 Being Great
If you were Great, how great and who would you be? I'd be a Star-Pilot upon many Galaxies, the year would be AD 2,303 and my skills would be seven times beyond Luke Skywalker. I'd be worshipped and girls would kill and die for me.
Richer & Funnier
I'd be richer than Solomon, Muskier and more pathetically funny than Donald Trump, Faster than Spiderman and Batman combined. I'd be more loving than a Zeus or Jesus, more tricky than a Devil.
Eyes of Eve
However, being great comes before a fall. Being great was in the eyes of Eve, as she stated her Convictions above Doctrines of God which resulted in a sinful lie of "God said" instead of a "I Prefer not to Touch..." and her preference was her path towards being great, as in getting more even when God supplied for them all that they needed, with that wonderful Garden. Tower of Babel was made to be greater than God because they insisted in learning more about Creation [Astronomy] rather than the Creator.
Titanic
Titantic [also starting with letter T] was said to be greater in those words that "not even God could sink it." Satan said that he would become Greater in the words "I will" in Isaiah. God, however, gives grace and Exaltation to the Humble. Monday, 14 November 2005. 3:15 PM 5 Views 5 eProps 4 Comments email.
Coin Tree | Facebook | Gab | Minds | Steemit | Twitter | YouTube | And More
Click Here to See More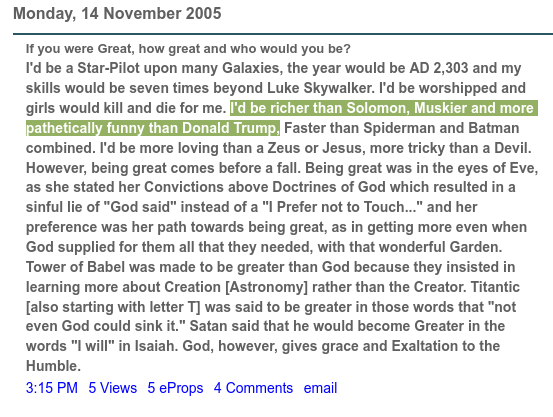 ---
1980 | 1981 | 1982 | 1983 | 1984 | 1985 | 1986 | 1987 | 1988 | 1989
1990 | 1991 | 1992 | 1993 | 1994 | 1995 | 1996 | 1997 | 1998 | 1999
2000 | 2001 | 2002 | 2003 | 2004 | 2005 | 2006 | 2007 | 2008 | 2009
2010 | 2011 | 2012 | 2013 | 2014 | 2015 | 2016 | 2017 | 2018 | 2019
01 | 02 | 03 | 04 | 05 | 06 | 07 | 08 | 09 | 10 | 11 | 12