📷 Abenteuer im Monsterwald 🌄
Hallo liebe Steemians,
Hello, dear Steemians,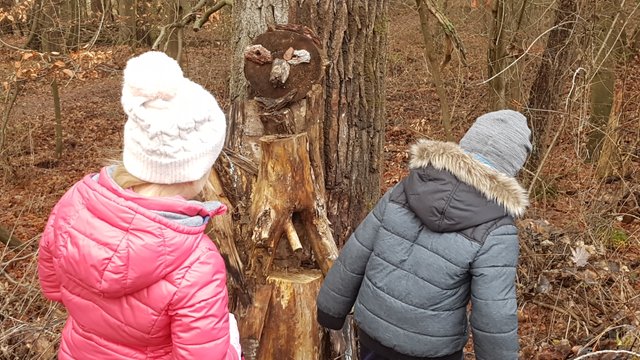 Glücklicherweise wohnen wir sehr nah am Waldesrand, und haben es nicht weit in die noch weitgehend intakte Natur der fränkischen Wälder. Unser Papi unternimmt mit uns immer wieder gerne Abenteuerausflüge in den Wald. Da er viel mit dem Mountainbike unterwegs ist, und fast jeden Weg oder Pfad im Umkreis kennt, kann er uns immer wieder tolle Sachen zeigen.
Fortunately, we live very close to the edge of the forest and don't have far to go to the still largely intact nature of the Franconian forests. Our dad always likes to take us on adventure trips into the forest. Since he is on the road a lot with his mountain bike, and knows almost every path or trail in the area, he can always show us great things.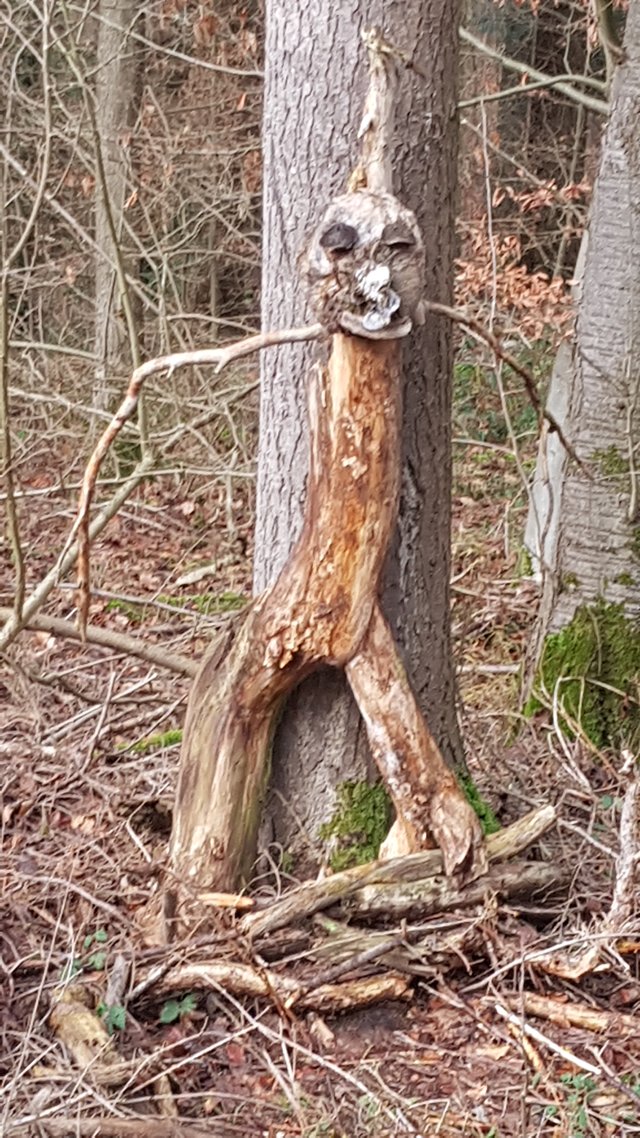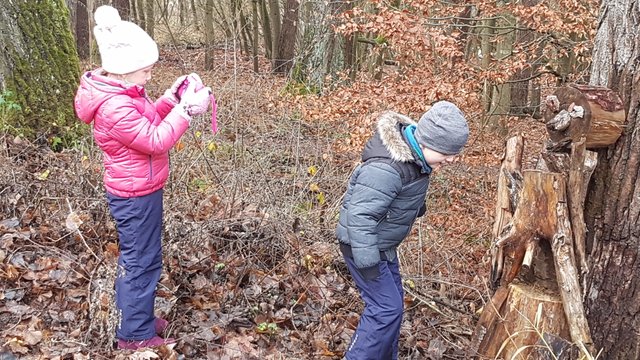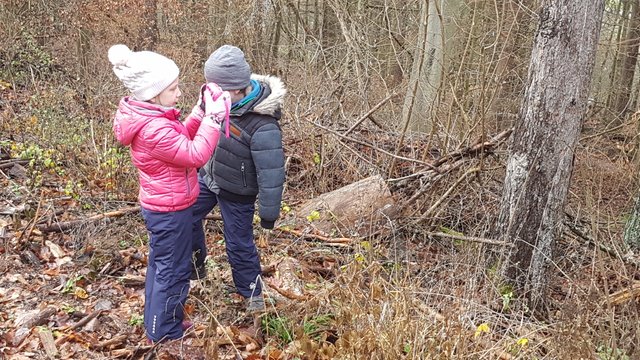 Im Dezember haben wir mal wieder einen Ausflug in den Monsterwald unternommen. Wahrscheinlich sind es die Forstarbeiter, die die Holzmonster errichtet haben. Anfangs hatten wir auch teilweise echt ein wenig Angst vor dem einen oder anderen Exemplar. V.a. aber dann, wenn Papi auch noch mit gruselig verstellter Stimme stellvertretend für die Monster gesprochen hat. Mittlerweile trauen wir uns aber nah an die Monster ran. Sogar fotografieren können wir sie. Eigentlich sind sie doch ganz lieb.
In December, we once again made a trip to the monster forest. It is probably the forestry workers who have built the wooden monsters. At first, we were also partly really a little afraid of one or the other specimen. V.a. however then, if Daddy spoke also still with creepily disguised voice representative for the monsters. In the meantime we dare to get close to the monsters. We can even take pictures of them. Actually, they are quite nice.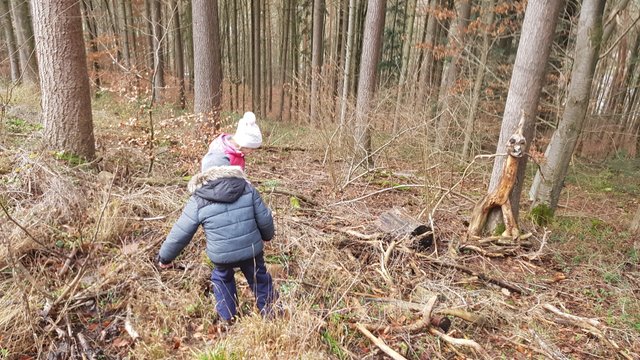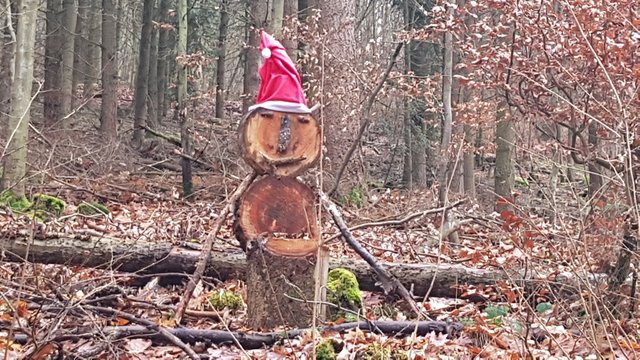 Dieses Monster hier macht sogar einen auf Weihnachtsmann. Es ist schon toll, was mal alles im Schenkenwald finden kann.
This monster here even makes one on Santa Claus. It's great what you can find in the so called "Schenkenwald" (=gift forest).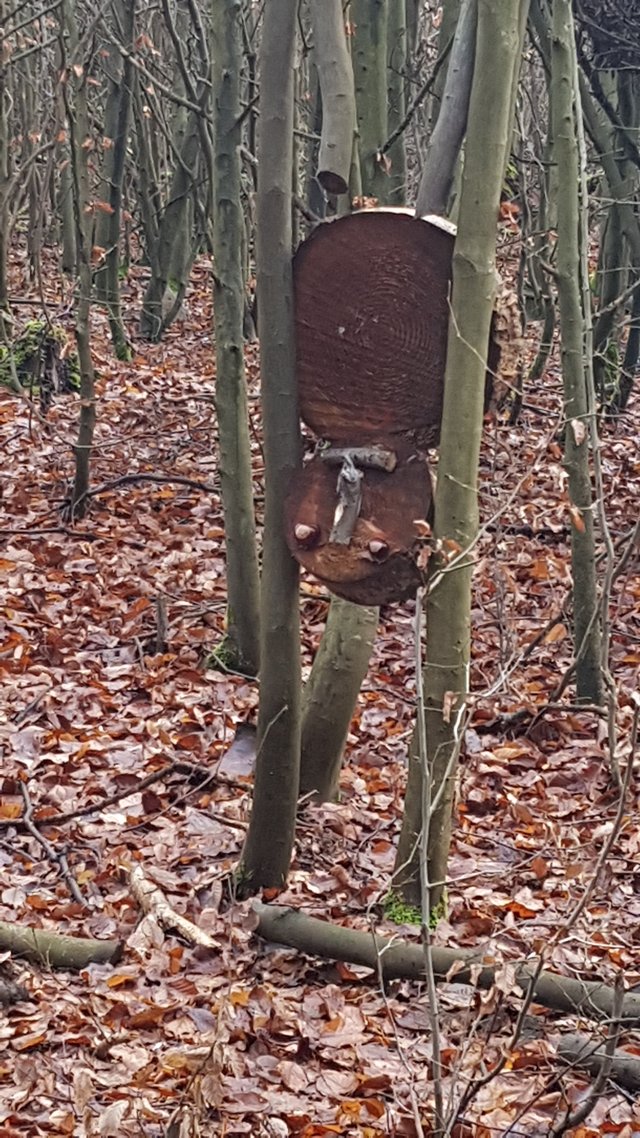 Dieses Monster ist sehr sportlich und steht sogar auf dem Kopf. Eberhard Ginger läßt grüßen... ;-)
This monster is very sporty and even stands on its head. Eberhard Ginger sends his regards... ;-)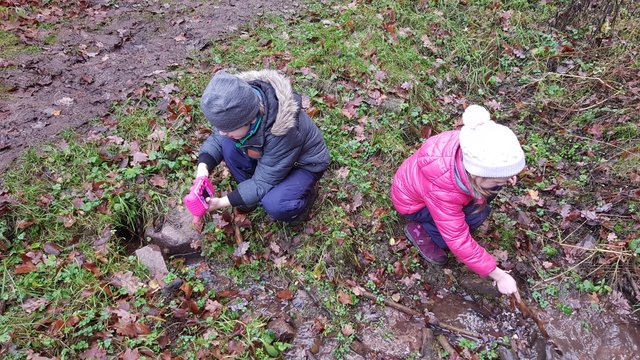 Unsere Eltern ermahnen uns oft, daß wir nicht so viel mit dem Tablet-Computer spielen sollen. Ein kleines Bächlein im Wald kann doch so interessant sein. Hier haben wir fast ein wenig den Bieber in uns entdeckt. Nein, es muß auch nicht ein Spielplatz sein. Ein simples Rinnsal im Wald macht doch mindest genauso viel Spaß. Und ein wenig im Schlamm zu spielen, hat noch niemandem geschadet. Ganz im Gegenteil.
Our parents often tell us not to play so much with the tablet computer. A little stream in the forest can be so interesting after all. Here we almost discovered a little bit of the beaver in us. No, it doesn't have to be a playground either. A simple rivulet in the forest is at least as much fun. And playing a little in the mud has never hurt anyone. Quite the opposite.
---
🌄 🌄 🌄 Follow @sophieandhenrik 🌄 🌄 🌄