Find us on our Social Media, now we are on Twitter and Discord
Dear friends of Steem Men's Club and respected Steemians!
We are in our early phases and we are working behind for growing our community. We made more plans and we have objectives that we will share with you. Since things are going slowly in their shape, we will start with the promotion and hard work. We started with creation of the Social Media where we will be closer to community members and we will be promoting what will be done in the community.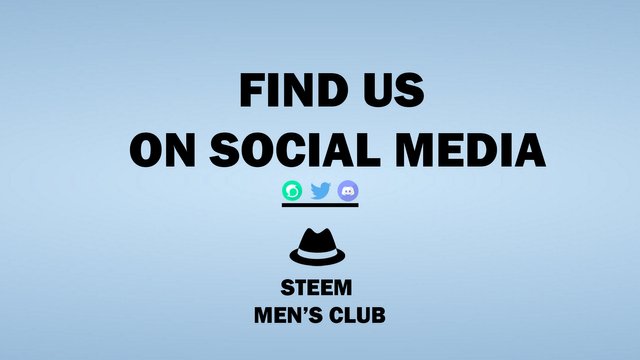 Discord
Members to be engaged with each other and to be closer to us whenever they have a question they can join in our Discord Server, there are different channels with different purposes. So they can use the channels for communication and for further questions. At the moment @okanbey and @shadervan will be closer to users whenever it is necessary.
Join our Discord Server here
Ask your questions here whenever you want, also you will find the Frequently Asked Questions. Those are the ones that we have taken up to now, FAQ will be constantly updated.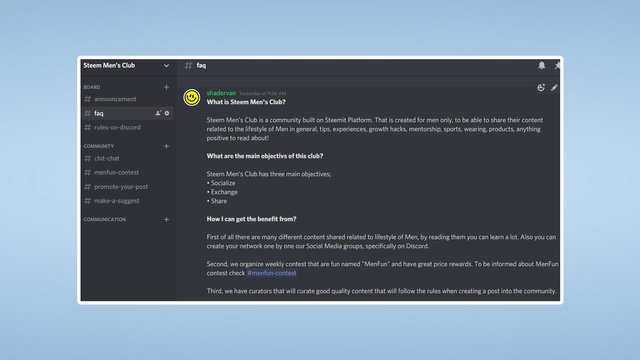 Twitter
We will use Twitter actively because of the hashtags, Twitter is good with hashtags, so it is good for visibility and attracting new comers. New people will be interested in our community through Twitter. News will be shared in Twitter, only English will be used. Our main hashtags will be the ones that will give visibility to Steemit Platform and Steem Blockchain in general.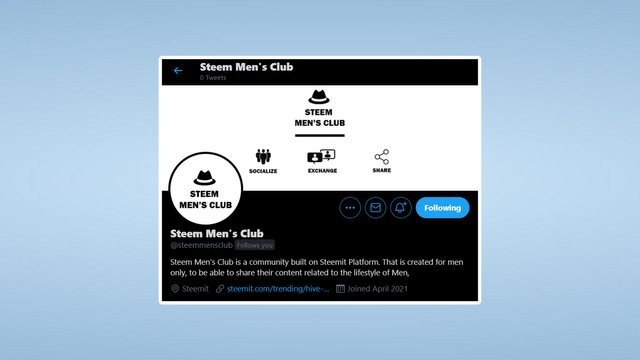 Follow us in the Twitter through this link
We will create Minds profile too. Minds is good platform to inform about blockchain, so people with interest in cryptocurrencies will be following our latest news and be engaged. We plan to use paid advertisements and create different campaigns to attract new members into our community and be part of it.
Steemit
Follow our official profile where we will share the news with on Steemit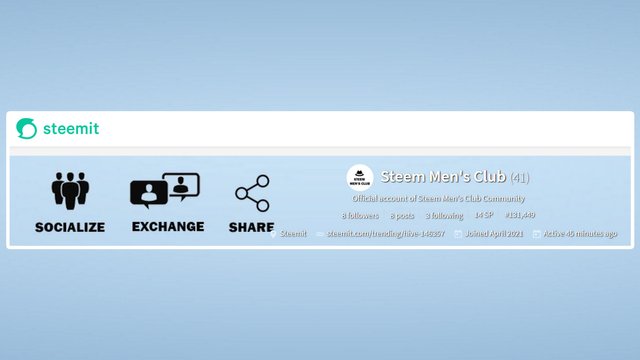 Follow us through this link
Future Steps:
• We will soon find members that will be representatives of our community in their countries
• Will find new ways how to keep our members engaged and grow our community, as we are doing with the MenFun Contest
• Create our website, where we will work on the SEO and be ranked well in Google rankings
• Work on four categories: Men Lifestyle, Men Fun, Men Sports and Men Adventures
• Increase our Steem Power through delegations and find the curators internationally
• We will give report weekly for our activities, how many people are in our community and so on.
FAQ
What is Steem Men's Club?
Steem Men's Club is a community built on Steemit Platform. That is created for men only, to be able to share their content related to the lifestyle of Men in general, tips, experiences, growth hacks, mentorship, sports, wearing, products, anything positive to read about!
What are the main objectives of this club?
Steem Men's Club has three main objectives;
• Socialize
• Exchange
• Share
How I can get the benefit from?
First of all there are many different content shared related to lifestyle of Men, by reading them you can learn a lot. Also you can create your network one by one our Social Media groups, specifically on Discord.
Second, we organize weekly contest that are fun named "MenFun" and have great price rewards. To be informed about MenFun contest check #menfun-contest
Third, we have curators that will curate good quality content that will follow the rules when creating a post into the community.
What kind of content I can share on Steem Men's Club?
Anything you think it's good to share, but currently we are focused on few categories:
• Men Lifestyle
• Men Sports
• Men Adventures
• Men Fun
Where I can join into the Community?
Subscribe into community through this link: https://steemit.com/trending/hive-146357
Which rules I should follow when creating a content?
When creating a post into the community you have to make sure you create a qualitative post. Focus on quality instead of quantity. Use original images, if you use other images source them down by making sure they are not copyrighted. Plagiarism is strictly forbidden. In every post use the hashtag of #steemmensclub. Do not share your content in other platform besides Steemit. Check your grammar too!
We are always open for comments and suggestions, since we are together through this steps, we would like to walk together with you. We are open in the comments for anything
Cc.
@pensiff
@steemchiller
@steemcurator01

Subscribe to our community!