MenFun Contest #1 "Cooking Food" [80 STEEM in rewards]
Who says that Man cannot prepare good food?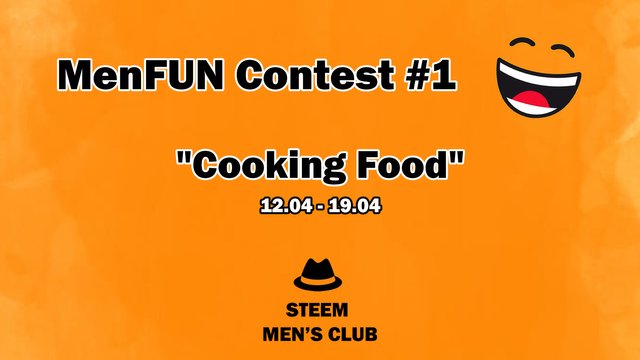 Dear friends, we are officially starting with the Club! We start the Club with the contest for Men. We want to create a contest that we will enjoy and learn at the same time. This contest is about Men preparing a food. This contest series will be fun this is why it is named MenFun.
We are starting a weekly fun contest series form Men, it will be weekly and each week a different Fun Topic. This will last from 12th April to 19th April.
We know that you can make amazing pasta for sure, but we want to see more of your abilities. We want you to create a post on how you cook/prepare your food together with explanation and visualizations. There are some rules that you have to follow. There will be rewards of 80 Steem from our account, for three contents.
1st place: 50 Steem
2nd place: 20 Steem
3rd place: 10 Steem
• Make a post in the community of Steem Men's club , and subscribe to the community!
• Post must include the steps for preparing done by you, share the receipt and explain the steps.
• Use as much visualizations as you can, three images minimum.
• Use hashtags of #menfun1 #steemmensclub and your country (example: if you live in spain make it #spain)
• Use "MenFun Contest #1" on the title of your content
• Write your link of your post in the comment down below. (If you share your post in other Social Media make sure to write them too)
• Resteem this post
• Follow @steemmensclub @okanbey and @shadervan
Make sure to create a qualitative content, share your links also in other Social Media together with other links shared in other Social Media using #steemmensclub hashtag. Share original images, plagiarism is strictly forbidden.
Three best posts will be chosen and made public in the official account of @steemmensclub.
We plan to create different interesting activates, have fun and learn on our club. We are open for ideas, comments or anything that we can do in our Club. At the moment we are two people that we will manage this community. With time we aim to grow, for sure we will need more people to help us with ideas, management and so on.
From the introduction post payout curated by @steemcurator01 that we appreciate a lot, we will distribute 80 Steem for this contest and the rest will be transfer in our main account and we will Power Up. And continue to support members of our community.
Good luck to everyone.