MenFun Contest #1: Results [80 STEEM Distributed]
Hello dear community members!
First of all thank you for being part of this contest and showing everyone that man also can cook. There are many amazing entries and many yummy recipes. Some of them take longer to prepare and some of them take shorter time for preparation. But still Men can cook, not just simple eggs and pasta but different recipes as well!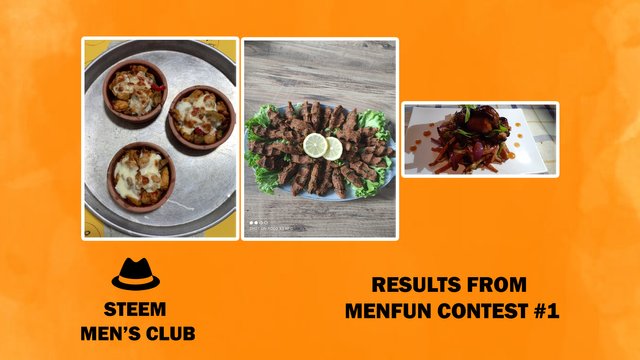 All of them are better than each other, explained with steps on how to prepare and the recipe with visuals. We are amazed with the results, even we are in our first steps of our community, still there are enough entrances. Total there are 11 members that took part in the contest, following the rules and everything. This is the first contest, but not the last, it is just the beginning. Tomorrow we will announce a new contest.
Look at this amazing recipes prepared by our community members, that take part in the MenFun Contest #1. It was hard to choose the winners among this results, food with the hardest recipe with go from higher reward.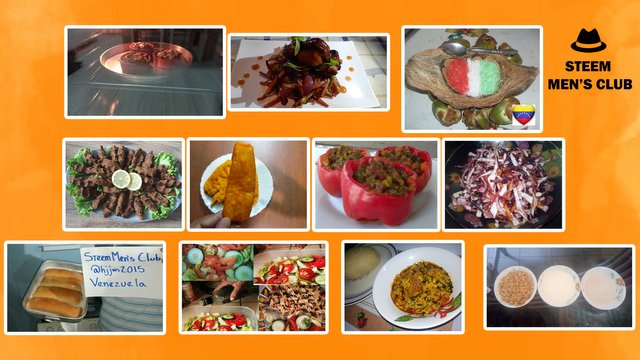 The Winners of the Contest
1st place goes to @josefhan - Congratulations for your 50 Steem.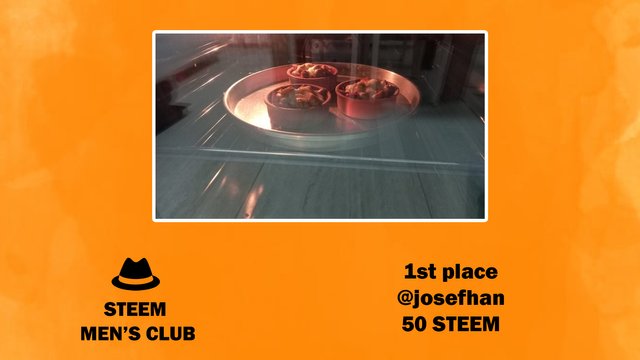 2nd place goes to @ismocan - Congratulations for your 20 Steem.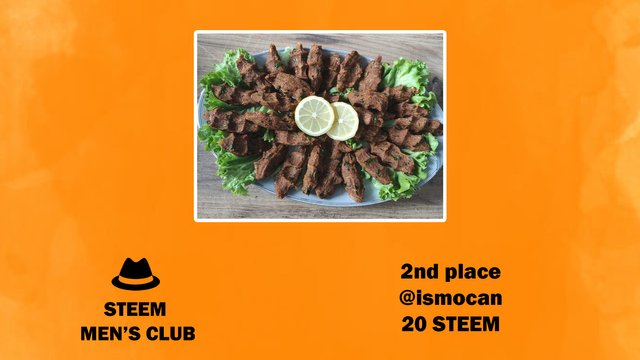 3rd place goes to @reneepineda - Congratulations for your 10 Steem.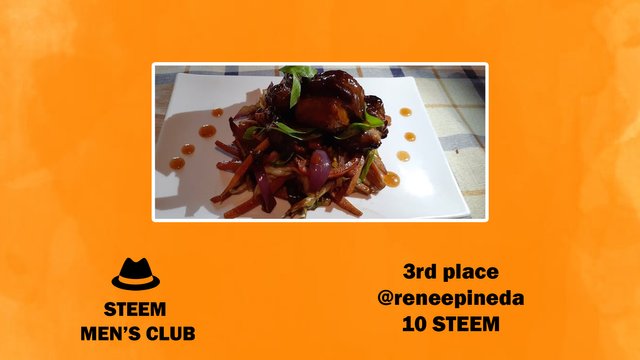 All the rewards are sent to your Steemit Wallets. We congratulate you for your hard work and effort spent on MenFun Contest #1. We appreciate every member for their effort one by one. This is for the community and to show that men can cook and have some fun.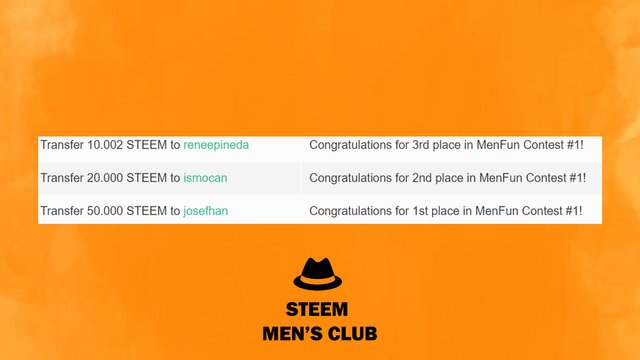 Tomorrow we will announce a new contest, be ready for that. MenFun contest, with the aim of Fun!!
We are always open for comments and suggestions, since we are together through this steps, we would like to walk together with you. We are open in the comments for anything.
Make sure you follow the Admin of the community @okanbey and the moderator of the community @shadervan
You can also get in touch with us directly in Discord with the same usernames.
• Find us on our Social Media, now we are on Twitter and Discord •
FAQ
What is Steem Men's Club?
Steem Men's Club is a community built on Steemit Platform. That is created for men only, to be able to share their content related to the lifestyle of Men in general, tips, experiences, growth hacks, mentorship, sports, wearing, products, anything positive to read about!
What are the main objectives of this club?
Steem Men's Club has three main objectives;
• Socialize
• Exchange
• Share
How I can get the benefit from?
First of all there are many different content shared related to lifestyle of Men, by reading them you can learn a lot. Also you can create your network one by one our Social Media groups, specifically on Discord.
Second, we organize weekly contest that are fun named "MenFun" and have great price rewards. To be informed about MenFun contest check #steemmensclub
Third, we have curators that will curate good quality content that will follow the rules when creating a post into the community.
What kind of content I can share on Steem Men's Club?
Anything you think it's good to share, but currently we are focused on few categories:
• Men Lifestyle
• Men Sports
• Men Adventures
• Men Fun
Where I can join into the Community?
Subscribe into community through this link: https://steemit.com/trending/hive-146357
Which rules I should follow when creating a content?
When creating a post into the community you have to make sure you create a qualitative post. Focus on quality instead of quantity. Use original images, if you use other images source them down by making sure they are not copyrighted. Plagiarism is strictly forbidden. In every post use the hashtag of #steemmensclub. Do not share your content in other platform besides Steemit. Check your grammar too!

Subscribe to our community!