MenFun Contest #2 "Furthest Travel" [30 STEEM in rewards]
Let us see your adventures that you had througout your life. This contest is designed for people that like to travel, let's see how far you have traveled and how intresting it was.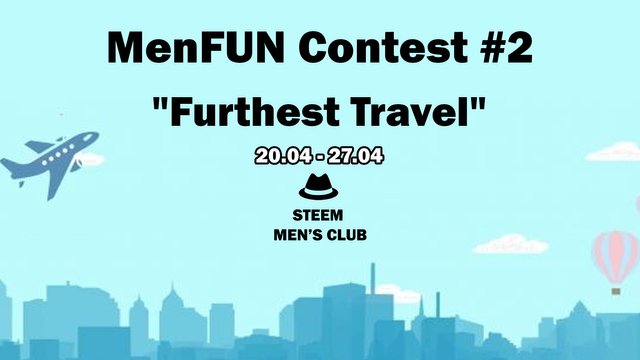 This contest is from the series of MenFun which is hosted in the community of Steem Men's Club. You have to create a post in the community to be eligible to participate. This will last from 20th April to 27th April.
We are pleased with the interest you shown in our first contest. You participation in the contest made us happy and keep the hard work for the community. This is why we didn't want to wait longer and decide to distribute 30 STEEM for the rewards.
15 STEEM for 1st place
10 Steem for 2nd place
5 Steem for 3rd place
So what is this contest about?
Your most interesting and furthest travel
You have to write a post about a long and interesting trip you had in your past. It may be traveling with bike from one place to another, it may be walking, swimming .. whatever anything interesing and most importantly a long trip. As interesing and long your trip was, your chances will be higher. Based on that we will choose three awards.
Rules to follow:
• Make a post in the community of Steem Men's club , and subscribe to the community!
• Minimal eligible reputation 40
• Use as much visualizations as you can, three images minimum.
• Use hashtags of #menfun2 #steemmensclub and your country (example: if you live in spain make it #spain)
• Use "MenFun Contest #2" on the title of your content
• Write your link of your post in the comment down below. (If you share your post in other Social Media make sure to write them too)
• Resteem this post
• Follow @steemmensclub @okanbey and @shadervan
Make sure to create a qualitative content, share your links also in other Social Media together with other links shared in other Social Media using #steemmensclub hashtag. Share original images, plagiarism is strictly forbidden. Three best posts will be chosen and made public in the official account of @steemmensclub.
Good luck to everyone and lets have some fun!
---
---
FAQ
What is Steem Men's Club?
Steem Men's Club is a community built on Steemit Platform. That is created for men only, to be able to share their content related to the lifestyle of Men in general, tips, experiences, growth hacks, mentorship, sports, wearing, products, anything positive to read about!
What are the main objectives of this club?
Steem Men's Club has three main objectives;
• Socialize
• Exchange
• Share
How I can get the benefit from?
First of all there are many different content shared related to lifestyle of Men, by reading them you can learn a lot. Also you can create your network one by one our Social Media groups, specifically on Discord.
Second, we organize weekly contest that are fun named "MenFun" and have great price rewards. To be informed about MenFun contest check #menfun-contest
Third, we have curators that will curate good quality content that will follow the rules when creating a post into the community.
What kind of content I can share on Steem Men's Club?
Anything you think it's good to share, but currently we are focused on few categories:
• Men Lifestyle
• Men Sports
• Men Adventures
• Men Fun
Where I can join into the Community?
Subscribe into community through this link: https://steemit.com/trending/hive-146357
Which rules I should follow when creating a content?
When creating a post into the community you have to make sure you create a qualitative post. Focus on quality instead of quantity. Use original images, if you use other images source them down by making sure they are not copyrighted. Plagiarism is strictly forbidden. In every post use the hashtag of #steemmensclub. Do not share your content in other platform besides Steemit. Check your grammar too!
We are always open for comments and suggestions, since we are together through this steps, we would like to walk together with you. We are open in the comments for anything

Subscribe to our community!