THE DIARY GAME : 05 de agosto de 2020: Alarma, ajíes y papas / Alarm, peppers and potatoes
Estimados amigos, hoy reoporto la quinta jornada. Si leen mi entrada, podrán enterarse de por qué no pude hacer mi reporte ayer.
Como siempre, todas las fotografías que acompañan este relato son de mi autoría, realizadas con un LGPhoenix3.
¡Alla vamos!
---
Dear friends, today I am reporting about day five. If you read my entry, you can find out why I couldn't make my report yesterday.
As always, all the photographs that accompany this report are my own, taken with an LGPhoenix3.
Here we go!
---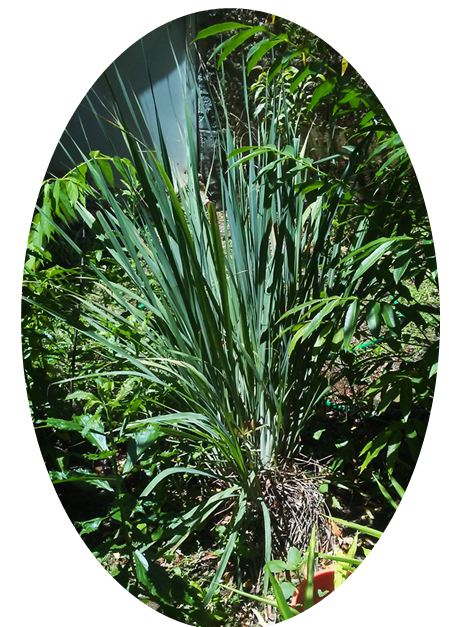 Alarma
Querido diario de mi corazón, la jornada de ayer, que reporto hoy, estuvo llena de angustias. Mi hija presentó algunos síntomas de malestar gripal y, por supuesto, en este contexto, uno empieza por donde deberia terminar, que es temiendo un contagio por Covid-19.
Sin embargo la racionalidad termina imponiéndose. Sabemos lo suficiente y hemos tomado todos los protocolos sanitarios necesarios. Mi hija no ha salido en los últimos 18 días, ni hemos tenido contacto con nadie de fuera. Yo hago las compras y tengo medidas estrictas, tal vez algo paranóicas, pero prefiero que sea así.
De manera que tratamos el malestar con acetaminofén y grandes dosis de infusión de una hierba que tengo en mi huerto y hace milagros con estos malestares. Aquí la llamamos "Malojillo". Se trata de la planta conocida en otras partes como "Lemon Grass". Le pusimos miel y un poquito de jugo de parchita. Además de deliciosa, te hace sentir bien, liviano.
Alarm
Dear diary of my heart, yesterday's day, which I report today, was full of anguish. My daughter presented some symptoms of flu-like discomfort and, of course, in this context, one starts where one should end, which is fearing contagion by Covid-19.
However, rationality ends up prevailing. We know enough and we have taken all the necessary sanitary protocols. My daughter has not been out for the last 18 days, nor have we had any contact with anyone from outside. I do the shopping and have strict measures, perhaps a little paranoid, but I prefer it that way.
So we treat the discomfort with acetaminophen and large doses of an infusion of an herb that I have in my garden and it works miracles with these discomforts. Here we call it "Malojillo". It is the plant known elsewhere as "Lemon Grass". We put some honey and a little bit of patch juice in it. Besides being delicious, it makes you feel good, light.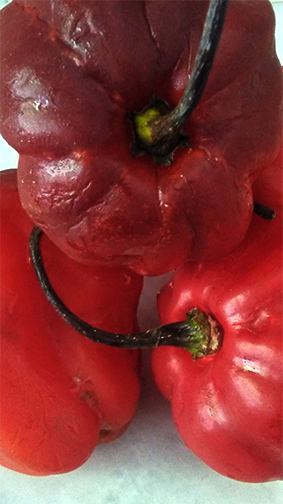 Ajíes y papas
Me tocó comprar legumbre y hortalizas. Tengo un huerto, es cierto, pero es muy pequeño y no soy autosustentable.
Me gusta comprar vegetales porque, además de ser una fanática de las ensaladas, recientemente he estado experimentando con los encurtidos, debido al tema de la fabricación del vinagre de fruta.
Además, ver las grandes cantidades de legumbres y ortalizas siempre me ha parecido un espectáculo digno de admiración y un recordatorio de todo lo que la tierra hace por nosostros y nos provee.
Compré lo necesario, como hago todas las semanas, y me traje lo que a mi juicio son dos tesoros: unos ajíes preciosos y riquísimos, intensos, y unas papas no tan bellas pero sí cremosas y de sabor delicado.
Peppers and potatoes
I got to buy vegetables and legumes. I have a garden, it's true, but it's very small and I'm not self-supporting.
I like to buy vegetables because, in addition to being a salad freak, I have recently been experimenting with pickles, due to the issue of making fruit vinegar.
Also, seeing the large quantities of vegetables and orchards has always seemed to me to be a sight to behold and a reminder of all that the earth does for us and provides for us.
I bought what was necessary, as I do every week, and I brought with me what I believe are two treasures: some beautiful and delicious, intense peppers, and some potatoes not so beautiful but creamy and with a delicate taste.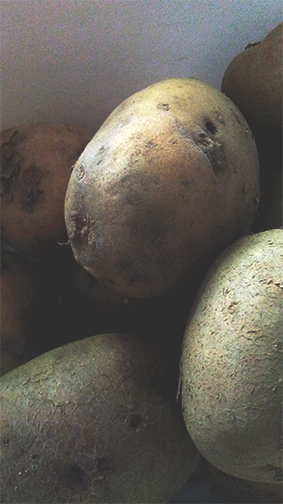 Un dibujo indefinido
Por la tarde, ya hacia la noche, me puse a dibujar. Mi hija se sentía mucho mejor y estaba leyendo en su cuarto, donde la tenemos aislada preventivamente.
El dibujo no llegó a definirse.
Hice bocetos, rayé, me absorbí en la contemplación de mis colores, que es una costumbre que conservo desde la infancia, y me reconforta.
Su pongo que es la preocupación, a pesar de que estamos bastante seguros de que no es el virus.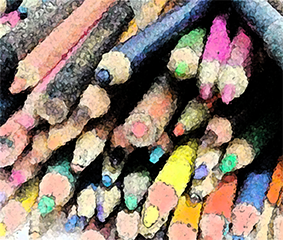 An undefined drawing
In the afternoon, towards evening, I began to draw. My daughter was feeling much better and was reading in her room, where we keep her in preventive isolation.
The drawing was not defined.
I made sketches, I scratched, I got absorbed in the contemplation of my colors, which is a habit I have kept since childhood, and it comforts me.
I put that is the concern, even though we are quite sure that it is not the virus.
In spite of everything, it was a good day and I hope today will be better.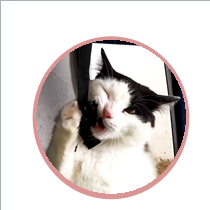 A pesar de todo, fue un buen día y espero que hoy sea mejor.

Gracias por la compañía. Bienvenidos siempre.