A Winter of Discontents?
4-18-2020
Winter Reflections
It has been a not so great, but pretty long winter.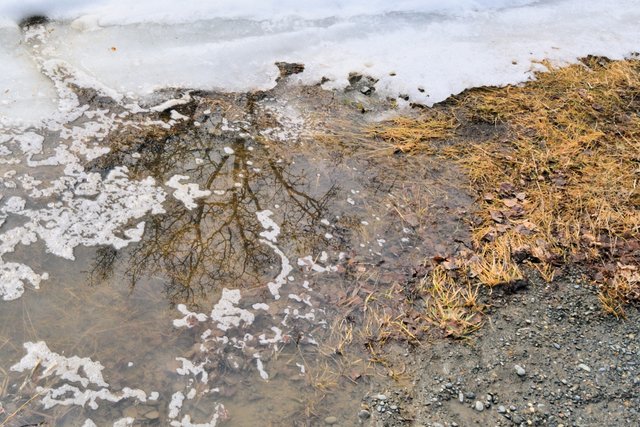 While out getting some driveway shots I saw this reflection.Nothing real special, other than it was taken yesterday, and I thought it looked nice. It will be great when one day we have a camera that takes a picture of something how we saw it, but this is pretty good representation of what I saw.
It was cropped out of a larger image that had a lot of nothing going on, and it was this reflection that had caught my eye, and what I wanted to show.
I know I have been absent from posting on steem for awhile now, but I do want to try and post here every now and then, After two and a half years, even at my slow posting rate, i still want to try and be a bit active.
Well that is pretty much it for now. Winter melt down is here, the driveway is getting soggy, but with the lock down, not many ruts being formed right now.
We got real lucky in that the oil delivery guy came by two days prior to the melt down so no giant truck ruts like happened last year, Spring is almost here, just not quite yet, we still have a lot of snow left to melt.