The Driveway Saga Season 2; Episode: 11 - "One More Snow Show"
3-10-2020
Enough is Enough, I think
While the snowmobile riders are having a blast this year, I am pretty tired of all the snow blast we have been having this year. I got use to the small one inch or less snow falls, this year, they all fall in one or two days of the week. Saturday evening the 7th it once again started to snow, come bed time it was not much and looked like it would remain light and fluffy and easy to move about.
Sunday morning, I had 5-6 inches of wet hard to move snow on my vehicle once again, and Sundays are our run-a-round day. I'm retired, I like to relax for the first couple of hours after waking up, I have internet things to do, they are a lot easier than shoveling 6 inches of wet snow.
The only good thing about all the snow? I have something to post and talk about and to take pictures of. One of the episodes was not about snow but of thaw melt and freeze and ice rinking of the driveway, so 10 snow falls of plowable amounts this year so far. The last two season only 6 in each season. So I guess Global cyclical weather changing patterns have hit my neck of the woods. This though is the more normal snow amount of past decades, so perhaps things are just returning to normal, three years however do not a cycle make. So on with the picture show. (sorry no moving ones today)
The view from where I park: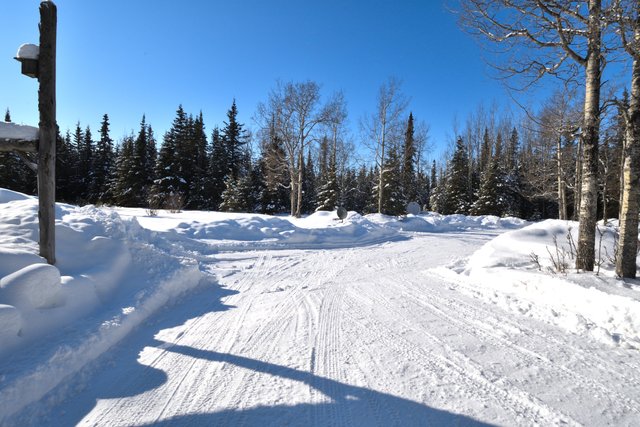 It was a nice bright sunshiny day today, after all the overcast cloudy days a warm welcome, a shame it never really got warm though.
The heading out and secondary parking view:

I like building panoramic shots. This is four individual shots stiched together with the
"Autostitch Program"
. They make for a nicer wide angle shot, a little distorted but still I like the pano's.
The road in and out: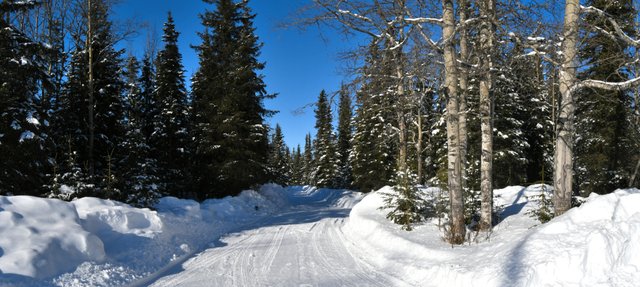 This was only two shots stitched together, there really is not much to the left except another dead satellite dish we do not use. The side walls are growing on the driveway and it is getting a little bit narrower, so hopefully snow falls are almost done.
And the final circular view: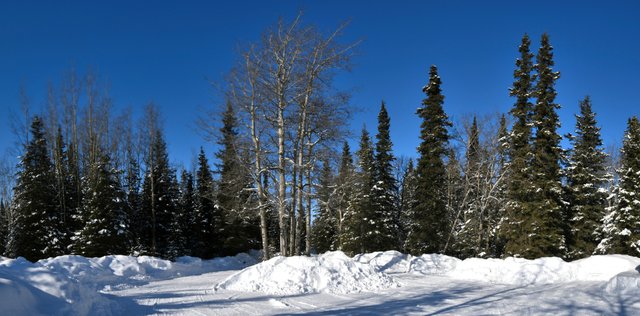 And the trees take center stage, when we exit we exit stage right not left. This is a series of six shots bottom row of three then the tree tops. Mid afternoon sun about 3pm for the pictures, sunrise was about 8:35 AKDT and sunset is at 7:58, so almost in the middle of the times. 11:23 hours of daylight, increasing rapidly, soon it will not set more than 6 degrees below the horizon in about three months a lot of sunshine, if it is not raining.
With the amount of snow we have had this year I hope it is a slow warm up or else we will have some pretty severe flooding again. But we wait and we will see what the future will be. If it is a fast melt down, the escape road will be a fun road to travel.

Driveway Saga Post:

This weeks episode posted in the Gems Community. I am not a super frequent poster, I do however believe in the community system, and am trying to support them as they support us.