Corona driven Creativity in Music Events: Sky is the Limit
While being at a Music Festivals as we speak, I write this article for you. You may wonder how this works while we are in (soft)lockdown around the world. Well: the team behind DGTL decided to replace their outdoor version with an online one (click here).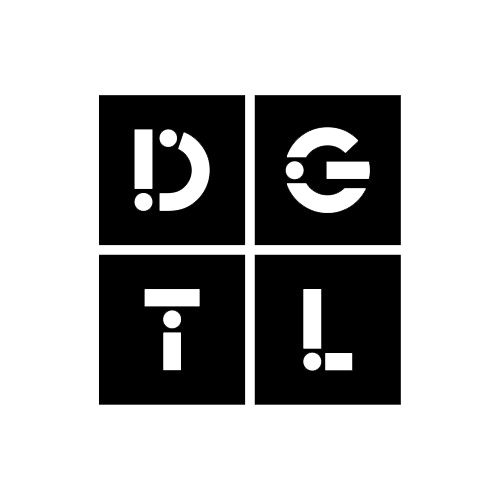 When our governments decided we shall not group anymore - closing venues and festivals - many artists started to stream live music from their own studios and homes. Subsequently a number of event organisers started to broadcast recorded sets at same times their real life events would've taken place. Some even got - local - artists playing their gigs in the venue itself, empty of people of course.
DGTL took it a step further
DGTL's returning two day event - each year at Saturday and Sunday of the Easter weekend - is happening right now. 100% online. Four stages brought to the world through four parallel streams. Artists from around the world playing live from their own studio, and some of the local artists in Amsterdam playing from a popup studio setup at the original festival location (NDSM).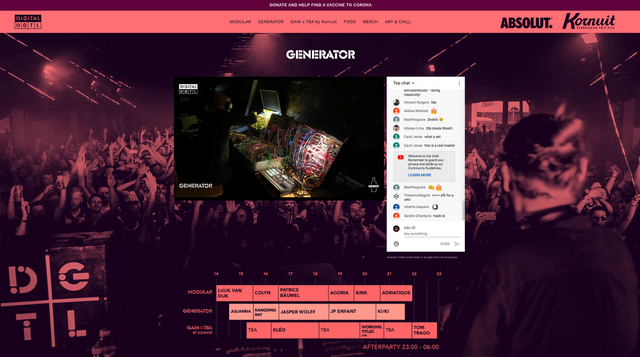 Generator stage (live stream): My home for the day | screenshot by edje
You may say: "That is not that much different to what many other artists are doing already!?"
As a matter of fact: DGTL is doing it differently. It tries and provides a complete festival experience while the visitors are partying from their own home. For instance they offer the ability to order drinks and food. Of course, we can't simply walk to the bar, but we order online and everything will be delivered to our doorstep.
Sure, also the ordering of drinks and food is not unique. But what is unique is bringing the complete package into a single service. It gives much more the feeling to be at the festival itself. No worries about anything. Everything we need is a simple click away. They also invited the party people to create a festival vibe in their own home, decorating the dance floor at home, urging everybody to dress up as if we would've gone to the real life event, and share photos and videos on various social media channels. The DGTL team is active in these channels as well, with all sort of content updates and all you can expect from social media around a live event.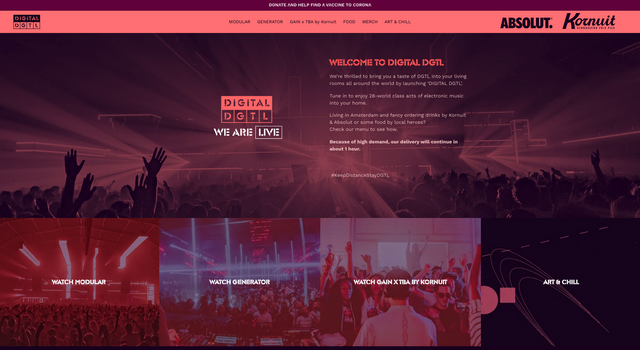 Doors to All stages, Bar and Food court | screenshot by edje
Obviously, this is just the start!
While more than a decade ago, some bands experimented with free and even paid gigs through 'Second Life', numerous festivals live streaming parts of their events; Until today I've not seen a venue/festival setup for an online audience only. Through DGTL's - virtual - bar and branded streams, they developed a revenue model. A revenue model that will need evolution to be able to pay all the bills including fees to the artists, but the first steps are made!
DGTL works with a few brands for this event: Absolut, Uber Eats, Kornuit and a few Amsterdam local restaurants. Interestingly, the bar had to halt for a little while this afternoon due to too high demand!
Can you imagine what can happen with the popularity of online music events when the whole streaming service is enhanced with eg private group chat, personal group chat, photo and video sharing?
Today chatting happens in the YouTube general chat. Definitely fun already, but it stays a chat with everybody (some hilarious conversations ongoing). How cool would it be when we click with someone on the general chat, we can go to a private chat with one click? Maybe we can select the environment we want this chat to take place by selecting a place from a set of areas, rooms, corners, each with their own tailored background images, music and services?
While at the start of the event today, a few thousand users tuned in; Five hours into the event this number has grown to around 7.000 users. A real life event is generally visited by about 20.000 people per day. Just a few more and the audience is as big as a normal DGTL event! How cool!
Could we create a platform for online music events? Combining the strengths of DTUBE (@dtube), Steemit (@steemitblog) together with roadmap developments to allow chat (group, private) and a front-end service specifically tailored to online (music) events?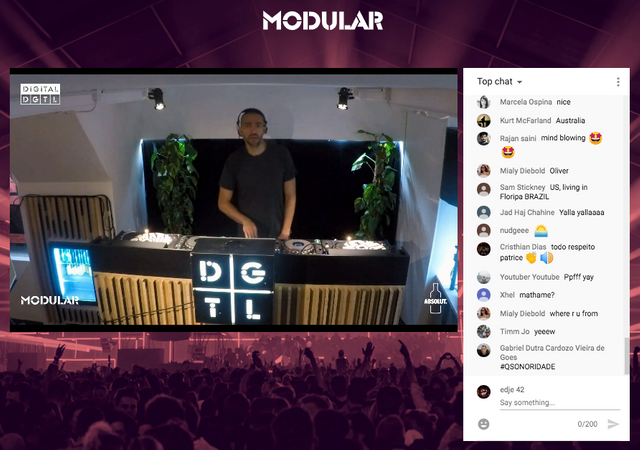 Live stream from the DGTL popup studio at NDSM Amsterdam | screenshot by edje
Until VR is as good as real life, none of the online events will be able to replace the experience we get in real life. But, the beauty of online events is the fact we can enjoy the event with our friends and others; We are all on the same page; We have all the same mindset; We all love to be where we are; While our location doesn't matter!
Will You Join?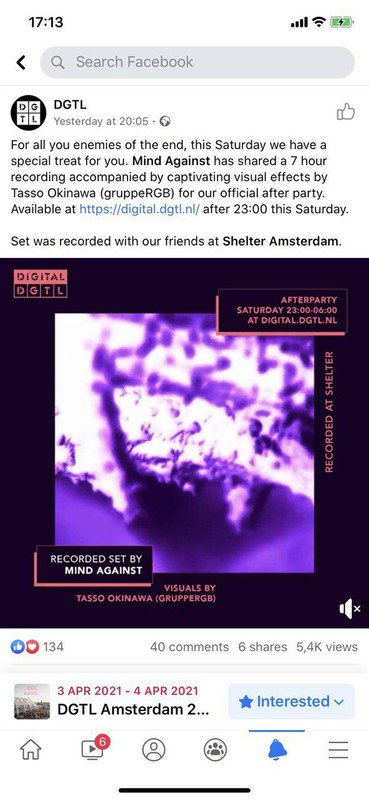 The announcement of the After Party | screenshot by edje
Let's NJOY as Much as We Can!
an original

qsounds music library with more than 300 entries | A...K | L...Z |
steem curator for @illuminati-inc @qsounds