Supe que me amabas - Cover by @gillianscenteno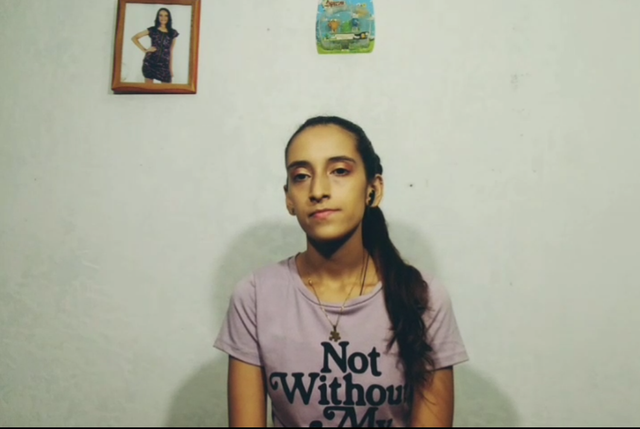 Queridos amigos de la comunidad de

#steemit

una vez más me encuentro con ustedes para ofrecerles un tema hermoso, que lleva por nombre "Supe que me amabas" interpretado originalmente por Marcela Gándara. Espero les guste, les envío un abrazo cibernético.
Dear friends of the

#steemit

community, once again I meet you to offer you a beautiful song, which is called "I knew you loved me" originally interpreted by Marcela Gándara. I hope you like it, I send you a cyber hug.
Supe que me amabas
Desde el principio, cuando te necesité
Desde el momento cuando la mirada alcé
Desde ese día, cuando sola me encontraba
Cuando tu mirada en mí se fue a poner
Supe que me amabas
Lo entendí
Supe que buscabas
Más de mí
Que mucho tiempo me esperaste
Y no llegué, no
Supe que me amabas
Aunque huí
Lejos de tu casa
Yo me fui
Y con un beso y con amor
Me regalaste tu perdón, estoy aquí
Y cuando lejos me encontraba, te sentí
Sabía que entonces me cuidabas y te oí
Como un susurro fue tu voz en el silencio
Cada día me atraías hacia ti
Y supe que me amabas
Lo entendí
Y supe que buscabas
Más de mí
Que mucho tiempo me esperaste
Y no llegué, no
Y supe que me amabas
Aunque huí, oh
Lejos de tu casa
Yo me fui
Y con un beso y con amor
Me regalaste tu perdón
Supe que me amabas
Lo entendí
Supe que buscabas
Más de mí
Que mucho tiempo me esperaste
Y no llegué, no
Supe que me amabas
Aunque huí, oh
Lejos de tu casa
Yo me fui
Y con un beso y con amor
Me regalaste tu perdón, estoy aquí
Y estoy aquí
Vi usted, Señor
Y estoy aquí, amado en mi corazón
Estoy aquí
I knew you loved me




From the start when I needed you
From the moment when I looked up
Since that day when I was alone
When your gaze landed on me




I knew you loved me
I understood
I knew what you were looking for
More about me
How long you waited for me
And I did not arrive, no




I knew you loved me
Even though i ran away
Far from your home
I went
And with a kiss and with love
You gave me your forgiveness, I'm here




And when I was far away, I felt you
I knew that you take care of me, and i heard you
your voice in the silence was like a whisper
Every day you attracted me to you




And I knew that you loved me
I understood
And I knew you were looking for
More about me
How long you waited for me
And I did not arrive, no




And I knew that you loved me
Even though I ran away, oh
Far from your home
I went
And with a kiss and with love
You gave me your forgiveness




I knew you loved me
I understood
I knew what you were looking for
More about me
How long you waited for me
And I did not arrive, no




I knew you loved me
Even though I ran away, oh
Far from your home
I went
And with a kiss and with love
You gave me your forgiveness, I'm here




And I am here
I saw you, Lord
And I am here, loved in my heart
I'm here