Farewell my dear cat
| | |
| --- | --- |
| I wasn't sure if I should make this post or not, but our tomcat was a loved member of our family for a long time, and after finding some nice photos, he should stay in my and our memories this way. | Ich war mir nicht sicher, ob ich diesen Beitrag machen soll oder nicht, aber unser Kater war für eine lange Zeit ein geliebtes Mitglied unserer Familie, und nachdem ich ein paar nette Fotos gefunden habe, soll er auf diese Art in meiner und unserer Erinnerung bleiben. |
Farewell "Whiskey"
Maine Coon Tomcat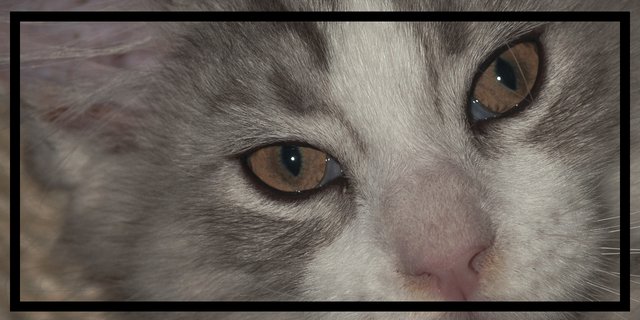 | | |
| --- | --- |
| We got our beloved Maine Coon tomcat "Whiskey" at the age of two months in May 2010 and he only looked so shy on the first day. | Wir haben unseren lieben Maine Coon Kater "Whiskey" im Alter von zwei Monaten im Mai 2010 bekommen und nur am ersten Tag hat er so scheu geschaut. |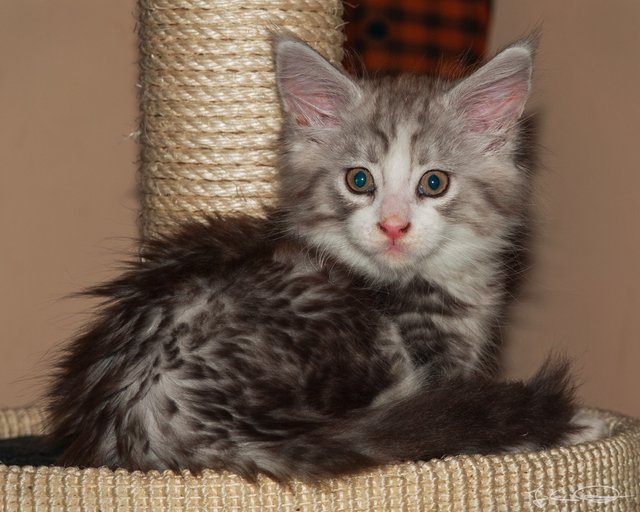 | | |
| --- | --- |
| Just a month later, the cat tree that we bought for him was too small and too weak, and shortly after these photos we had to buy a new, stable cat tree that even our children could climb on at the age of 15. | Schon einen Monat später war der Kratzbaum, den wir für ihn gekauft hatten, zu klein und auch zu schwach und kurze Zeit nach diesen Fotos mussten wir einen neuen stabilen Kratzbaum kaufen, auf den sogar unsere Kinder noch im Alter von 15 Jahren klettern konnten. |
About two months ago I took this last photo on a warm January morning on our balcony, where we both enjoyed the beautiful hours of sunshine.

He did that a lot - looking and let his tongue hang out ;)

Vor etwa zwei Monaten habe ich dieses letzte Foto an einem warmen Jännermorgen auf unserem Balkon gemacht, wo wir beide die schönen Sonnenstunden genossen haben.

Das hat er oft gemacht - schauen und die Zunge raushängen lassen ;)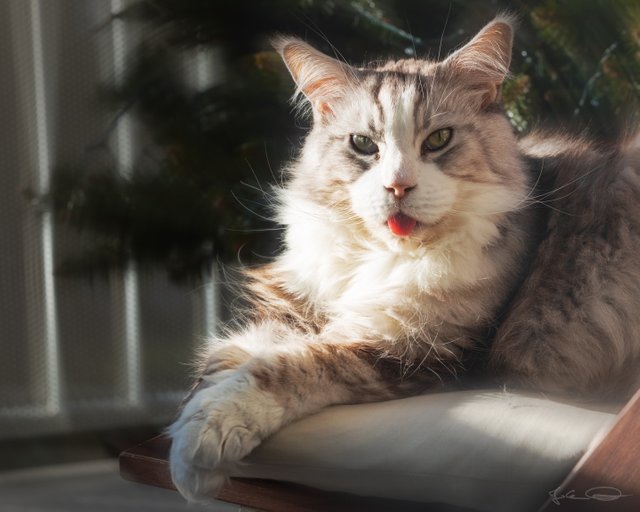 A short time later he unfortunately got sick and although we and our veterinarian thought that he is getting healthy again, Whiskey unfortunately did not wake up yesterday one day after his tenth birthday.

This morning there was no cat anymore that jumped on our bed after my alarm clock rang and sat on my chest with its 12 kilos meowing "get up, I am hungry!".

Kurze Zeit später ist er dann leider krank geworden und obwohl wir und unsere Tierärztin dachten, dass er über den Berg sei, ist Whiskey gestern einen Tag nach seinem zehnten Geburtstag leider nicht mehr aufgewacht.

Heute Morgen ist keine Katze mehr nachdem mein Wecker geläutet hat auf das Bett gehüpft und sich mit seinen 12 Kilo auf meine Brust gehockt und "aufstehen, ich habe Hunger!" miaut.
Remember
Remember me when I am gone away,
Gone far away into the silent land;
When you can no more hold me by the hand,
Nor I half turn to go yet turning stay.
Remember me when no more day by day
You tell me of our future that you plann'd:
Only remember me; you understand
It will be late to counsel then or pray.
Yet if you should forget me for a while
And afterwards remember, do not grieve:
For if the darkness and corruption leave
A vestige of the thoughts that once I had,
Better by far you should forget and smile
Than that you should remember and be sad.

by Christina Georgina Rossetti
I hope it was not wrong to make this posting that is so different from my usual photo posts, but I just felt like I had to do something that would remind of our cat for a long time.

He was a strict boss, but we loved him very much.

Ich hoffe, es war nicht falsch, dieses Posting zu machen, das so ganz anders ist als meine üblichen Fotoposts, aber ich hatte das Gefühl, ich muss etwas machen, das lange an unseren Kater erinnern wird.

Er war ein strenger Boss, aber wir haben ihn geliebt.
Information
The older photos were shot with my Olympus E-510 DSLR and the last one I have shot with my Canon EOS R and the Canon EF 70-200mm f/4 L IS II USM lens. I added a blurry effect to the last photos, because our balcony is not that beautiful, at least not in winter ;)
I leave all EXIF and IPTC information stored in the pictures.
---
If you like my photos I would appreciate an upvote, nice comment or a resteem 😊 ... and maybe you would like to follow me, so that you never miss a post from me.
Thank you for visiting my blog,
have a nice evening,



Photos and Text: Johann Piber | All rights reserved - do not use without my permission
#originalcontent #originalworks
2020-03-12