The Semi final Of The English FA Cup Draw; Whose Getting Eliminated And Who's Going Through? (My Analysis)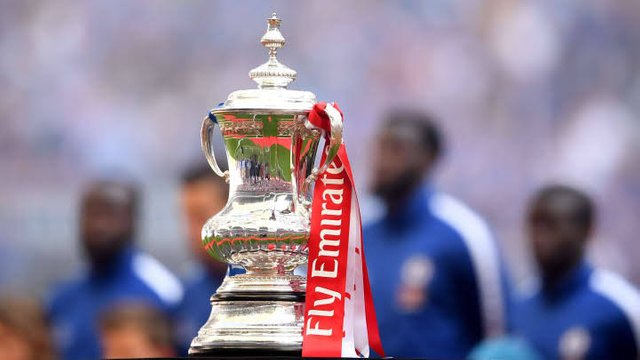 ---
Chelsea, Man United, Arsenal and Manchester City have all qualified for the semi finals of the FA Cup by beating their opponents respectively with Chelsea playing the most difficult game (Leicester City) amongst the big four that vied for the semi final spot. In all honesty there wasn't any upset like the FA cup usually bring and this time the big boys did the business and they'll be playing at Wembley with Manchester United playing Chelsea and Manchester City playing Arsenal. I want to think that the fixtures will never decide the outcome of the top four like many people are saying because the FA cup is a different kettle of fish and it's unpredictable.
---
Chelsea Or United; Who Wants It More?
---
I think this is equally placed. The chances of Manchester United finishing in the top four is really slim unless the European ban on Manchester City is enacted and United finish in fifth position, but even finishing in fifth position is really going to be tough for United this is because wolves who are in fifth position seems relentless and are hardly dropping points and Chelsea who occupy fourth position have won two three straight game and have a strong momentum going forward. However Ole Gunnar Solksjaer might need the FA cup to salvage his job at Old Trafford and in turn Frank Lampard needs to make a statement to the Chelsea board by winning the FA cup as well however it depends on who's more daring and ambitious between the two managers.
---
Arsenal Or Manchester City; Who Wants It More?
---
Normally Arsenal should want this more because it's obvious they might not even make Europe at all, however should Arsenal qualify for the Europa League and win the FA cup then it'll be considered a decent campaign for Mikael Arteta's side. Needless to say, Manchester City will not be going to Europe and they'll not be winning the EPL title either since Liverpool already did that and Pep Guardiola might want to make a statement by actually winning the FA cup. So I feel Arsenal needs FA cup the more but Manchester City will obviously be hungrier and this might decide the outcome of the match.
---
So Who Will Win The Emirate FA Cup?
---
First of all I think the FA cup is still in the Semis and it's too early to decide who will individually win it needless to say, it's important that I've analysed who eventually needs it more. Manchester United have beaten Chelsea three times in this current campaign and they're going all out against the blues again at Wembley. Personally I feel that Chelsea are a better team that United at the moment but Man United always fancies a big game against Chelsea anyday anytime and quality or the good run of Chelsea might not just be enough to beat United. United are actually favourites in this case and I feel they have the better chance of winning but Chelsea so far has beaten Manchester City and the magic can still happen.
---
In Conclusion
---
The four teams? Nobody is overall favourite as the FA cup can be a different ball game entirely. I think the team that wants it most will eventually win and at the moment I can't even predict the two teams that will go through to the finals. Chelsea and Arsenal however needs to go the extra mile against United and City respectively. It promises to be exciting and I'm thinking the impossible will happen and excitement will fill up the last two games of the FA cup finals.