It would now be shocking if BTC didn't hit $100k...
Remember when $100k BTC sounded like a fantasy? Not anymore...
It was less than a year ago that bitcoin was trading for single digits and everyone was still saying bitcoin will eventually hit $100k.
It sounded nice and something that could certainly happen...
Well, now a year later, it would be shocking if bitcoin didn't hit $100k.
Goldman Sachs now even seems to agree: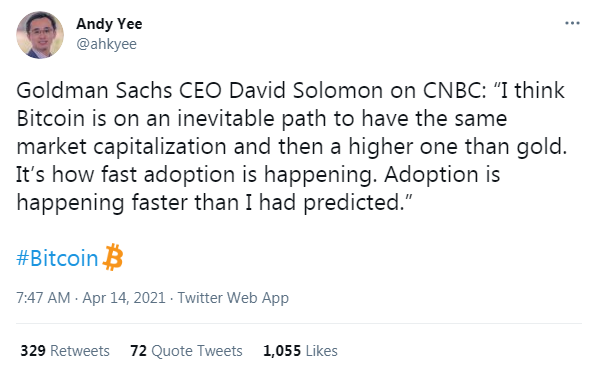 (Source: https://twitter.com/ahkyee/status/1382344671704223745)
Gold is a $10 trillion dollar market, at the very least.
Now if you take that same market and apply it to bitcoin is still going up 9x from the current price.
That's over $500k with the current supply.
Looking at it like that, now it sounds almost impossible that bitcoin doesn't hit $100k in the near future.
Then it will probably blow past that number...
Stay informed my friends.
-Doc