Smart Criminals use cash, not BTC...
There has been a long standing thought that BTC is widely used in illicite activities, that's just not true...
People have liked to claim that bitcoin is widely used by criminals for sime time now, that's simply not true.
In fact, if you are a Regulator, you should hope criminals use BTC... it makes your job easier.
If you are a criminal, would you really want to use something with a public ledger for illicit activities?
I mean really?
The only criminals that are using bitcoin for anything nefarious are either extremely extremely careful, which even then they can slip up and it's over, or they are extremely dumb.
Why use something that is there forever for the whole world to dissect?
In fact, if you are the government, you should be encouraging people to use bitcoin because you can monitor that a whole lot better than cash...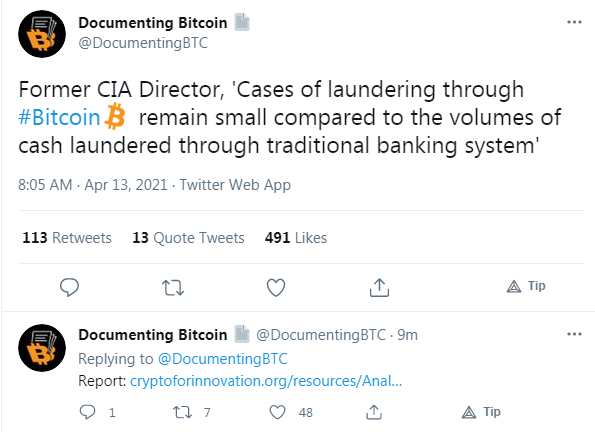 (Source: https://twitter.com/DocumentingBTC/status/1381986885011173380)
It's fun to spread lies about bitcoin and crypto, the truth is a lot less fun.
The truth is that bitcoin isn't destroying the planet and it's not being widely used by criminals, at least not ones that don't want to be caught.
Step lightly regulators, this is a good thing for you!
Stay informed my friends.
-Doc