Trip to Portugal - Porto
The city where I live is 11 km from the beautiful city of Porto. Since the lockdown, I'm not going to the city of Porto, to walk the streets, shop, work, etc… I miss it already, seeing the confusion, the people on the sidewalk, the tourists taking pictures and happy, the bars with music with people dancing. I miss Porto.
While I am sitting here on the sofa looking at the computer, I decided to see several pictures of the city that I like so much and I chose some to show you.
The Teatro Sá da Bandeira is the oldest city hall, the theater met its first life in 1867 as Teatro Circo, built in wood. Twelve years later it is reborn in stone but the building, as it is known today, was erected in 1877.
This is the final of Rua das Flores. There was a time when Rua das Flores was one of the most important streets in Porto, with a row of palatial houses for the city elite. Its a charming alley where you can find jewelers and goldsmiths engaged in their craft. Balconies with wrought iron balconies look out over the street.
Jardim de João Chagas is close to Torre dos Clérigos and is also known as Jardim da Cordoaria. The renovation of this space took place in 1866 and was designed by the German landscaper Emile David. With good shadows the garden has a small pond and a small park for children. Next to the churches of Carmo and Carmelitas there is a restaurant where you can stop for a snack. In the garden you will find the statues of Ramalho Ortigão and António Nobre, a set of sculptures.
Location just after Jardim da Cordaria where you can see the Douro River and the two cities (Vila Nova de Gaia and the city of Porto).
The Torre dos Clérigos, in the heart of downtown Porto, is the tallest tower in Portugal and one of the ex-libris and greatest symbols of the city of Porto.You have the possibility to enter this tower and climb the 240 stairs. It's tiring, but you think it's well worth the effort!
At the top you have a breathtaking view over almost the entire city of Porto, as well as over the river Douro and which extends to Foz.
If you come to Porto don't forget to bring happiness, as we people in Porto love to laugh and see others happy When the lockdown ends, visit us.
---
I hope you enjoyed this new trip!!!
Images © 2020 @portugalcoin | All Rights Reserved
---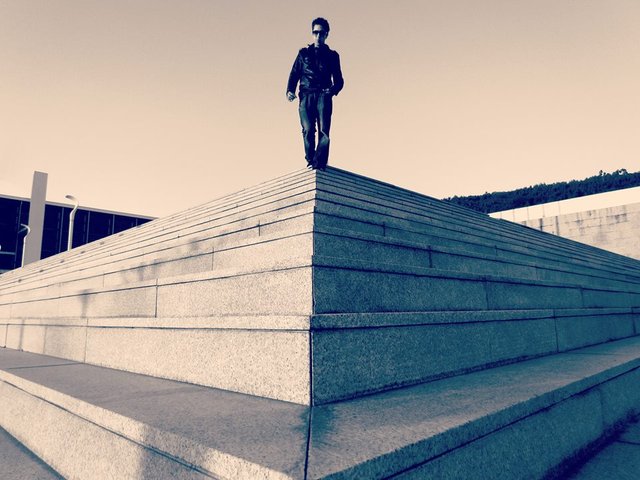 Portugalcoin 🇵🇹
WELCOME to my blog on Steem blockchain. Here you will find several trips I take in Portugal and information about the main monuments, squares, streets, palaces...
Hug from PORTUGAL!
[Steem original]