Portugal - History of the April 25 1974 - Portuguese Revolution
Today Portugal has a great date to celebrate! Today the Portuguese celebrate the 46 anniversary of the April 25, 1974 revolution. I wasn't yet born at that time, but I heard a lot about the stories of that date from my Grandfather and mainly from my Father who was in Angola during the colonial war.
The Carnation Revolution was the movement that overthrew the Salazar regime in Portugal, and took place in 1974, in order to establish democratic freedoms, with the aim of promoting social transformations in the country.

Dictator António de Oliveira Salazar
After the military coup of 1926, a dictatorship was established in the country. In 1932, Antônio de Oliveira Salazar became the prime minister of finance and dictator. Salazar then established a regime inspired by Italian fascism, whose freedom of assembly, organization and expression were suppressed with the 1933 Constitution. The movement represented to the Portuguese: democratization, decolonization and development. The military revolt was a consequence of the 13 years of colonial war, in which the Portuguese faced liberation movements in their colonies: Angola, Mozambique, Guinea-Bissau, Cape Verde, São Tomé and Príncipe and East Timor.
In 1968 the dictator suffered a stroke, which resulted in his replacement by his former minister Marcelo Caetano, who continued his policy. However, the economic decline that the country suffered, together with the wear and tear of the colonial war, caused discontent among the population and the armed forces, which resulted in the appearance of a movement against the dictatorship.
On April 25, 1974, the revolution exploded. The password for the beginning of the movement was given at midnight through a radio station, the password was a song prohibited by the censors, "Grândula Vila Morena",by Zeca Afonso.
The military caused Marcelo Caetano to be deposed. He ended up fleeing to Brazil. The presidency of Portugal was assumed by general António de Spínola. The population took to the streets to commemorate the end of the 48-year dictatorship, and distributed carnations, the national flower, to the rebel soldiers in the form of thanks, giving rise to the name "Revolução dos Cravos".

Pide (Police) to be controlled by the military
As a result, political parties, including the Communist, were legalized and the political police of Salazarism were extinguished. The new regime put Portugal into revolutionary turmoil. However, Spínola failed in his attempt to control the political and military force of the left and resigned in September 1974. The government then came to be dominated by the Armed Forces Movement (MFA), strongly influenced by the Communist Party. In the meantime, Angola, Mozambique, Cape Verde and Guinea-Bissau gained independence.
---
It is the people who lead
---
Article & Images © 2020 @portugalcoin | All Rights Reserved
---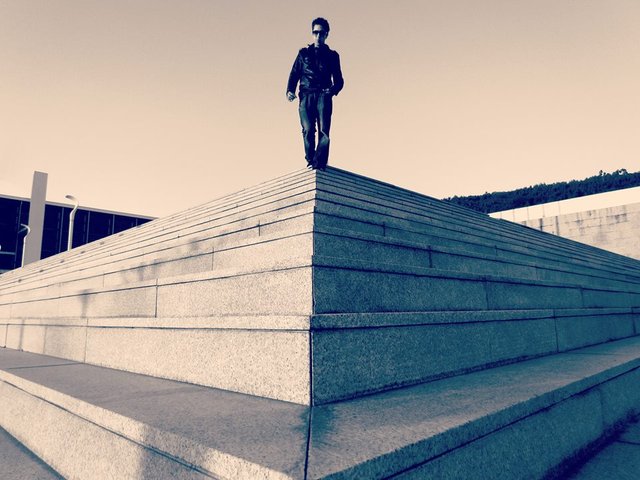 Portugalcoin 🇵🇹
WELCOME to my blog on Steem blockchain. Here you will find several trips I take in Portugal and information about the main monuments, squares, streets, palaces...
Hug from PORTUGAL!
[Steem original]