Trip to Portugal - Santa Justa and Fojo das Pombas
Another day of training after my work is done. I usually do my workouts in the afternoon, so after work I unload all my stress on the run and also think of something to improve certain situations. Training for me in addition to doing well physically also makes me well psychologically, I manage to organize ideas while I exercise.
I took a new route for those who have been following my posts, see the other side of the Serra da Santa Justa. In this way, unfortunately I find more people on the mountain doing physical exercise. I say unfortunately, because in the past I didn't see anyone on this mountain exercising, it was like it was just me eheheh
In this way, we will encounter the Fojo das Pombas which is a place well known by all the people who live in Valongo.
I'm going to give a small explanation of what is the Fojo das Pombas.
Twenty centuries ago, the Roman empire found in the mountains of Santa Justa and Pias a potential of great wealth and expanded in the region with the purpose of exploring gold, leaving us with a truly impressive heritage.
In the Santa Justa mountain range, we can observe at least two types of mineralization, some that are vertical and others that are horizontal structures. The vertical structures have a local name for Fojos, are highly developed and are sometimes intercepted by underground exploration wells and galleries that would later give access to the mining dismantles.
After leaving the area where Fojo das Pombas is, I ventured a little further and decided to follow a path that is for BTT bikes. I made the opposite direction, instead of going down I went up. It was a little tiring, but in the end it was only worth it due to the views I had along the way.
In the end I reached the top of the mountain again, but now by other ways. This trajectory, was more of a mountain path because there was not much to run, however it was more of an exploration of the mountain. With these exercises, I have explored the mountain a lot and found paths that I had never traveled. It is always good to know new paths. As in life, we sometimes need different paths to have different results.
---
I hope you enjoyed!
Images © 2020 @portugalcoin | All Rights Reserved
---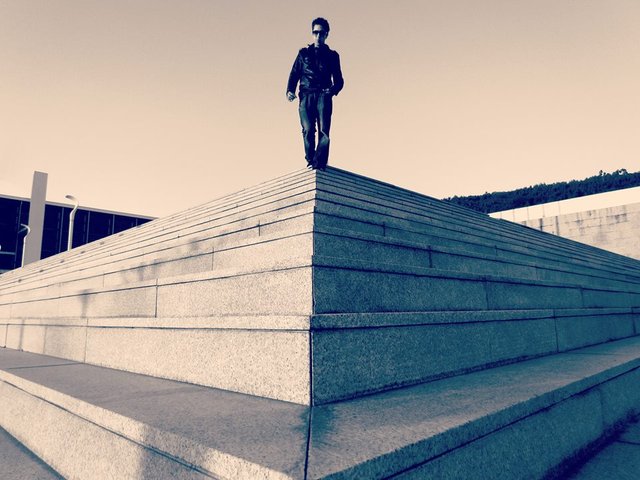 Portugalcoin 🇵🇹
WELCOME to my blog on Steem blockchain. Here you will find several trips I take in Portugal and information about the main monuments, squares, streets, palaces...
Hug from PORTUGAL!
[Steem original]