My 'imperfectly perfect' vegetable 'Singara' || Food Fight Friday!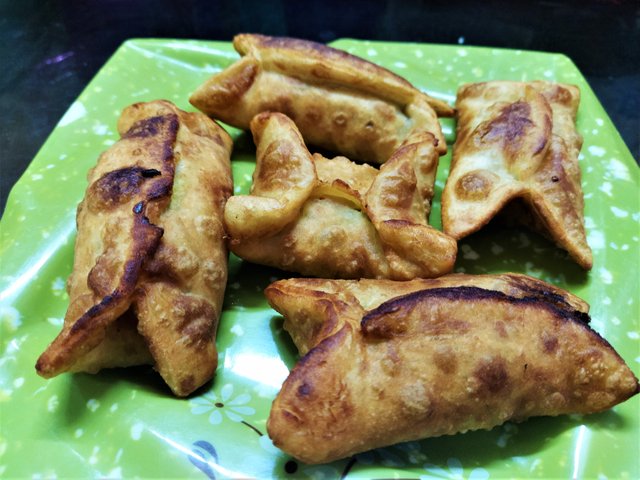 Singara is one of the popular snacks in my country- Bangladesh. It's a deep-fried pastry made out of flour with a savory filling inside. It's usually a street snack; very cheap but absolutely delicious.
So, I have tried for the first time to make Singara at home. You know, in this quarantine we can't get this anymore because it's mostly available in small shops and streets. So I thought why not I try to make it.
I'm not good at making bread and never done something like this. So, it didn't come out well. The filling tastes nice along with the outer flour coating but you know it doesn't look good!
I'm sharing the detailed process here...
What we need?
Flour 1 cup
Vegetables
Chilli and onion slices
Garam masala powder
Salt, turmeric powder, vegetable oil
How we can make Singara?
Slice some vegetables as per your choice and wash them.
Put all the ingredients except flour to the pan and cook for several minutes.
Take one cup of flour, a pinch of salt, and one spoon of oil. Mix it all together and put some water. Make a dough.
Make small round shaped roti with a flour roller pin.
Put the filling inside and make a three-pointed shape. You can watch a tutorial on youtube. I have tried my best but my unprofessional hands couldn't make it perfect.
Put the oil on the pan and heat it. Then fry the singara for several minutes.
And it's done!
To be honest, I was not happy, maybe because I'm a perfectionist in many things, especially when it comes to cooking. But the taste was good so that's the best part. You can enjoy it with hot sauce and salad.
THANKS FOR YOUR LOVE AND SUPPORT!
Much Love

Who I am?
I'm a Happy and Proud stay home Mom. I have a toddler boy and a beautiful family.
I had my University degree in 'Public Administration' and later did my Post Graduation in 'Human Resource Management'. I also gathered experience working with HR in a multinational Organization. Besides that and most importantly; I'm a life & nature enthusiast, I love to learn human psychology, I'm a 'Book worm' and very introvert but also love to travel. I'm trying to live mindfully and sure, I'm a positive learner.

Find me on other Social Places
Twitter Facebook Discord
Proudly supporting