EN/ESP - Bitcoin Analysis for April 19th
English
What's up investor friends?
On april 12th we were analyzing the BTC, where we found it in an evident bullish channel on daily candles. In that analysis I proposed two possible scenarios, one bullish and one bearish, but I also talked about how healthy a correction in the BTC would be.
The bearish scenario was the most likely because the BTC was already losing bullish strength. You can see very clearly in the following chart that every rally and correction of the BTC price since it broke $20K is getting smaller and smaller, it rises with less strength and corrects less.
1-day candles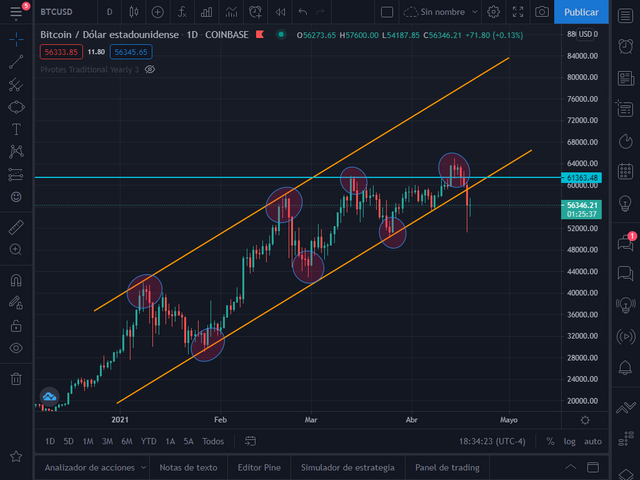 As you can see each peak is shorter than the previous one, as well as each correction is shorter than the previous one. To this we must also add the fact that there is a clear bearish divergence in the RSI indicator.
1-day candles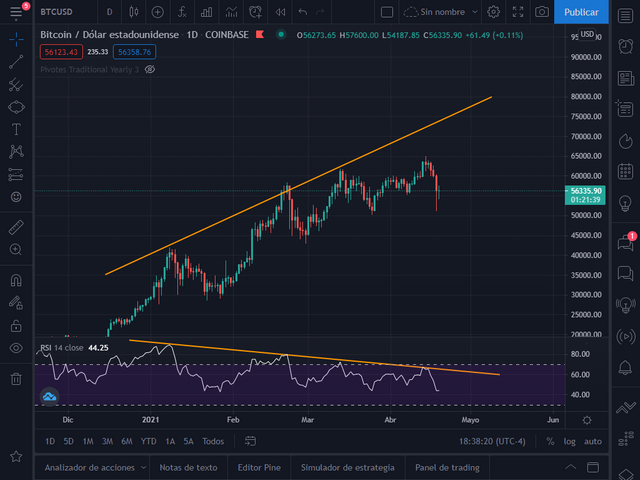 All this tells us is that BTC has lost its bullish strength for the moment and needs to correct. I know many are probably scared, but this is normal in the markets and in fact necessary. It is very necessary for BTC to take one step back and then take two steps forward.
Now I want to show you the probable correction points of the BTC, where the strongest supports are located. For this I have plotted a Fibonacci from the beginning of the bullish rally to the last peak.
1-day candles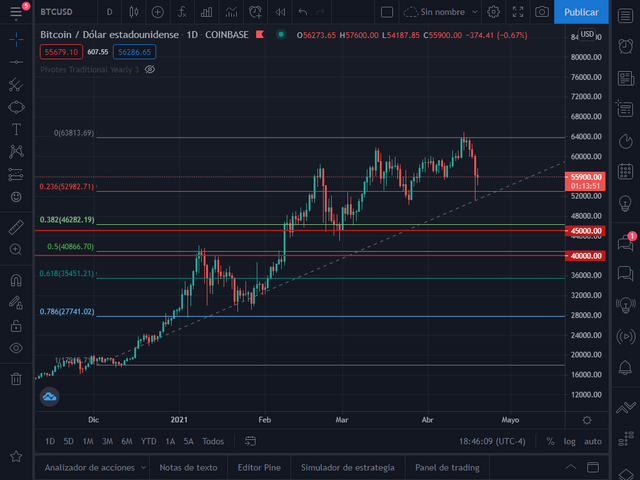 The most favorable and probable points for a correction are the .38 and .50 Fibonacci, which exactly match the supports at $45K and $40K. In fact, if we zoom in on the 1 hour time frame we find a bearish continuation flag pattern in the short term that would take the price to $45K. I show it below.
1-hour candles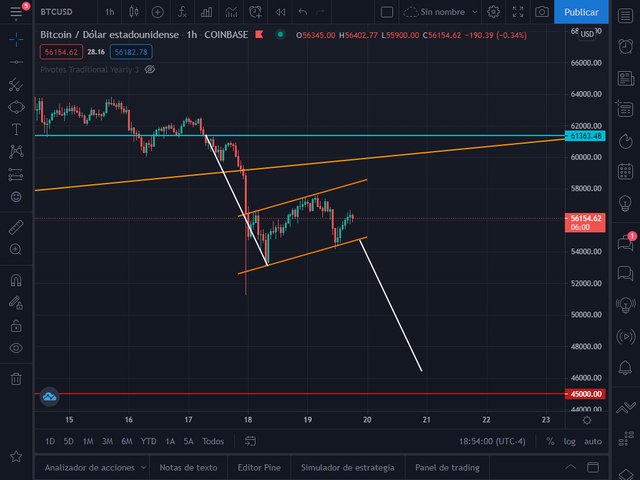 The target for that pattern is obtained by measuring from the start of the price move to the final peak and cloning it to the breakout zone (which has not yet happened), in this case from $61300 to $53300. The mast target would give a drop to about $46K, near the .38 Fibonacci zone.
I think it is very clear that everything indicates that BTC wants to correct and in a matter of hours or days it may happen. Personally I will wait for it to move to the $45K and $40K prices to buy.
Also with this may come a red tide in altcoins and this would be an opportunity to buy as many as we can at bargain prices. Tell me your opinion in the comment box my friends.
I hope this information is helpful to you fellow traders. Best of odds to you 💪📈.
Disclaimer
The information given in this article is only my analysis and personal opinion. Be sure to do your own analysis and research. Trading cryptocurrencies, forex, commodities, etc, is risky.

---
Español
¿Qué tal amigos inversores?
El pasado 12 de abril estuvimos analizando el BTC, donde lo encontrábamos en una canal alcista evidente en velas diarias. En ese analisis propuse dos posibles escenarios, uno alcista y uno bajista, pero también hable de lo saludable que sería una corrección en el BTC.
El escenario bajista era el mas probable porque al BTC ya se le veía la perdida de fuerza alcista. Se puede observar muy claramente en el siguiente grafico que cada repunte y corrección del precio en BTC desde que rompió los 20K$ es cada vez mas pequeño, sube con menos fuerza y corrige menos.
Velas de 1 día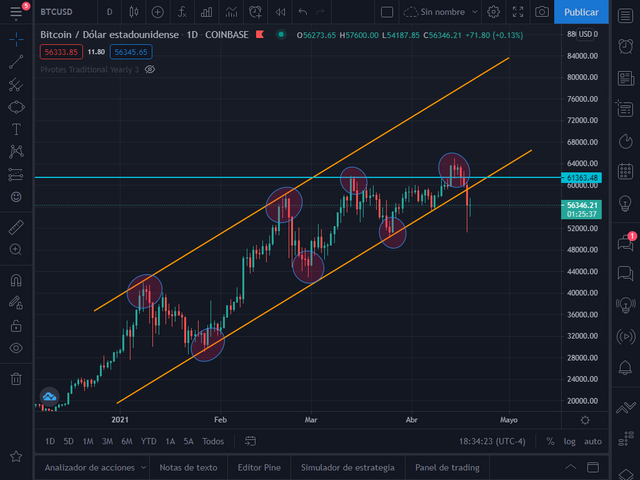 Como pueden ver cada pico es mas corto que el anterior, así como cada corrección es mas corta que la anterior. A esto también debemos sumarle el hecho de que hay una clara divergencia bajista en el indicador RSI.
Velas de 1 día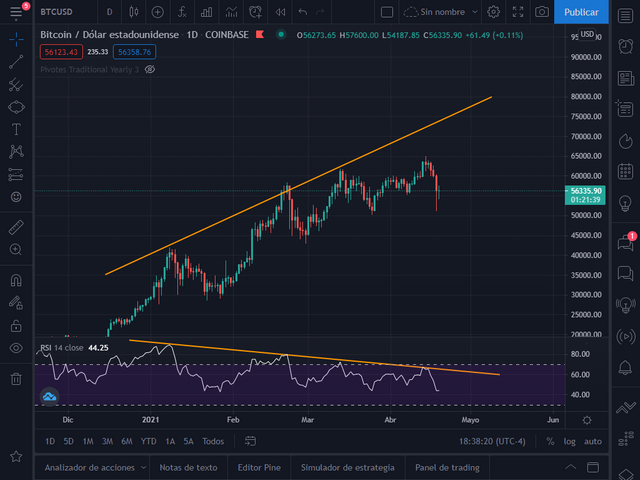 Todo esto lo único que nos indica es que el BTC perdió la fuerza alcista de momento y necesita corregir. Se que muchos probablemente está asustados, pero esto es normal en los mercados y de hecho necesario. Es muy necesario que el BTC de un paso para atrás para luego poder dar dos pasos hacia adelante.
Ahora quiero mostrarles los puntos de corrección probables del BTC, donde se encuentran los soportes mas fuertes. Para esto he trazado un Fibonacci desde el comienzo del rally alcista hasta el ultimo pico.
Velas de 1 día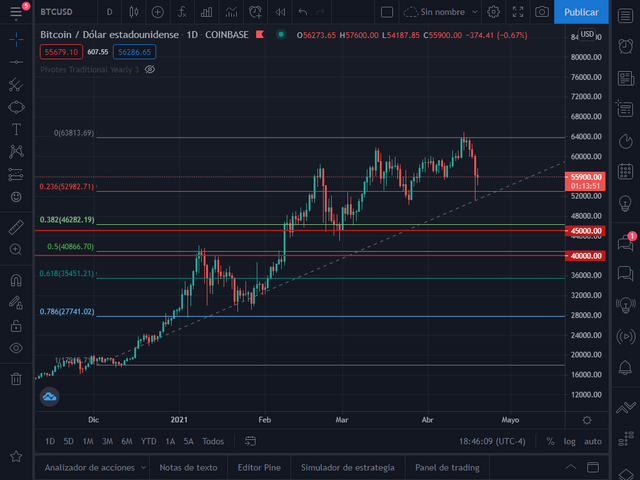 Los puntos mas favorables y probables para una corrección son el .38 y .50 Fibonacci, que exactamente calzan con los soportes en 45K$ y 40K$. De hecho si hacemos zoom ha temporalidades en 1 hora nos encontramos con un patrón de bandera de continuación de tendencia bajista en el corto plazo y que llevaría el precio a los 45K$. Les muestro a continuación.
Velas de 1 hora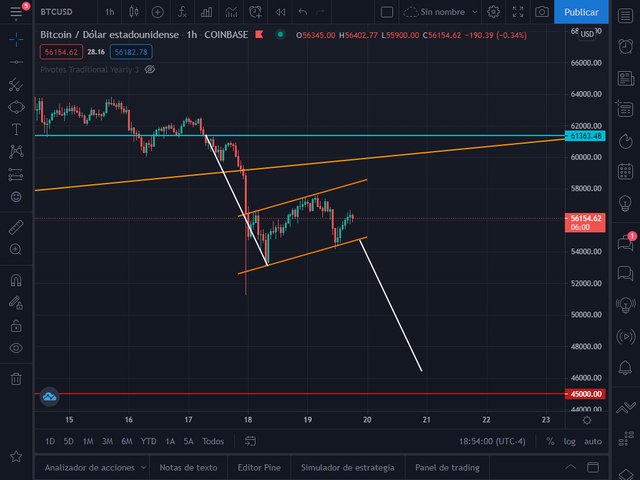 El objetivo de ese patrón se obtiene midiendo desde el comienzo del movimiento del precio hasta el pico final y clonándolo a la zona de rompimiento (que aún no sucede), en este caso desde 61300$ hasta 53300$. El objetivo del mástil daría una caída hasta los 46K$ aproximadamente, cerca de la zona .38 Fibonacci.
Creo que queda muy claro que todo indica a que el BTC quiere corregir y que en cuestión de horas o días puede que suceda. Personalmente esperaré a que se mueva a los precios de 45K$ y 40K$ para comprar.
Además con esto puede que se venga una marea roja en las altcoins y esta seria una oportunidad de comprar todas las que podamos a precio de ganga. Díganme su opinión en la caja de comentarios mis amigos.
Espero esta información les sea de utilidad amigos traders. Las mejores de las probabilidades para ustedes 💪📈.
Descargo de responsabilidad
La información que se ofrece en este artículo es sólo mi análisis y opinión personal. Asegúrese de hacer su propio análisis e investigación. Operar con criptomonedas, divisas, materias primas, etc, es arriesgado.