EN/ESP -EUR/USD Analysis for April 16th
English
What's up investor friends?
---
In the previous analysis we were analyzing a possible bullish scenario for the EUR/USD in the short term, as the price was coming from a strong rebound at the psychological support 1.1700. We expected a recovery above 1.1840 with possible targets at 1.1990, and this is exactly what happened.
Proposed Scenario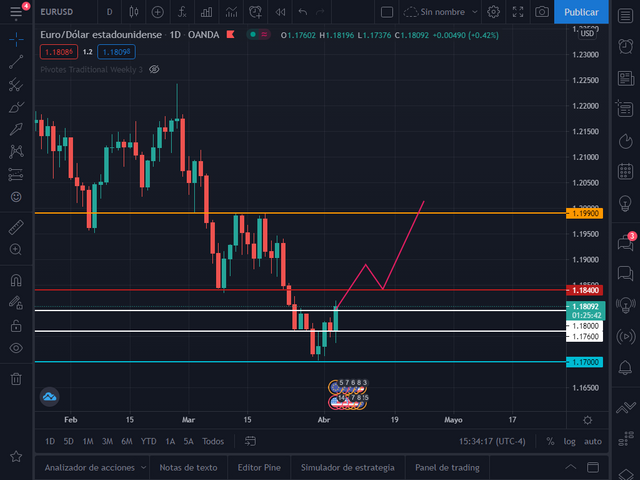 Result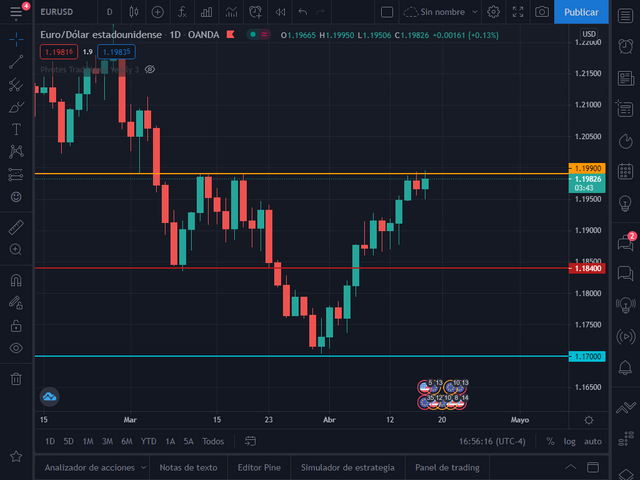 As expected, the pair broke through the 1.1840 ceiling and continued its upward move to 1.1990, where I personally took my profits.
Now I want to analyze with you what the pair could do next. As you can see the pair has already touched the resistance at 1.1990 3 times, which makes it quite critical for the bulls.
4-hour candles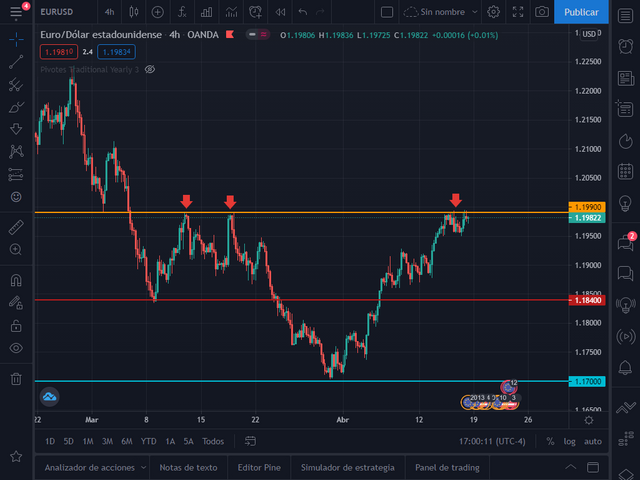 We should note that the more times a support or resistance is touched, the stronger it becomes, therefore we must be attentive to the possible candlestick patterns in this area.
Zooming in on 30 minute candlesticks, we can see that the price has created a small channel between the 1.1990 and 1.1950 prices.
30-minute candles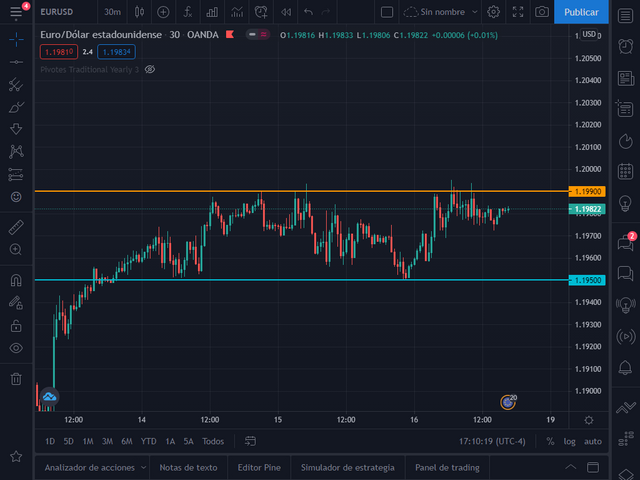 This puts the EUR/USD in an area of quite a bit of pressure in the short term. There are two possible scenarios that I want to show below.
Scenario 1
1-hour candles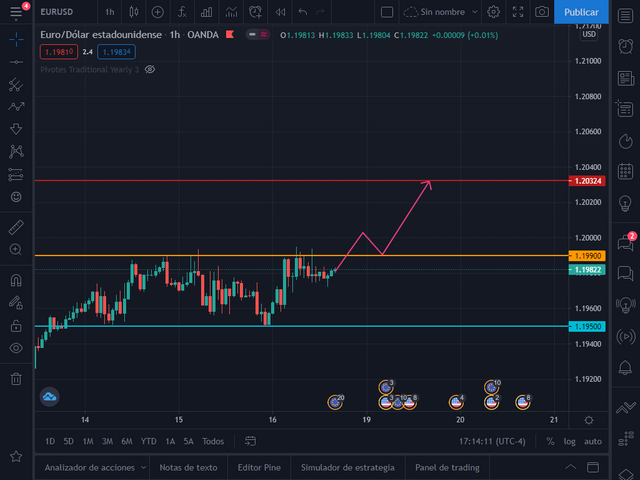 If the bulls manage to maintain their momentum, we could see a short-term recovery above 1.1990 - 1.20, with targets up to the nearest ceiling at 1.2030.
Scenario 2
4-hour candles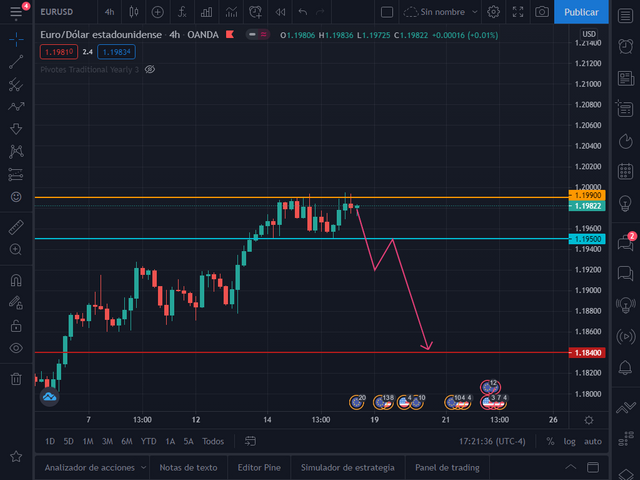 If the bulls lose control and the price falls below 1.1920, we could probably see the bears take full control of the market and push the pair up to 1840 again, where I would recommend taking profits from a short.
Extra idea
As we know the EUR/USD in the long term is still in an uptrend since May 2020, the crucial support for the pair to remain bullish is at 1.1500. If this support is broken, the long term trend will most likely change.
This is why I have decided to show you an extra idea, a possible scenario that could form. This is a head shoulder shoulder, which so far has already formed the left man and the head, only the right shoulder is missing.
Weekly candles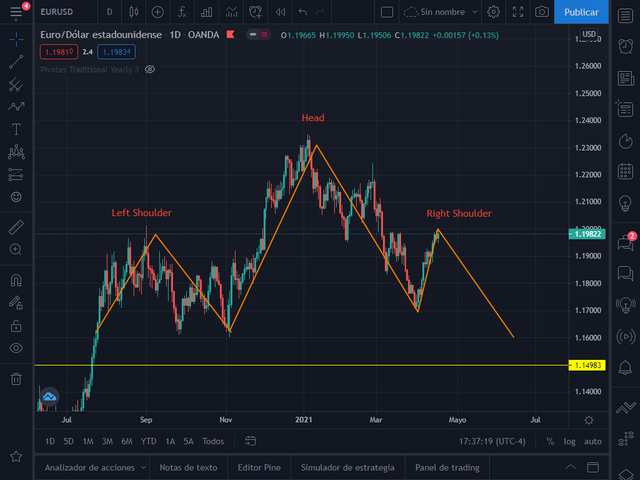 As you can see the left shoulder and the head have already formed. Only the right shoulder is missing and this could form on the next move of the EUR/USD. If our scenario 2 plays out and price drops to the floor at 1.16, we would have the pattern completed.
If this happens, we could easily see a bearish break below 1.16 and a change of trend in the EUR/USD. However, we must remember that this is only an assumption. We must wait for the price action and see what scenario the pair fulfills.
I hope you find this information useful colleagues. Best of probabilities to you 📈💪.
Disclaimer
The information given in this article is only my analysis and personal opinion. Be sure to do your own analysis and research. Trading cryptocurrencies, forex, commodities, etc, is risky.

---
Español
¿Que tal amigos inversores?
---
En el analisis anterior estuvimos observando un posible escenario alcista para el EUR/USD en el corto plazo, ya que el precio venia de un fuerte rebote en el soporte psicológico 1.1700. Esperábamos una recuperación por encima de 1.1840 con posibles objetivos en 1.1990, y esto fue exactamente lo que sucedió.
Escenario propuesto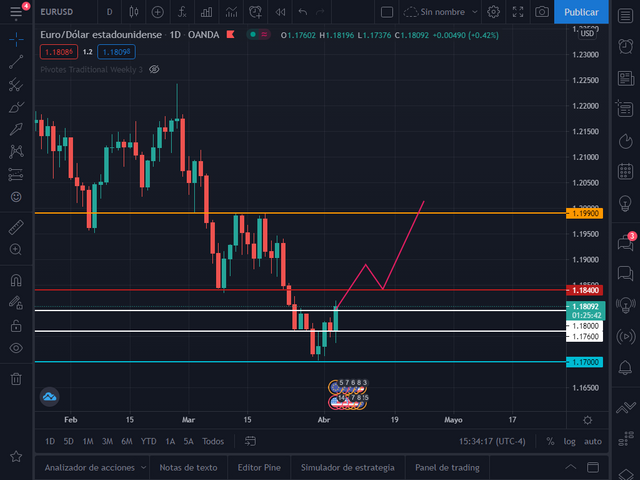 Resultado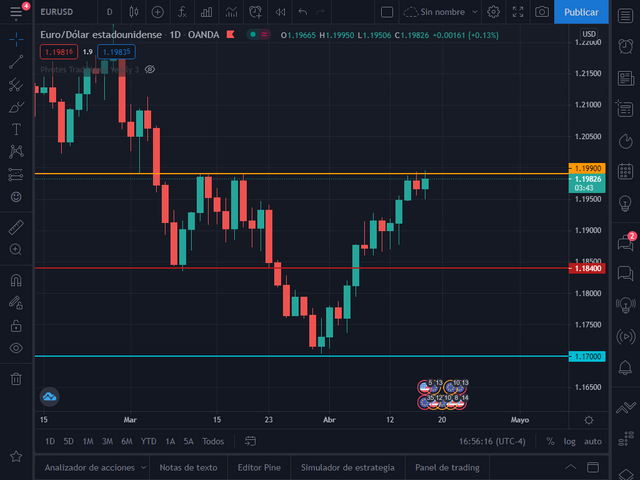 Como esperábamos, el par rompió el techo de 1.1840 y continuo su alza hasta 1.1990, donde personalmente tomé mis ganancias.
Ahora quiero analizar con ustedes lo que el par podría hacer a continuación. Como podrán observar el par ya ha tocado 3 veces la resistencia en la zona de 1.1990, lo que la vuelve bastante critica para los toros.
Velas de 4 horas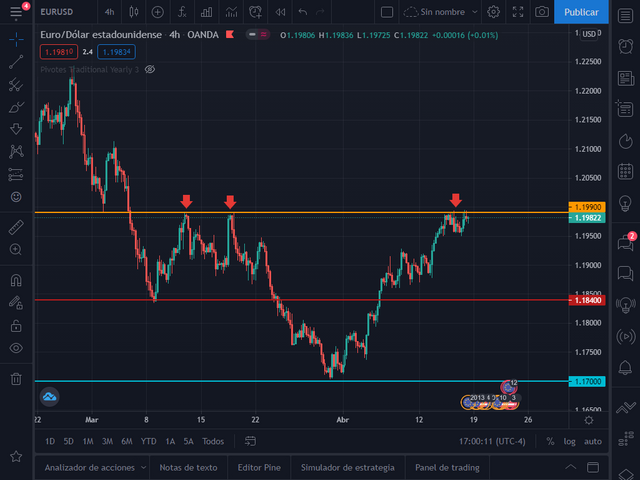 Cabe recalcar que mientras mas veces se toca un soporte o resistencia, mas fuerte se vuelve, por lo tanto debemos estar atentos a los posibles patrones de las velas en esta zona.
Al hacer zoom a velas de 30 minutos, podemos darnos cuenta que el precio ha creado un pequeño canal entre los precios 1.1990 y 1.1950.
Velas de 30 minutos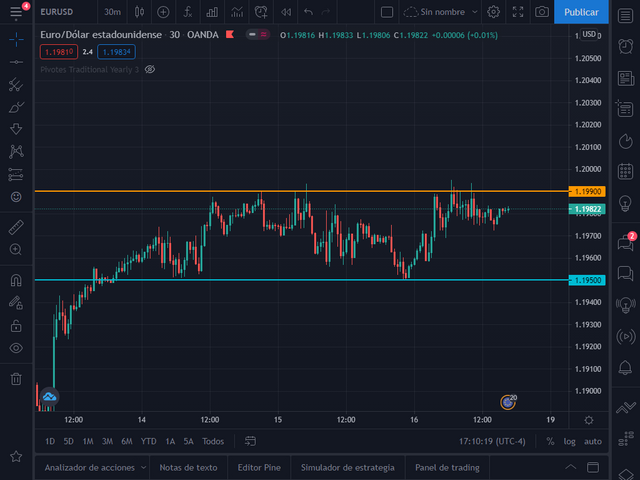 Esto pone al EUR/USD en una zona de bastante presión en el corto plazo. Existen dos posibles escenarios que quiero mostrar a continuación.
Escenario 1
Velas de 1 hora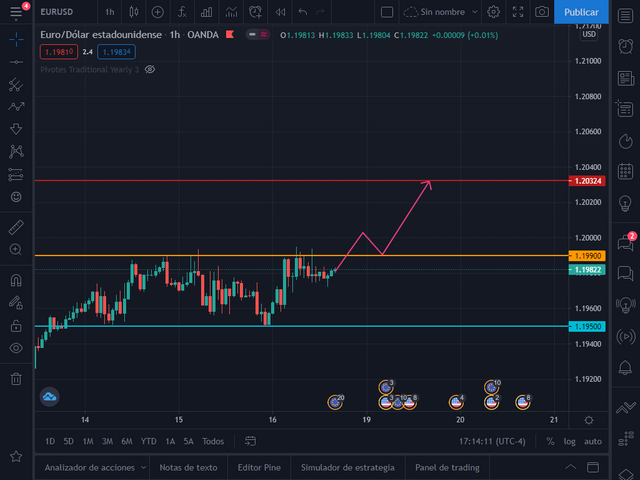 Si los toros logran mantener su impulso, podríamos ver una recuperación en el corto plazo por encima de 1.1990 - 1.20, con objetivos hasta el techo mas cercano ubicado en 1.2030.
Escenario 2
Velas de 4 horas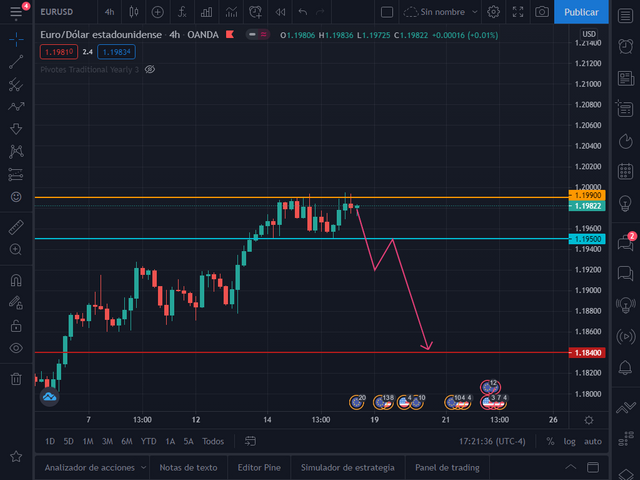 Si los toros pierden el control y el precio cae por debajo de 1.1920, probablemente podríamos ver a los osos tomar el control total del mercado y empujar al par hasta 1840 nuevamente, donde recomendaría tomar ganancias de un corto.
Idea extra
Como sabemos el par EUR/USD en el largo plazo se encuentra aún en una tendencia alcista desde mayo del 2020, el soporte crucial para que el par se mantenga alcista se encuentra en 1.1500. Si se rompe este soporte, la tendencia cambiaría a largo plazo muy probablemente.
Por esto he decidido mostrarles una idea extra, un posible escenario que se podría formar. Se trata de un hombro cabeza hombro, el cual hasta ahora ya ha formado el hombre izquierdo y la cabeza, solo falta el hombro derecho.
Velas semanales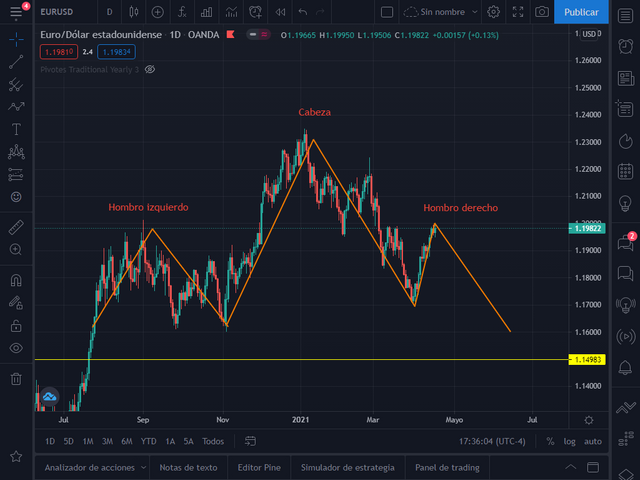 Como verán ya se ha formado el hombro izquierdo y la cabeza. Solo falta el hombro derecho y este se podría formar en el siguiente movimiento del EUR/USD. Si nuestro escenario 2 se da y el precio cae hasta el piso en 1.16, tendríamos el patrón completado.
Si esto sucede, fácilmente podremos ver un ruptura bajista por debajo de 1.16 y un cambio de tendencia en el EUR/USD. Sin embargo debemos recordar es esto es solo un suposición. Debemos esperar la acción del precio y ver que escenario cumple el par.
Espero les sea de utilidad está información colegas. La mejor de las probabilidades para ustedes 📈💪.
Descargo de responsabilidad
La información que se ofrece en este artículo es sólo mi análisis y opinión personal. Asegúrese de hacer su propio análisis e investigación. Operar con criptomonedas, divisas, materias primas, etc, es arriesgado.